InLife's Secure 5 offers frequent cash payouts for 5 years
April 14, 2023
InLife's Secure 5 offers frequent cash payouts for 5 years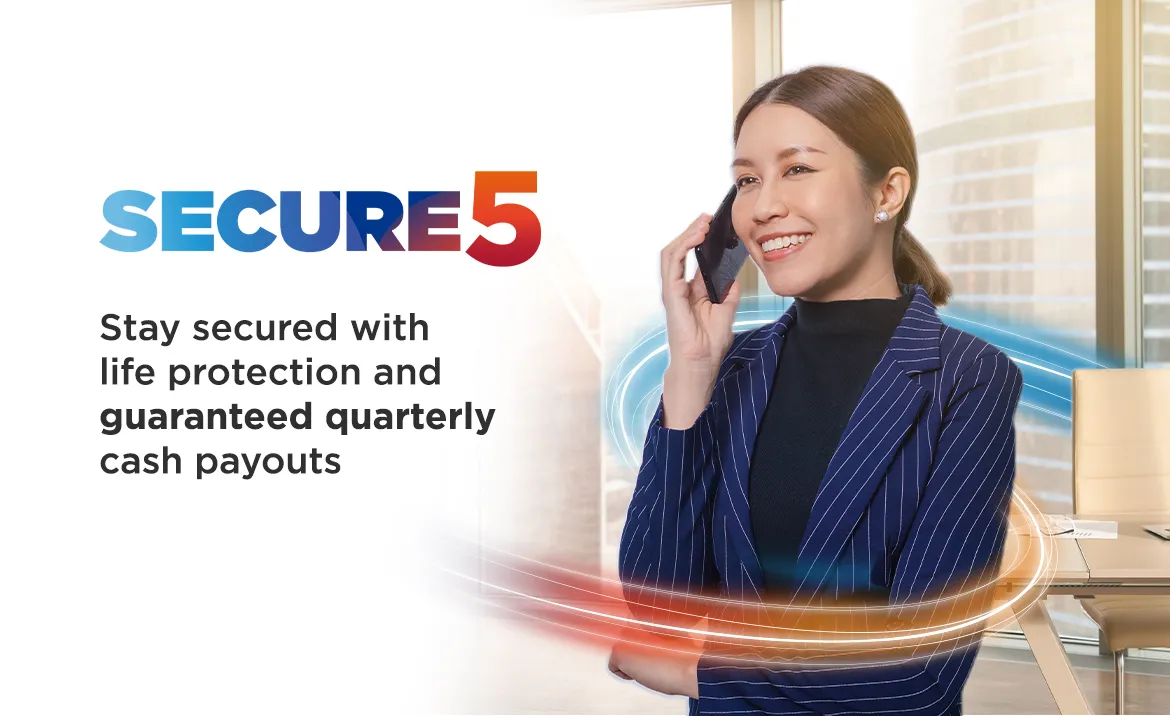 For a limited time, Insular Life (InLife) is offering Secure 5, an insurance product that provides life protection, guaranteed quarterly cash payouts on the plan's second year, and the return of total premiums upon maturity in 5 years. 
"The circumstances of the past three years have made some people risk-averse. They are uncomfortable with market movements that may impact the fund values of variable universal life policies. We kept this in mind when we developed Secure 5," said Gae Martinez, Chief Marketing Officer of InLife.
Secure 5 is a five-year guaranteed issue offer (GIO) insurance plan available to individuals between the ages of 0-65. It is best suited for individuals who want their financial assets placed in long-term investments. 
"Many Filipinos are avoiding or postponing making financial decisions in the light of all the issues affecting markets. But Secure 5 lets you protect your loved ones while guaranteeing attractive payouts over a 5-year period," Martinez noted.
Secure 5 has two annual premium payments that start at P250,000 (with a maximum of P12,500,000). Policyholders have the option to place a second annual premium in a premium deposit fund (PDF).
The guaranteed cash payouts or anticipated endowments are up to 4% per annum. The first cash payout is given on the first year of the policy. The subsequent payouts are given quarterly. Once the plan reaches its five-year maturity, the policyholder will receive back the total premiums paid, regardless of economic or market conditions.
Meanwhile, InLife continues to be one of the country's top five insurers in terms of net worth, net income, and assets, according to recent figures from the Insurance Commission. 
"As we move forward, we will introduce innovations and develop new products that address the current needs of our customers. In fact, our latest VUL fund strategy, the Systematic Global Sustainable Income Fund, seeks attractive regular income while investing in a global portfolio that also achieves a lower carbon intensity compared to benchmarks. Available in both our Peso and US Dollar plans, the fund has paid close to 6% p.a. in its latest income distribution. This is proof that sustainable investing makes good financial sense," said Martinez. 
She added that this is consistent with the Company's firm commitment to make significant investments in renewable projects and sustainable initiatives. "InLife has been a trusted insurance company for more than 112 years. With our new sustainable fund and the recent launch of Secure 5, we further strengthen our commitment to advancing financial security for Filipinos and their loved ones," Martinez said.
Talk to an InLife financial advisor to learn more about the benefits of Secure 5, or visit https://www.insularlife.com.ph/secure5.
Follow InLife's Facebook page for product updates, events, and promotions.
Other News & Press Releases