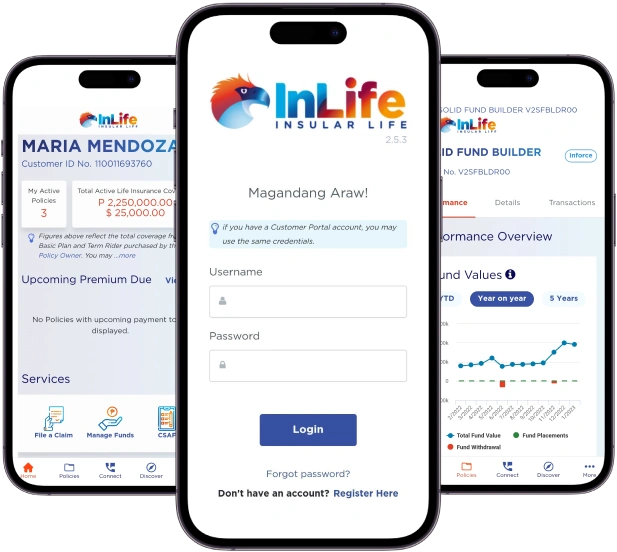 Manage your policies, monitor your funds, connect quickly with InLife. Do all these and more in this handy mobile tool.
Access policies. Got an InLife policy? Review policy details, benefits and retrieve your most recent policy documents and billing statements.
Manage Accounts. Download information within the app, maintain account security with ability to update mobile numbers, reset and change passwords.
Monitor Funds. Know how much funds you have anytime, anywhere. We've got real-time updates for you.
Transact safely and easily within the app. Pay premiums, switch funds, file claims and withdraw benefits.
Connect with InLife. Through e-mail, phone or your Financial Advisor, there is someone in the other end to attend to your needs.
INLIFE APP USERS
Ratings and Review
Discover what our users have to say about our app!  Check out their ratings and reviews to see why they love it. Join the growing community of satisfied users and experience the excellence of our app for yourself!
Checked the Application features and was amazed with how easy it was to navigate and how many features are available from premium payment to filing claims. Policy details are readily available from funds to beneficiary lists. There is also an option where you can contact your agents thru text or email which is very practical. I am not sure though if you can file a loan, withdraw funds/dividends using the. app. The app is user-friendly and the response time is good. No ads popping when using it.
The InLife App is user-friendly and can easily be navigated. Policyholders can quickly view all policy- related information with just a few clicks. This app is immensely beneficial and convenient to keep track of the status of my policy, payment reminders, fund value details and other necessary info. Kudos to the whole team for working hard and keeping up with today's fast-paced digital world.
Very convenient to be updated with my policies latest information, and you can easily understand the fund performance of VUL policies through the graphs and by accessing historical information. I also like that you can directly pay to your policy. And the most amazing feature is that you can file a claim "ONLINE"! I'll be anticipating more features on this app in the future InLife! Great job!
You guys totally nailed it! The InLife app was amazing 🤩 And I wasn't even expecting it. It was a really great innovation. I'm so proud of you, guys! 💕 One look and everything is there 😄 niceeee!! Whoever the team is responsible for this, geez .. tell them they're all awesome 😎🤩
Very helpful. I can now see my fund value. Payment is also convenient. Would be better if biometrics feature is available so i dont have to key in my credentials anymore. Temporary password was not requested to change as well prior using the app. Overall, this app caters the basic needs of the policy holder. Great job and more power inlife!
Useful App
I am happy that InLife launches this mobile app. I can now check my policy easily. The graph for fund performance is very helpful for monitoring the movement of my investments. I can also compare fund performance which is a big help when making decisions on where to invest. Excited and looking forward for more features in the coming updates!!
Excellent app!
Been using this for sometime in tracking my Inlife policies. So far, the app provides the details I need to monitor inforce policies and fund values. App is straight forward and easy to use. Looking forward for more updates and enhancements. Kudos! Been recommending it and will recommend for sure.
Convenient for me
I can now easily browse details of my policies whether inforced or not. It even shows my upcoming due! Checking my loan is also available. Another plus for me is the convenience of the payment link! Two-thumbs up for this app! Great job!
#ALifetimeForGood App
It's really user friendly. The user interface design is fully responsive, clean, and well organized. A personal favorite feature is the easy access to the fund value of my policy. This app is absolutely amazing! 😍
Helped me track my Insurance policy transact...
This app has helped me track my insurance policy and its status. Date of last payment can also be found which helped me track my past transactions.
INLIFE APP
Frequently Asked Questions
It is InLife's handy mobile digital tool that allows policyholders to access and manage policies, monitor funds and connect quickly with InLife.
The InLife app can be downloaded in 3 ways:
As an InLife Policyholder, you can log in using your Customer Portal credentials. Your username is either a name you elected or your email address and your password.
For first time policy holders, you may register via the app by clicking the Register Here in the InLife App and proceed to follow the instructions.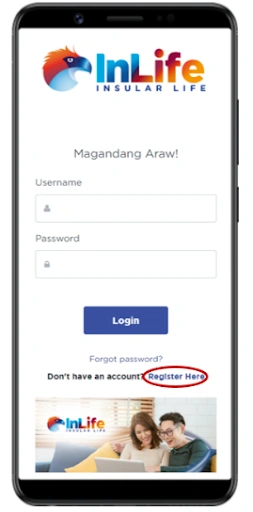 After the registration you will need to verify your email and answer security questions.
Upon email address verification, elect own password or activate biometric log-in feature.
Password nomination is the last step for registration.
Review your InLife policy details, benefits and retrieve your most recent policy information.
Monitor VUL funds. Know how much funds you have anytime, anywhere with real-time updates.
Connect with InLife via e-mail, phone or Financial Advisor and even schedule a visit to InLife branches.
Discover InLife's online platforms as the app provides quick links to other InLife sites such as InLife Health Care, InLife Solutions, and Sheroes websites.