FREQUENTLY ASKED QUESTIONS
How Can We Help?
Choose a category to quickly find what you are looking for
An investment-linked product is a non-traditional life insurance plan.
It is a life insurance policy with an investment component linked to it. A portion of the premium is allocated to an investment or separate fund. It is a policy that provides for life insurance where the account value at any time varies according to the performance of the separate fund chosen by the policy owner.
The owner of an investment-linked policy is the Policy Owner. He is the party to the contract entitled to life insurance benefits and the fund value of his investment.
The policy owner's share in the separate fund represents a unit. A policy owner may have more than one unit.
The unit price is the value of the underlying assets of the separate fund divided by the number of units issued.
Yes, depending on the policy availed, your beneficiaries will get whichever is higher of the fund value, sum insured, or the minimum guaranteed death benefit.
Yes, it is possible to cancel your investment-linked policy within the 15-day cooling off period. During the cooling off period, the policy owner can review the policy and should he decide that the policy is not suitable to his needs, the policy can be returned with the policy data page within 15 days from the date it was received and the company will refund the market value of the units including the initial and insurance charges.
Top-ups are additional premiums you invest in your existing VUL policy. Subject to the company's approval and age limit, you can place this additional single premium payment/s anytime, while your policy is in force.
Subject to company's approval, yes, you can transfer or switch to another fund as long as the policy is still in force. The minimum amount that you can switch out of a fund is Php10,000.00.
You will be granted four (4) free switch per policy year. A switching fee of 1% of the amount to be switched will be charged for additional switches. The switching fee is deducted from both funds according to the proportion of the fund's value to the total fund value at time of fund switching.
You can apply for a full withdrawal of the funds once the policy has a withdrawal value if you plan to discontinue your policy. Depending on the product you availed, withdrawal charges may apply.
Buying of units is also known as top-up or "fund switch to" while selling is withdrawal or "fund switch from".
Buying and selling is dependent on the time InLife receives the policy owner's application.
You can withdraw from any of your funds as long as your policy has a withdrawal value. Minimum withdrawal is Php10,000 and minimum balance after withdrawal is Php20,000.
Note: If your balance after partial withdrawal is less than the minimum required, you must fully withdraw your fund and your policy will be terminated. At present, no withdrawal fee is charged for full withdrawals. However, we may impose a withdrawal fee for full withdrawals at a later date.
For illustration purposes, earnings are shown in 4%, 8%, and 10% per annum. The actual earnings will depend on the performance of the fund and the length of time it is being invested. And because the earnings shown are for illustration purposes only, these are NOT guaranteed.
In traditional life insurance that consists of life and endowment products, Insular life decides on where to place the premium. But since our investment-linked product is a non-traditional life insurance product, you, as the policy owner have the option in choosing where to invest your premiums. Investment risks are borne by the policy owner under an investment-linked product. Under traditional life insurance, it is the company which bears the risk by paying the sum insured as stated in the policy regardless of the investment performance.
At Insular Life, we apply over a hundred years of experience in financial protection, savings and investments to help you make confident decisions for you and your loved ones. We recognize that financial priorities change over time — that is why we are here to help you plan ahead, through every step of the way.
As an Insular Life customer, you have the confidence of being protected by a company with a consolidated asset base of P147.17 billion; net worth of P50.23 billion; net income of P5.2 billion; revenues of P25.9 billion, and total life insurance business-in-force of P386.16 billion, as of year end 2022.
We remain committed to serving the Filipino, as we spread the benefits of life insurance to every family. Thus, as you look ahead, be assured that Insular Life will guide you, as you advance from one life stage to the next.
This can be viewed in the
Fund Performance
page of the website and is also published every first Thursday of the month in the Business Section of The Philippine Star.
Insular Life's VUL products can be invested in peso-denominated funds and dollar-denominated funds so you're sure to find one that fits your investment risk appetite.

For multiple-pay VUL, for as low as P10,000 annually
For single-pay VUL, a minimum of P100,000
Similar to other investment vehicles, yes, there are charges and expenses to be deducted from your VUL policy. These are as follows:
1. Insurance Charges
2. Acquisition and Administration Charges
3. Asset management fee 
4. Accounting charge 
Insurance policy riders are additional layers of protection available for an additional cost. You get a rider when you want a benefit that your basic policy may not cover.  When we acquire something, we usually want to customize it according to our own needs. Riders are add-on benefits that can personalize your insurance coverage.
Note that not all riders may be acceptable to your insurance policy. To find out if your desired rider can be attached, seek the assistance of your Insular Life Financial Advisor.
InLife can help you build on your savings and protect you from life's rainy days with our Variable Unit-Linked (VUL) insurance products. These life insurance plans allow you to invest in your choice of investment outlets.
InLife has a host of world-class asset managers coupled with an impeccable wealth management strategy that not just protect but grow your savings. Depending on your risk appetite, experience, and tolerance, you can choose to have your funds invested in low-risk, medium-risk or high-risk investment funds.
A written document that contains the terms of the contract agreement between the insurance company and the owner of the policy
The person who pays for and owns the policy
The person whose life is covered under a life insurance policy or the person who is given the insurance protection
The person named in the life insurance contract who will receive the benefits when the insured dies
The beneficiary/party given the first priority to receive the death proceeds of the policy if the insured dies
The beneficiary/party who receives the death proceeds if the primary beneficiary pre-deceased the insured
The amount payable to the beneficiary, as stated in the life insurance policy, upon the death of the insured
Payment or series of payments, made by the policy owner or insured to put the policy in force and to keep it in force until maturity
States that for as long as the insured is paying his premiums, his policy will remain in-force and protection will continue
This is a specified length of time, usually 30 days after premium is due, within which a premium may be paid without penalty. During the grace period, the policy remains in-force.
Part of the premiums you pay that is set aside as savings under an insurance policy
This grants the policy owner the right to take a loan agains the cash values of the policy. A policy loan may be repaid anytime, in whole or in part. However, a policy loan interest is charged against the loan and is compounded annually.
The date when the policy coverage matures / ends
These are return of excess premiums which are paid to policyholders at the end of each policy year if the company has favorable claims and high earnings from investments. Dividends are not guaranteed because these would depend on the actual experience of the company.
A provision which allows the policy owner to choose whichever way he wants to utilize his earned dividends. There are five ways:
Cash Payment Option – the simplest option wherein the insurance company will send the policy owner a check each year (provided that the insurance company has a good experience each year).
Premium Reduction Option – the dividends earned are applied towards the premium due, thus, reducing the total amount of premium to be paid by the insured for a specific period.
Interest Option – the dividends are left to the company to accumulate. Accumulated dividends are available for withdrawal at any time.
Paid-Up Additions Option – the earned dividends are automatically used to purchase additional coverage
Buy Yearly Renewable Term – the earned dividends are automatically used to purchase a yearly - renewable term insurance – meaning the extra coverage bought by the dividends is good for one year only.
An expertly trained and licensed professional who can recommend products to address customers' needs based on current income, risk appetite, and future goals
An amendment to an existing insurance contract that changes the terms of the original policy that can be issued at the time of purchase, mid-term or at renewal time. Insurance premiums may be affected and adjusted as a result.
The monetary value of the units of the attached VUL Fund/s determined as the number of units multiplied by the Net Asset Value Per Unit or NAVPU. It has a direct relationship to the insurance charges for the VUL policy.
The difference between the death benefit paid out on a life insurance policy and the accrued cash value paid for it by the insured. It is the basis of insurance charges for policies.
A specified period of time for which the policyowner is free from the obligation of paying regular policy premiums. The accumulated fund value of the policy is used to cover the necessary monthly policy charges to keep the policy in force.
Ask yourself these questions:
If something happens to me, can my family continue to live normally and afford all the daily expenses I've left behind?

If something happens to me, can my family settle all my debts (housing loan, car loan etc.)?

If something happens to me, can my kids still go to college?

If something happens to me, can my family survive financial hurdles?
You get life insurance to ensure that your loved ones can continue living even if you're no longer around.
To get a life insurance is to protect, care and safeguard your future.
Dying too soon

– Insurance provides money that can take care of expenses associated with the early demise of a breadwinner.

Living too long

– Insurance ensures that in old age, people will not be dependent on their families for their daily needs.

Being disabled

– Insurance will ease the financial pains and difficulties of being disabled.
Life insurance may not be able to prevent these threats/contingencies from happening but it can help in cushioning the financial impact any of them could bring.
Ideally, people who have families or dependents should have life insurance, especially if you are the main or sole person providing income to spend on your family's living expenses. These include:
Parents with minor children

– If one or both parents die before a child reaches maturity, life insurance can provide a child with financial resources for their education and living expenses until they can support themselves.

Parents with special-needs children

– Some children with special needs may need lifelong assistance even into adulthood. Life insurance can ensure their child has the financial resource to access special care when their parents are no longer around.

Adults with joint property

– If you and another adult (e.g. spouse, fiancé, sibling, business partner) own properties like residential and commercial buildings, companies, vehicles, and other expensive properties, your death may make it difficult for them to continue paying for upkeep, loans, and taxes. Life insurance can allow them to get by.

Families that cannot afford funeral expenses

– The cost of a private funeral in the Philippines can fetch hundreds of thousands of pesos minimum. If you feel like your family can be financially secure enough but may not be ready for the unexpected costs of a funeral, your life insurance can be used to pay for your funeral.

Young adults with no dependents

– Even if you don't have dependents yet, it may be smart to invest in life insurance now while you're young and healthy.
The concept is simple: pay life insurance premiums for a given amount of time, and upon your death, your beneficiaries are covered and entitled to a death benefit. However, this is where it gets a bit complicated since life insurance is different between all policy holders.

Your premium is the money you'll be paying for your death to remain covered by the insurance company. How high or low your premium is depends on the likelihood your insurer will have to pay your death benefit, or in short: your life expectancy. A healthy 25-year-old with no pre-existing condition, therefore, will have a much smaller premium than a 40-year-old with pre-existing conditions that could give them a shorter life expectancy. Other factors that can affect your premium include:
Age

– Younger Filipinos are less susceptible to diseases and conditions that shorten their life expectancy.

Gender

– Women and men are more prone to certain conditions that could affect their life expectancies.

Medical History

– Those that have been treated for or have a pre-existing health condition may pay a higher premium.

Occupational Hazards

– Some jobs (e.g. driver, engineer in a construction site, electrician) have bigger chances of fatal workplace accidents than other jobs (e.g. white-collared desk jobs).

High-Risk Hobbies

– Heavy smokers and drinkers have a shorter life expectancy compared to those who don't.

Larger Death Benefits

– Policy holders that want a bigger death benefit for their beneficiaries can expect larger premiums.
Life insurance has a simple purpose; to help prepare and protect your family financially if you are no longer around. A life insurance payout or death benefit can be used in any way your family sees fit. It can be used as:
Clean-up Fund

– a fund to pay all debts upon death. This can include outstanding hospital/medical bills, burial expenses etc.

Family Dependency Period Income

– a fund to provide income for your family and cover their living costs.

Emergency Fund

– a fund to be used in the event of illness, accident or unforeseen situation that may arise in your family.

Education Fund

– a fund to provide education for your children.premiums.
The younger and healthier you are, the easier it may be to secure the life insurance policy that you want. If you have a partner, spouse or family who may struggle to cope financially, then acquiring one today can give you the feeling of security.
If you have a family to support, the insurance provided by your employer or the company you work for may not be enough. What happens to that coverage if you change jobs? If you leave the company, you may have to forfeit the coverage you have. Having a personal policy can ensure your family has adequate protection from the unexpected.
It is important to determine the value of your life insurance in terms of what it will take for your family members to be financially independent in your absence. To estimate that amount, add up all expenses and calculate future liabilities that your family will have to pay in your absence. Your family's needs and goals must reflect in your insurance plan.

Check out Insular Life's financial calculators to help you determine your insurance needs and financial goals!
Life insurance is a good investment for the modern everyday Filipino who have people they want to protect financially even after they pass away. Depending on the type of life insurance you invest on, if you're investing on the right type of insurance for your needs, you and your family can benefit from the safety blanket life insurance investments provide.

Unlike other investments, life insurance doesn't fluctuate in value unlike other forms of investments. Your beneficiaries' death benefit depends on how much premium you pay and not like investments that depend on the current state of the market.
As the first and largest Filipino life insurance company in the Philippines, we know a thing or two about providing beneficial life insurance to everyday Filipinos. We have over a hundred years of experience in financial protection, providing you with everything you need to give your loved ones a good future and your own peace of mind for the future.

We're here to help you plan ahead, every step of the way. Talk to an InLife Financial Advisor today.
Even the healthiest Filipino is at risk of a medical emergency. While some can afford to pay their entire hospital bill for private healthcare, many everyday Filipinos may face some difficulties paying for these large unexpected costs. This can lead to financial hardship for yourself and your family.
One way to protect yourself and your family from the financial burden of medical-related expenses is with a comprehensive health insurance plan. In this article, we explain how InLife's health insurance plans can meet your different insurance needs and preferences.
Health insurance covers your medical expenses. Depending on how comprehensive your health insurance policy is, it can be as basic as paying for emergency room services and consultations, and can be as comprehensive as providing insurance for all your medical-related costs, including dental, psychiatric, and medicine costs.

Health insurance reimburses you for the medically-related expenses incurred. In some cases, it is also possible for the insurance company to pay the healthcare provider directly. Because of this, insurance companies that provide health insurance often have their own network of affiliated healthcare providers where their insurance applies. If a patient seeks healthcare outside of the company's network or for a treatment that's outside of their policy, the insurance provider may not cover it. This is why it's important to get the best coverage for your needs and know your health insurance provider's network.
While Filipinos are entitled to healthcare assistance from public hospitals or government organizations like PhilHealth, for many Filipinos it is preferable or even necessary to turn to private hospitals for certain emergencies or conditions. Some medical services like consultations and basic check-ups may be affordable for most, but when you consider the accumulated costs for you and your family, it can be a significant expense to carry.

It's even more necessary if you consider the costs of an emergency medical situation. A trip to the emergency room or a highly-skilled operation can reach hundreds of thousands of pesos. While your family may be financially stable today, it only takes one accident or one unfortunate event that could lead you to financial difficulties because of a medical bill. And with medical inflation in the Philippines rising to 13.7% in 2019, the cost of medical expenses is expected to increase in the years to come.
When you or your family members are covered by health insurance, most (or all, depending on your coverage) of your medical expenses will either be reimbursed or the insurance will pay all the expenses covered by your policy. This can give your family plenty of benefits.
Coverage for Expensive Medical Expenses

– According to the Philippine Statistics Authority, most of the P526.3 billion Filipinos spend on healthcare annually was paid for out of pocket. This is either because they weren't covered by health insurance or their health insurance policy was not comprehensive enough to cover the medical expense they incurred. A good health insurance policy for yourself and your family can help you avoid the burden of paying for medical bills out of pocket.

Lost Income Replacement

– Should you or another income-earner in the family get hospitalized or unable to go to work due to a medical procedure, our health insurance coverage includes a Lost Income Replacement feature. This provides your family with a daily cash allowance to cope with their daily living expenses while their income is compromised.

Complements Life Insurance for Financial Security

– Together with life insurance, health insurance can keep your family financially secure through these troubling times. Health insurance can pay for all your medical expenses. And should the worst happen to you, your life insurance can keep your family financially secure even after their tragic loss.

Peace of Mind

– Everyday Filipinos can appreciate the luxury of knowing that their family is safe and financially secure. In case of a medical emergency or unexpected condition that will incur huge medical expenses, you can feel safe knowing that you have a financial resource prepared for this type of emergency.
For over 100 years, InLife is the trusted provider of health insurance in the Philippines. We provide comprehensive health insurance plans to millions of Filipinos, giving them the financial resource to stay afloat despite the rising costs of healthcare in the country.

Our health insurance policies can include lifetime coverage that can ensure your health-related expenses are taken care of. At the same time, your family can be well provided for with a daily allowance to replace your household's lost income. And with a comprehensive insurance plan, you and your loved ones can get some peace of mind knowing that your finances are safe from having to pay out of pocket for expensive unexpected medical costs.
Also known as "variable universal life insurance," investment insurance provides both financial security and financial growth. True to its name, the definition of investment insurance has two main parts: an insurance plan and an investment.

In traditional insurance policy models, you or your beneficiaries only receive the benefit of an insurance policy after an unfortunate event. However, an insurance investment plan means that you also receive returns from your policy even before an unfortunate incident occurs.

In short, your premiums get you both the safety blanket insurance provides plus the profitable returns of an investment.
Traditional insurance is technically an investment in the sense that you're putting away money to help you or your family when an unexpected incident could set you back financially. Technically, it's an investment on your family's financial security.

But if you're looking at it as an investment where you're expecting an ROI, traditional insurance models do not necessarily provide this. Think of typical insurance models as putting money in a piggy bank in your house. It's safe and you're not losing any money, but at the same time, you're not gaining anything.

Your payouts are meant to help you and your family through a financially difficult event, but you cannot receive it until after that event has occurred. When your coverage ends and that event did not occur, you receive your premiums back.
Insurance investment plans are like a two-for-one investment. When you pay your insurance premiums, part of your premiums become investments after a certain period. As the value of your premiums grow, so does your investment.

This will result in a return on invesment (ROI) which you can access even before you receive your insurance pay out due to unfortunate circumstances. Your actual insurance, on the other hand, will remain untouched and whatever is agreed upon on your policy coverage will uphold. So, if by a good chance of fate you'll never need to receive a payout from your insurance policy, you get both your insurance premium returned as well as the money you've received from your investment.

The only caveat here, however, is that because your premiums go to both your insurance and to your investment, you cannot withdraw from your account more than your policy's minimum value. Other than that, you're free to take out your ROI and spend or invest it wherever you see fit.
Investment insurance plans come with many benefits for you and your family.
Benefits from Flexible Premiums

– The more you pay, the more you earn. Our variable universal life insurance gives you the option to pay more than the average premium. When you pay more than the minimum, the excess is added to your investment, which helps your fund grow faster.

Funds for Emergencies and Leisure

– Having an investment on top of your insurance allows you to earn back some of your investment which you can spend or invest on anything you want. We recommend re-investing your ROI to stay on track, but having that extra income can help pay for family emergencies not covered in your insurance policies or simply for leisure purposes.

Higher Returns

– Unlike traditional insurance policies, investment insurance maximizes your earning potential by linking some of your investment to stocks and bonds. These can result in bigger funds compared to what you hoped to gain with your premium.

You Don't Compromise Your Policy

– Many types of investments depend on the state of the market and can result in a loss. Your ROI may depend on the value of your premiums. However, this will not affect your insurance policy and will not be compromised by the results of your investment.
You may check out our various Investment Insurance plans here or talk to an InLife Financial Advisor to learn all the plans that suit your needs.
InLife is the first and largest Filipino life insurance company and the only mutual company in the Philippines. With over a century of experience in financial protection, insurance, investments, we've helped millions of Filipinos make smart financial decisions for their future. We recognize that everyone has different financial priorities, and we've given them the tools and resources to plan ahead, every step of the way.

We're a Filipino company committed to serving everyday Filipinos who want to protect themselves and their families by building financial security.
It is InLife's handy mobile digital tool that allows policyholders to access and manage policies, monitor funds and connect quickly with InLife.
The InLife app can be downloaded in 3 ways:
As an InLife Policyholder, you can log in using your Customer Portal credentials. Your username is either a name you elected or your email address and your password.
For first time policy holders, you may register via the app by clicking the Register Here in the InLife App and proceed to follow the instructions.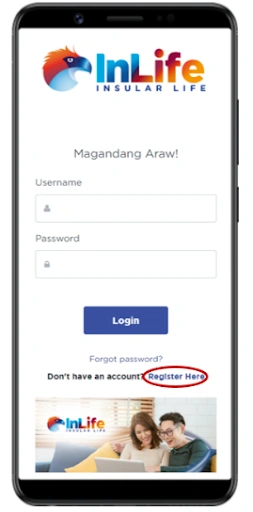 After the registration you will need to verify your email and answer security questions.
Upon email address verification, elect own password or activate biometric log-in feature.
Password nomination is the last step for registration.
Review your InLife policy details, benefits and retrieve your most recent policy information.
Monitor VUL funds. Know how much funds you have anytime, anywhere with real-time updates.
Connect with InLife via e-mail, phone or Financial Advisor and even schedule a visit to InLife branches.
Discover InLife's online platforms as the app provides quick links to other InLife sites such as InLife Health Care, InLife Solutions, and Sheroes websites.