Invest in a high-yield global stock fund, Solid Future Global
August 24, 2021
Grow your investments faster with InLife Solid Future Global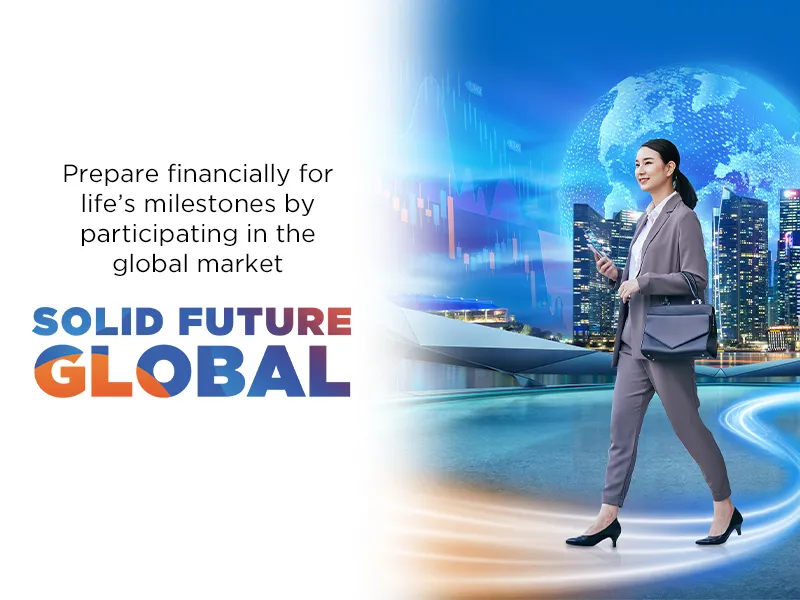 Insular Life (InLife) launched Solid Future Global, a new life insurance product with investment component that takes part in the global market for maximum earnings.
Solid Future Global is a multiple pay life insurance plan where a large part of the premiums become funds that are invested on global markets for potential high returns, helping clients achieve long term goals while having protection against future financial setbacks.
"I think one of the things that became evident during the pandemic is the trend towards globalization and interconnectivity such that practically everything is within our reach now. The rise of e-commerce has allowed us to buy what we want from another country instantly and vice versa. While we are still reeling from the effects of CoViD-19, we look to the future with anticipation, especially because of the vaccine rollout around the world which will gradually reopen markets and lead to revenue recovery. We must be present when this happens to reap high returns. This is why InLife launched Solid Future Global," said Gae L. Martinez, InLife's Chief Marketing Officer. 
Solid Future Global allows the insured to invest on global markets without the need to exchange Philippine Pesos to US Dollars. This is via InLife's Peso Global Equity Fund and Peso Global Technology Fund, where financial risks are minimized because funds are invested across countries and market sectors. 
Additionally, as early as the 2nd policy year, 100% of the premiums are invested directly on the insured's chosen investment fund so their long-term goals could be achieved much faster.  
"These goals could be any of the following: buying a property, starting a business venture, education funds for the children, money for family vacations, and even a decent retirement nest egg. Solid Future Global allows accumulation of funds sooner, creating high funding value over a period ," said Martinez. 
Solid Future Global is for Filipinos aged 0 to 70 years old, with a minimum annual regular premium of P50,000. It has a 5-year guaranteed protection which means the policy will not lapse during these 5 years even if market condition is unfavorable, subject to conditions. The living benefit is equal to the fund value, while the death benefit is equal to the fund value or sum insured, whichever is higher. 
Other News & Press Releases