Your Employee Insurance Benefits during this Health Pandemic
July 01, 2020
Your Employee Insurance Benefits during the Pandemic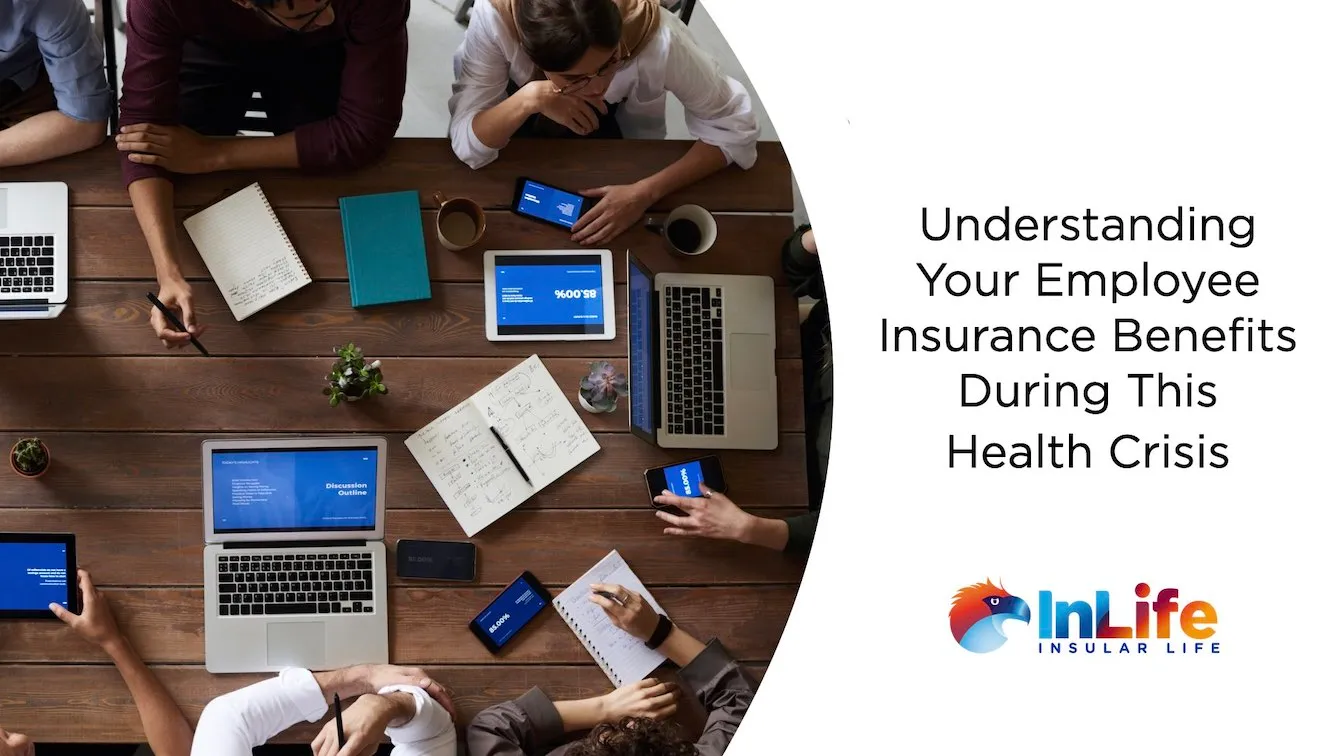 We recognize that these are difficult times for every employer and employee as we all adapt to living with COVID-19.
Insular Life (InLife), the Philippines' first and largest domestic insurance company, continues to help everyone stay protected wherever and whenever work happens. We are making decisive actions and careful considerations to meet the challenges posed by the virus.
Below are frequently asked questions to guide you through your InLife group insurance plan. We want to ensure that members get access to necessary benefits coordination and receive the treatment that they need.
1. Which InLife group insurance plans cover death due to COVID-19?
If one dies due to COVID-19, the death benefit under the following life insurance group plans shall be paid:
1.1. Group Term Life Plan
1.2 Comprehensive Group plan
1.3 Creditor's Group Life plan
1.4 Employee Assurance plan
1.5 Special Group plan
1.6 Teachers' plan
1.7 Students' plan
1.8 Students and Teachers' plan
1.9 Security Guard plan
2. Why is death due to COVID-19 not covered by Comprehensive Group Accident Insurance Plan and the accident riders, Accidental Death and Dismemberment, and Comprehensive Group Accident Rider?
These plans and riders only pay benefits for death due to accident.  Since death due to COVID-19 is not accidental but natural in cause, no death benefit is payable.
3. Is hospitalization due to COVID-19 payable under the Group Hospitalization Plan?
Based on the Group Hospitalization contract, hospitalization due to pandemic is an exclusion.  Since COVID-19 has been declared by the World Health Organization (WHO) as pandemic, any hospitalization due to COVID-19 is not payable under the plan. 
However, given the exponential rise in suspected and actual cases of persons infected by COVID-19, Insular Life is extending temporary group hospitalization insurance coverage to all cases of COVID-19 as part of our commitment to our stakeholders and as a response to the call of the Insurance Commission (IC) to help insureds the best way we can during the pandemic.
The said extension of temporary coverage shall be reviewed on a daily basis and shall be subject to all other the terms and conditions as stated in our policy contract.
Hospitalization benefit shall be net of Philhealth benefits.
4. Under the said Group Hospitalization Plan, is my hospitalization payable if I am a PUM or a PUI?
Payability of your hospitalization benefit will depend on the final diagnosis of the doctor.  If you are found ultimately to be sick of COVID-19, this is not payable as a policy exclusion or a provision not covered by the group master policy.  However, as we said earlier, we will provide temporary coverage for now and pay ex gratia to help you during these difficult times. 
If you are ultimately cleared of COVID-19, and cause of hospitalization is not an exclusion, then your hospitalization is payable under the plan subject to maximum limits and other terms and conditions stated in the policy contract.
5. Can we submit insurance application or claim forms via e-mail with digital signature? What if a member cannot produce printed forms due to this limited mobility situation? 

Yes, digital copies are temporarily accepted as official documents. Be reminded to still keep copies as InLife will require them once the Enhanced Community Quarantine (ECQ), General Community Quarantine (GCQ) or Modified General Community Quarantine (MGCQ) has been lifted.  
6. Some of my employees are on a no-work-no-pay status. Will they still receive benefits under my group plan? 

If the employee is still cited as a regular employee and hasn't voluntarily resigned, InLife will continue to cover him the group plan purchased by his employer.
7. I suddenly need to reduce my employee headcount due to this pandemic. What benefits can I still give to them under my group plan?

All employee-members under the Group Term Life plan will continue to be covered until the 31st day from the date of their separation from the company to give them the opportunity to convert their coverage from group insurance to individual insurance.
For employee-members under a Comprehensive Group Plan that has a provision for Involuntary Separation benefit, they may receive said benefit when terminated involuntarily for reasons such as company policy, reduction of force, or for any reasons beyond their control.
8. How do we contact InLife amidst the COVID-19 situation?
Our InLife Corporate Solutions will continue to be of service to every corporate client and its employees. Thus, we encourage you to maximize the digital resources available to communicate with us regarding your concerns, especially on COVID-19.
For inquiries, quotation requests, and virtual appointments, our InLife digital platforms, you may send in your queries to corporatesolutions@insular.com.ph.
For claims filing and other servicing requests, you may e-mail groupportal@insular.com.ph.
For existing InLife clients, you may coordinate directly with your Financial Advisor and/or Corporate Account Executive for any queries.
Note: Responses to these questions may change as management adapts to our evolving situation.
Other News & Press Releases