Wedding boom looms, experts offer advice on tying the knot
July 25, 2022
Wedding boom looms, experts offer advice on tying the knot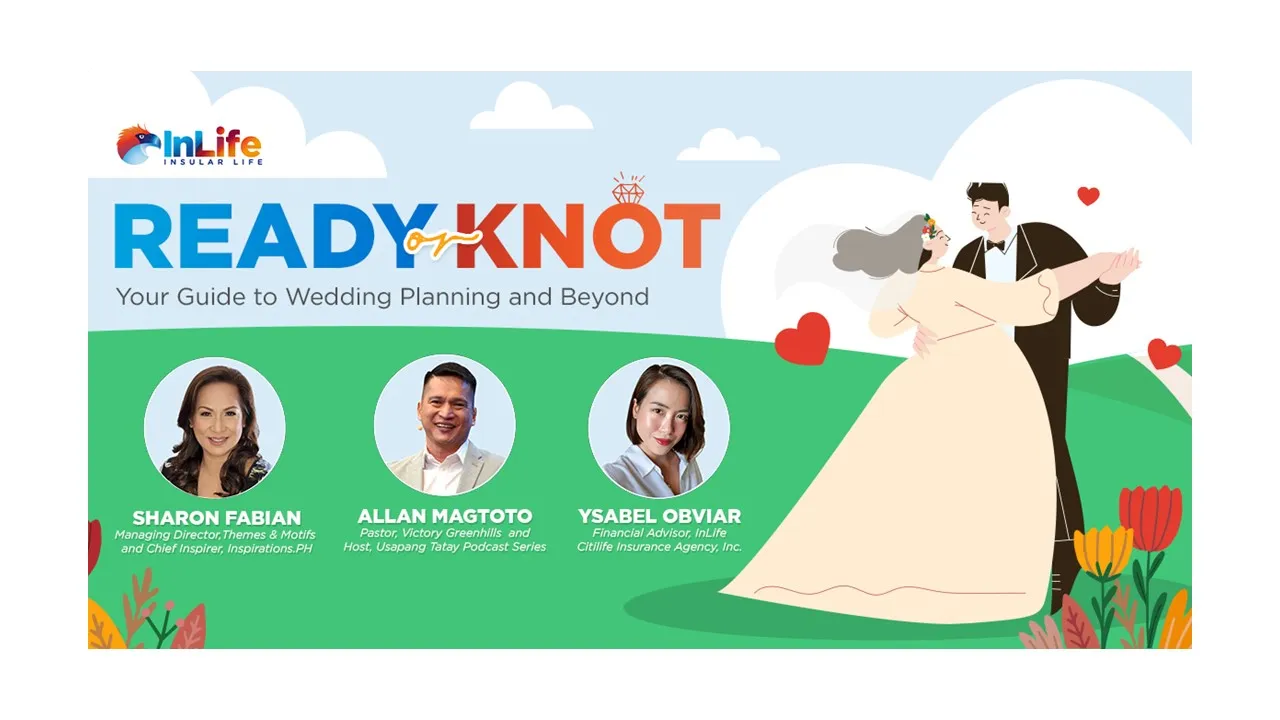 As restrictions on public gatherings ease up this year, more couples are pushing through with their plans of walking down the aisle. But tying the knot entails planning way beyond the wedding day. Talking about essential topics such as family, faith and finances is important. This and more were discussed during the "Ready or Knot: Your Guide to Wedding Planning and Beyond" webinar presented by Insular Life (InLife).
"After two years of postponed and downsized weddings, the wedding industry is seeing a surge of couples planning to get married during the second half of 2022 and beyond. The demand for wedding services and products has never been higher," said Sharon Fabian, Managing Director of Themes & Motifs and Chief Inspirer at Inspirations.ph.
Fabian shared that the number of registered marriages in 2020 had a big dip to only 240,780 couples from 431,970 registered marriages in 2019. While 2021 data is not yet available, Fabian said the numbers had already increased and are expected to further grow this year. Because of this, she advised couples to start booking their preferred vendors 12 to 15 months ahead.
Steps to a less stressful wedding preparation
Planning a wedding which takes weeks and months can be draining for couples. To make it less stressful, Fabian advised couples think of the "big picture" first. She noted that figuring out the type of wedding couples want would smoothen the preparations.
Next, set the wedding date. While June is considered the month for weddings, Fabian shared that most weddings in the Philippines are held in January and December as family members abroad come home during the holidays.
Create a wedding checklist, but make sure that it's flexible. At the same time, establish your priorities and non-negotiables with your partner.
Afterwards, set your wedding budget. As the big day approaches, it would be advisable to have a wedding planner or coordinator help you. Start booking your wedding vendors and suppliers, too.
Most importantly, don't forget to get a marriage license and the required documents from the church.
Beyond the Big Day
After the wedding day comes the weeks, months, and years to spend with your better half, and it is essential that you are on the same page about important issues.
"Communication is critical if you want to last in the marriage. Kung gusto ninyo ng 'til death do us part, importante na pag-usapan ang mga bagay," said Pastor Allan Magtoto of Victory Greenhills.
Pastor Allan who also hosts "Usapang Tatay" podcast shared that the following topics are essential for a stronger bond between couples: finances; family culture and values; future family; friends; and faith.
"Let's communicate with God, so that we could communicate with others better," Pastor Allan advised.
Meeting your family's needs and goals
Ysabel Obviar, InLife Financial Advisor, shared that the best insurance plans for those who are planning to get married take into account the couples' needs and goals.
"You should be transparent with your finances and talk as a couple about your dreams for your family," she said.
There are various insurance products, she said, and it would be wise to talk to a financial advisor to know more about your available options.
Obviar agreed with Pastor Allan's advice on maintaining an open communication between the couple. A marriage, she said, is not just the union of hearts and families, but of the couple's wallets as well.
"Make sure that as a couple, even if you're not yet married, you talk about your finances and share your dreams together and grow together," she emphasized.
Indeed, planning for a memorable wedding day takes a lot of work for couples. But sustained efforts are needed to seal the knot as one family bounded by a strong faith and supported by a solid financial plan.
More life and financial advice from the experts
InLife regularly holds free webinars with professionals and experts as resource speakers. This July 28 (Thursday), its "Livin' the Sweet Life" InLife Sheroes webinar will be discussing the health issues and financial impact of diabetes.
Medical Center Manila Endocrinologist and UP College of Medicine Associate Professor Mia Fojas, MD; Registered Nutritionist-Dietitian Jo Sebastian; and Million Dollar Round Table Member and InLife financial advisor Ethel Tunguia will be the guest speakers for the event that is being held in celebration of Diabetes Awareness Week. The live discussion will air via Zoom at 4:00 PM.
The speakers will talk about the disease, how to live with it, how to manager it, and the sweet lifestyle choices one can make. It will also go into the real cost of diabetes and how one can be financially protected from it. A question and answer session will follow.
To join the webinar, register at  https://bit.ly/InLifeLivinTheSweetLife. Ten lucky guests will get a chance to win a Telemedicine service for one year.
Visit https://www.facebook.com/InsularLifePH to get more life and financial advice from the experts and learn about InLife's latest webinars
Other News & Press Releases