August 24, 2018
Negros Women for Tomorrow Foundation selects Insular Health Care for outpatient services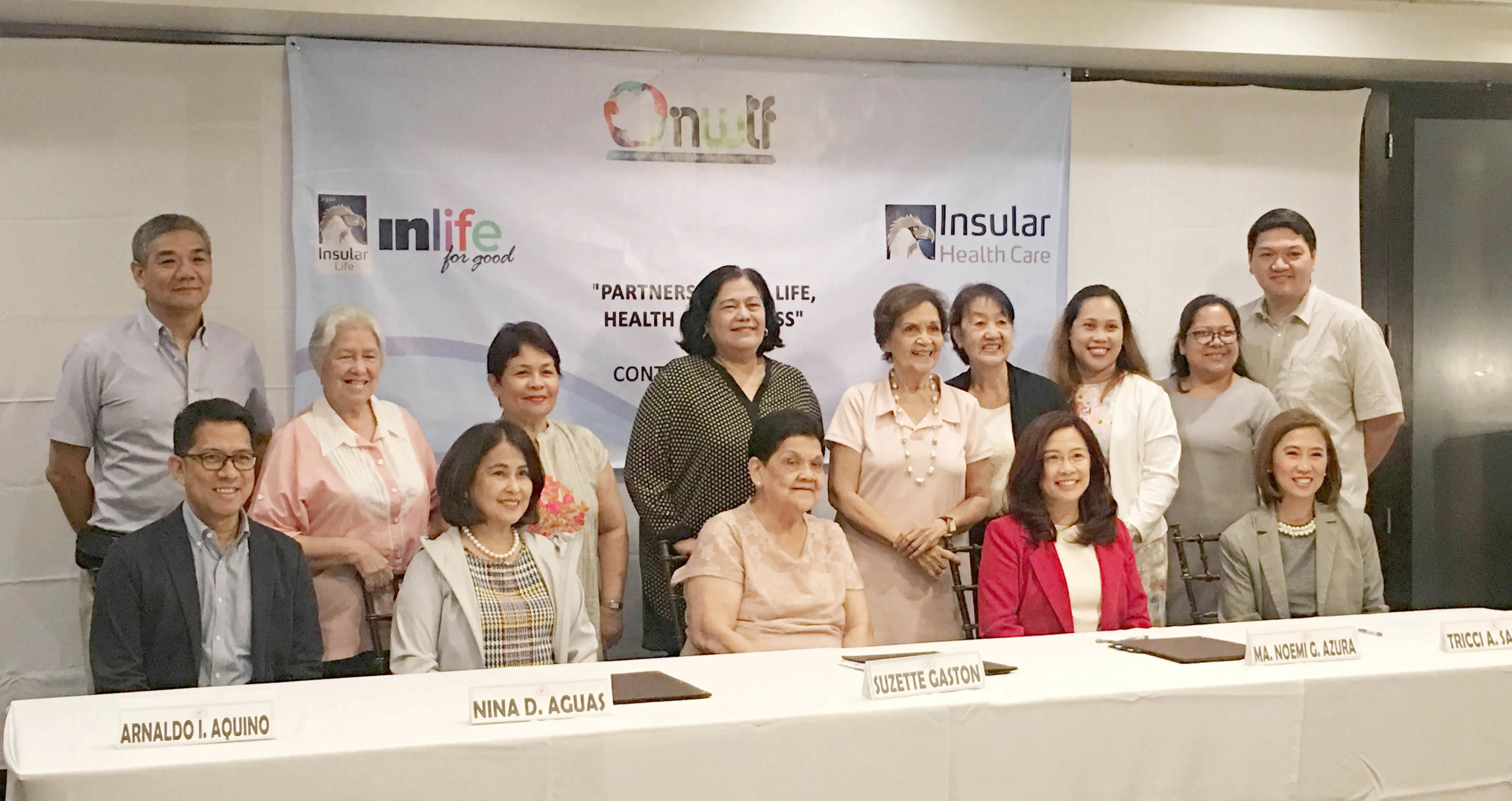 Signing the agreement were (seated from left:) Insular Life Executive Chairman Nina D. Aguas, NWTF Director Suzette Gaston and Insular Health Care President Maria Noemi G. Azura. Seated with them are: Insular Life Territory 3 Vice President and Head Arnaldo I. Aquino (extreme left) and Insular Health Care Head of Sales Tricci Rose A. Sadian (extreme right). Witnessing the signing of the agreement (standing from left are): Insular Health Care GSM Patrick L. Serios, Dungganon Bank Inc. President Corazon A. Henares, NWTF Trustees Myrna L. Desabelle, Elmira P. Maglasang, Anne Marie G. Jison, Janet S. Jalbuena, Asst. Director For Finance & Acctg. Syril Z. Aplaon, HR Manager Ma. Theresa R. Nuñez, and Asst. Director for Admin & Strategic Projects Raymond Patrick S. Serios
Negros Women for Tomorrow Foundation (NWTF) recently partnered with Insular Health Care, Inc.  for outpatient health care coverage of its over 2,500 employees from 121 branches all over the Visayas and Mindanao regions. The out-patient services cover medical consultations, necessary laboratory examinations and diagnostic procedures, and annual physical examination through Insular Health Care's network of over 1,000 accredited hospitals and clinics nationwide.
These out-patient services are in addition to the life, hospitalization, and retirement coverage of NWTF employees provided by Insular Health Care's parent company, Insular Life, for 16 years now.  Through Insular Life's Group Hospitalization Plan, employees and their dependents are covered by in-patient hospitalization benefits. The Comprehensive Group Plan, meanwhile, provides both life insurance with total and permanent disability riders, and retirement benefits to permanent employees of the foundation. 
NWTF was founded in 1984 as a non-government organization that aims to help women, particularly in Negros Occidental's low income and depressed urban and rural communities, achieve self-sufficiency and self-reliance through Grameen based micro-financing and developmental services. Projects such as "Dungganon" and "Kasanag" have provided these marginalized women with training and loan facility to start and maintain their own small business ventures.
Insular Health Care, Inc. is a pioneering Health Maintenance Organization with over 26 years of experience and expertise in administering both standard, customized and hybrid managed care programs for individuals and corporate members.  It is a wholly owned subsidiary of The Insular Life Assurance Company, Ltd. Insular Life is the first and largest, and most enduring Filipino life insurance company with a service record of over 107 years.   To date, Insular Life is recognized as a financial institution providing a wide range of high-value insurance and financial products in the Philippine market.  Insular Life's total consolidated asset as of the end of 2017 is Php 140 Billion.
This partnership affirms a common vision of promoting a secured future and health wellness to the every Filipino by way of customer focused, responsive, quality health and life protection programs. 
This also dovetails with Insular Life's advocacy to help women to become self-reliant and financially independent. In partnership with the International Finance Corporation (IFC) of the World Bank Group, the leading Filipino insurer is creating a program dubbed "Empowering the Filipino Sheroes" to reach out to the entire women segment of the population -- the career women, the professionals, the entrepreneurs, and most especially the women who are looking for financial solutions to expand their businesses or those who seek life protection, but currently have no access to financial instruments and life insurance.

Other News & Press Releases