Mona Lisa Dela Cruz: An Unbroken Promise Of Service
November 23, 2020
Mona Lisa Dela Cruz: An Unbroken Promise Of Service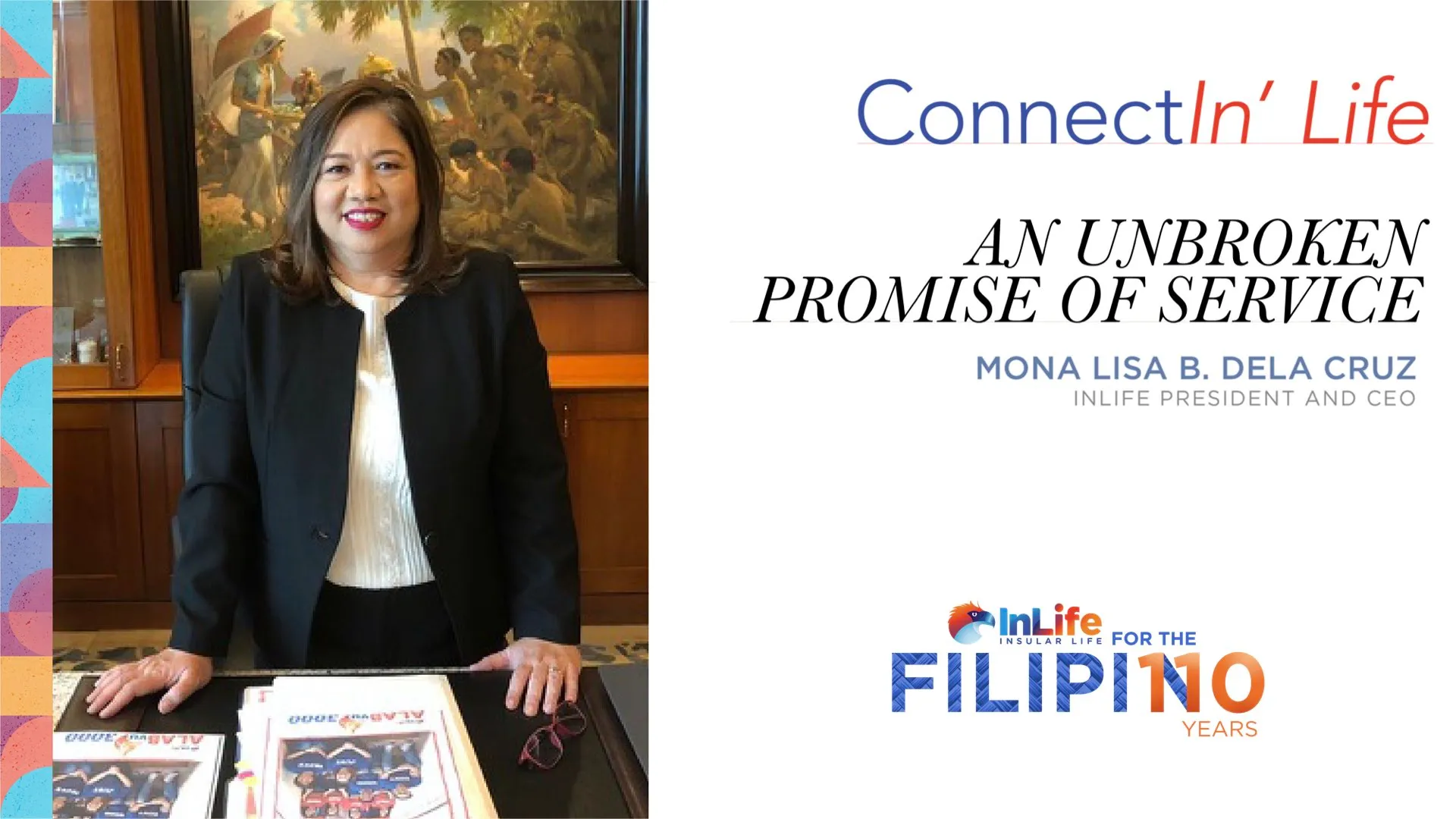 Her father died in the service of Filipinos; she lives to serve them.

Insular Life President and Chief Executive Officer Mona Lisa B. Dela Cruz comes from a family that seems destined for public service. Her mother was part of the Department of Agrarian Reform and later, the Development Bank of the Philippines; her brother, Gen. Emmanuel Bautista, was the 44th Chief of Staff of the Armed Forces of the Philippines (AFP); and her father, the late Gen. Teodulfo Bautista, was the highest-ranking officer of the 35 soldiers who were massacred in Patikul, Sulu.

Lisa, the eldest of five children, was in college when her family received the news that shook the entire country in 1977. Her father was the head of a mission that was supposed to broker peace with Moro rebels; instead, they came home in body bags.

"There was a lot of sympathy for my Dad's passing, so maraming tumulong sa amin. At that time, I was just graduating from college; and all my siblings were still in school," Lisa recalled. "The government and a lot of people looked after my mother, giving her projects so she could keep earning."

Her mother's dream was for her to become an actuary, so after finishing BS Statistics cum laude from the University of the Philippines, Lisa pursued MS Math, major in actuarial science, at the University of Michigan.

"My study was funded by my mother's earnings and the life insurance benefit from my father, but we owe it also to the people who helped us," Lisa said.

And so after finishing her master's education, she immediately came home, ready to serve in government. She had been a GSIS scholar in college so her first stop was the Government Service Insurance System (GSIS). While she qualified for a job, all appointments had to be approved by the Philippine President then, so it took time. Anxious to work, Lisa applied to two private companies, one of them Insular Life Assurance Company Ltd. (InLife).

InLife's application process was quick, and in 1980, Lisa got her first job: Assistant Manager of InLife's Mass Marketing Division. That same year, she completed her actuarial exams to earn her professional designation as Associate of the Society of Actuaries of the USA.

"On my first day at Insular Life, GSIS called to say that my appointment was approved," Lisa said, laughing at the irony. "But Insular was my destiny; I found my match. There's an alignment of values and purpose—mine and the company's. I wanted to serve the Filipino people; Insular Life was a Filipino company owned by the policyholders."

"What made me stay was the reinforced values through the years. The company allowed me to integrate family life with my career, to grow from a technical role and expand to other areas of operations," Lisa said. "I found fulfillment in the work I was doing, in the difference, I was making with customers, co-employees, and the industry."

In Mass Marketing Division, Lisa's first assignment was actuarial work for group insurance, which was not yet fully developed then, and hence posed a challenge that the Math whiz enjoyed. Four years after, Lisa completed her actuarial exams and earned her professional designation as Fellow of the Actuarial Society of the Philippines. In the same year, she moved on to Actuarial Division—the core unit for her expertise—and became head of the Division in 1993.

By 1997, Lisa was not only First Vice President, Chief Actuary and Treasurer, she was also the head of the Insular Insurance Administration Group. From 2000 to 2015, she led the Administrative Operations Group. These roles showed her the integration of the life insurance policy to meet customer needs—from product design to frontline servicing to customer experience to information technology to finance.

"I used to just compute and churn numbers; it was fulfilling to see those numbers translated to real life, to customers who receive the benefits," Lisa said. "Iyong mortality table, kapag nagkaroon na ng names, nagkakaroon na ng ibang dimension in terms of emotions."

Forty years later, Lisa is at the helm of InLife—the first woman to become president of the 110-year-old institution. She is a member of its Board of Trustees. She is also Vice Chair of Insular Health Care as well as Insular Foundation, the company's social responsibility arm. Outside of the Insular group, she is also a Member of the Board of Pilipinas Shell Petroleum Corporation and Mapfre Insular Insurance Corporation.

"This is not a career path I had always planned, but I take it as a mission, a role that I have been chosen to take for a purpose," said Lisa.

Magandang Araw

In her four decades at InLife, she learned three important lessons: "First, work for a purpose, with good intentions, integrity, and honesty, and everything will turn out right, eventually. Second, set targets, and work seriously on achieving them, building success through values. And third, continue learning and improving, to meet the challenges of expanded roles, bigger responsibilities, changing business environment, etc."

In 2008, Lisa's team launched what would become InLife's most successful customer relations program called "Magandang Araw." It was not only a greeting used in offices, emails, and other customer touchpoints, but a way of working that projected positivity and well wishes to the people InLife is serving.

"So many customers, especially the overseas Filipino workers, commented that it was welcoming that they are greeted in Filipino. It feels so differentiating daw. That gave us identity and reinforced our use of 'Magandang Araw' as an embodiment of what we want for Filipinos," Lisa said.

As the first and biggest Filipino insurance company in the Philippines, InLife stands shoulder-to-shoulder with foreign insurers when it comes to "the numbers that matter: net worth, net income, and total assets," Lisa said.

In 2020, for the fourth consecutive year, InLife was named Best Domestic Insurer by the Insurance Asia Awards.

Financial Discipline

"InLife is fully invested in the Philippines. Because we are a domestic insurer, our profits are invested in the country to help fuel the economy," Lisa said. "Our 110 years of unbroken service attests to our financial strength, resilience, and commitment to the Filipino people."

Established in November 1910, InLife has stood with Filipinos through a world war, financial crises, natural disasters, and now, a global pandemic. It is the only mutual life insurance company in the Philippines, which democratizes ownership to its hundreds of thousands of Filipino policyholders.

"Our accountability is to our policyholders, so we work for the best interest of our policyholders," Lisa said. "We take pride in being the company that knows best how to take care of Filipinos."

This is why InLife is passionate about financial literacy. With less than 2% of the country's Gross Domestic Product going to life insurance, Lisa said there is a need to educate Filipinos on financial management. Including financial literacy in the school curriculum could make a difference.

"Kasi ngayon maraming distractions from consumerism. Not to put it in a bad light, but minsan nauuna pa ang gadgets kaysa life insurance, so the challenge is how to make our kababayans aware of the value of discipline and setting aside money to make their lives better and to be prepared for expected as well as unexpected events," she said.

Financial discipline is something Lisa and her husband, retired Major Gen Elmir dela Cruz, had passed on to their three children, who are now all working and insured.

"We did not preach financial discipline to our children; it was something they imbibed from living it and experiencing it in our family life. Nakikita nila iyan day-to-day, so it's not so much teaching financial discipline but doing it. Kapag may gusto silang bilhin, there's a justification process," she said.

The COVID-19 pandemic, while unfortunate, has increased people's awareness of their need for protection and insurance for the sake of their families, and this is an opportunity that InLife will not waste.

"Our commitment starts and ends with the Filipino people. Our mission is to serve them," Lisa said, and the COVID-19 pandemic is no different from the other disruptions and calamities InLife has seen Filipinos through.

"We are always there—hindi kami nawawala, and the pandemic has allowed us to demonstrate our commitment and resiliency as the Filipinos' partner," Lisa said. "When the quarantine guidelines allowed us, we were there physically for them; when the quarantine prevented us, we were there digitally."

To read stories of connecting lives for good, download InLife's 110th Anniversary Magazine.


DOWNLOAD
Other News & Press Releases