Lilibeth Co: When Frontliners Wield Keyboards, Headsets
November 25, 2020
Lilibeth Co: When Frontliners Wield Keyboards, Headsets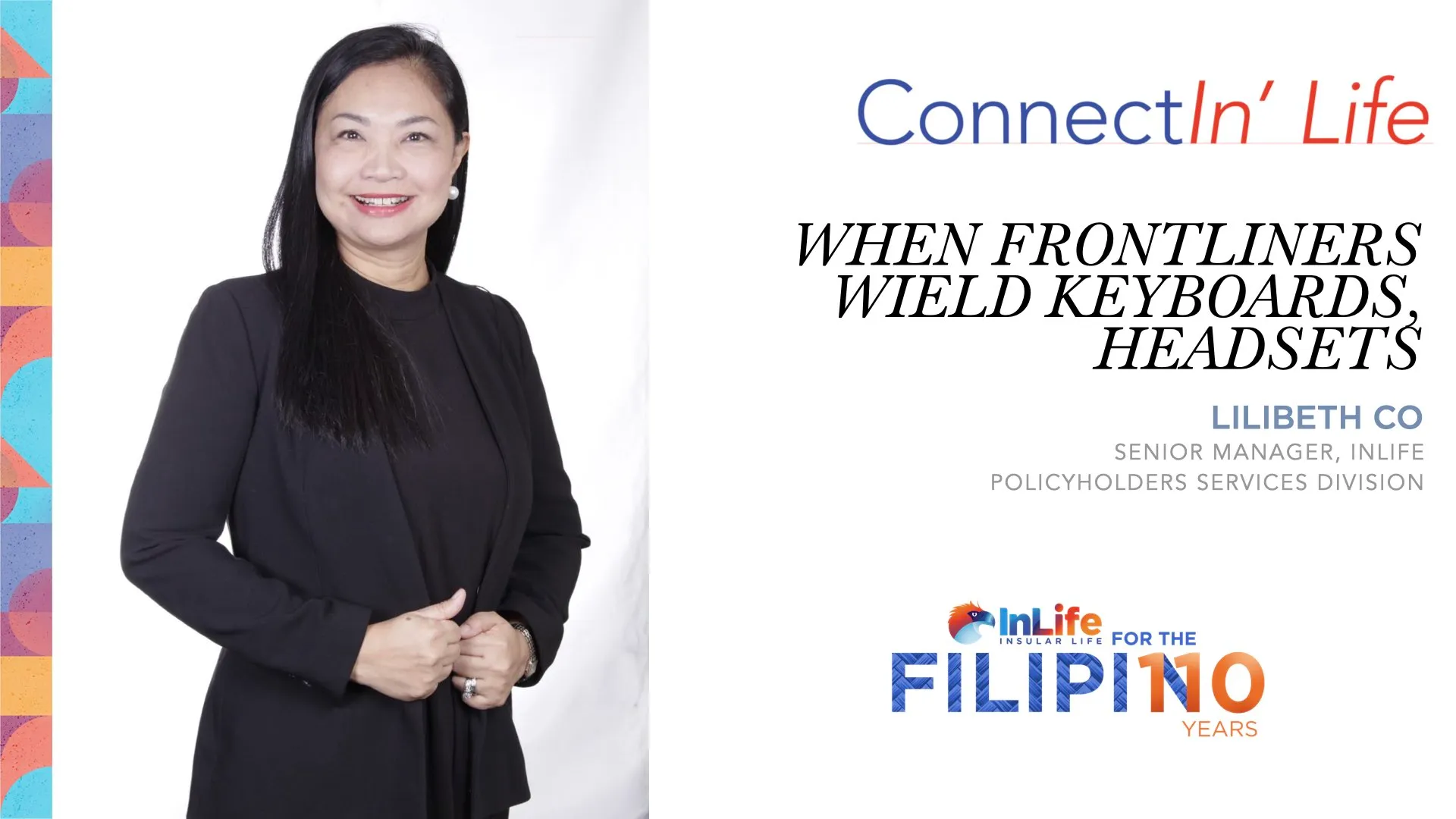 Not all frontliners who risk their lives to help others during the COVID-19 pandemic are garbed in layers of protective coveralls, toiling in hospitals or out in the streets.
Sometimes, they are ordinarily dressed workers behind an acrylic-protected counter hunched over their laptops, carrying on with their duties to keep alive a company's operations—and their own source of income—afloat.
Lilibeth Co, senior manager of Insular Life's Policyholders Services Division, and her team of six InLifers were such industry frontliners, but the pressure was more intense because their company has 110 years of uninterrupted service.
While cooped up in their homes during the first three months of the lockdown, Lilibeth and her staff continued to perform their tasks like soldiers on the battlefront, wielding company-issued laptops and riding on erratic internet connection.
The team handled the usual questions and complaints from confused and irate policyholders but this time, through the customer portal, InLife's online end-to-end policy servicing facility. While it was a drastic pivot from their normal operations, Lilibeth and her team persevered, patiently guiding clients through the process to ensure that they were up to date with their premium payments or that they can access their benefits or funds without delay, especially at such a difficult time.
"It was a strange experience for us at first because we are accustomed to face-to-face interactions with policyholders that allow us to see right away if they are satisfied with our service," Lilibeth said.
But with her grit, plus over three decades of experience with InLife, she was able to keep her team solid and focused, helping them navigate an unfamiliar path. From home, she initiated group chats and the occasional virtual meet-ups, not just to keep close tabs on their progress at work but also to cheer them up.
"Because we are frontliners and our work is not really just focused on the customer portal, I made sure that I was there for them. We would meet [online] and talk about their concerns or the things they need. But my team is very flexible and they adjusted pretty fast to the new tasks given to them," she shared.
When the government eased the lockdown in June, allowing the return of a small percentage of the workforce to their offices amid lingering fears of infection, Lilibeth was among the first to unflinchingly go back. She thought that if her staff was returning to the office, she should too.
"I won't ask them to do something I won't do. So I also reported for work to assure them that it was safe to go back to the office as long as we strictly observe the safety protocols set by the government and the company," she said.
Privileged to serve
Lilibeth said InLife had fully prepared for their return to work. The company provided daily transportation for those who did not have private vehicles; regularly distributed face masks and face shields; frequently disinfected service areas where they deal with policyholders; and placed acrylic barriers on the office counters for extra protection.
On their first day back at the office premises under the new normal, with business operations limited to only four hours, the team willingly skipped lunch to be able to accommodate the big number of policyholders who turned up in the office not just for their usual transactions but also for much-needed human interaction.
"We are in the middle of the pandemic and to be of service to our fellow Filipinos at this time is really a privilege," Lilibeth said.
"We are living our long-held belief that our company exists for the Filipino. As members of this company, this has long been inculcated in our minds—that we should be there for the people especially when they need us the most," she said.
Lilibeth, a mother of three, is one of the most familiar faces in InLife, having been with the company for 34 years now. Fresh from college with an accountancy degree, she began her career as a receiving clerk and worked her way up to become a senior manager.
All these years, she chose to stay with InLife because of how the company treats each employee as part of a family, and not just as a cog in a big machine, she said. So, when she was thrust into one of the most challenging times in her career—to carry on for the company as it grappled with the impacts of the pandemic—it was easy to give back and pay forward the compassion and the warmth she has received.
"In this job, it truly makes us feel great to be part of this organization when we make our policyholders happy through our service," she said.
To read stories of connecting lives for good, download
InLife's 110th Anniversary Magazine.

DOWNLOAD
Other News & Press Releases