February 23, 2015
Insular Life announces Executive Promotions!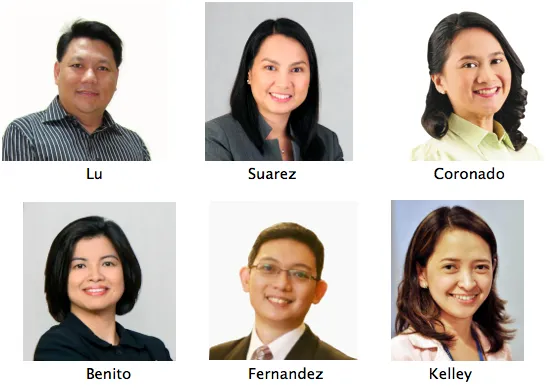 Insular Life Chairman of the Board and CEO Vicente R. Ayllón recently announced the promotion of the following executives: Mundece L. Lu to first vice president, Katerina V. Suarez to vice president, Johanna C. Coronado to senior assistant vice president, and Atty. Analyn S. Benito, Adrian Joseph R. Fernandez, and Gwendolyn Kelley to assistant vice president.
Lu heads the Visayas – Mindanao Sales Division of the Company's Sales and Marketing Group. As head of VisMin Sales, he oversees the Region's sales, marketing and conservation activities. He graduated from the Ateneo de Davao University with an AB in Economics degree, cum laude, and he obtained his Master's Degree in Business Management from the Asian Institute of Management.
Suarez heads the Actuarial Division and is concurrent head of the Actuarial Research and Product Development Staff. As head of Actuarial Division, she oversees the technical aspects of life insurance operations, including product development, valuation, and research. She graduated from the De La Salle University with a degree in BS in Applied Mathematics, cum laude. She is a Fellow, and currently the Vice President of the Actuarial Society of the Philippines. She is a Fellow, Life Management Institute (FLMI), awarded by the Life Office Management Association (LOMA).
Coronado heads the Brand Marketing Department, which handles product development, manages the product mix, and facilitates the brand building efforts of Insular Life. She graduated from the Assumption College with a degree in AB in Mass Communications, cum laude. She is an FLMI.
Atty. Benito heads the Compliance Unit of the Legal and Corporate Services Division. As head of the Compliance Unit, Atty. Benito oversees the effective implementation and management of programs that ensure compliance to laws and ethical standards. She graduated from the University of the Philippines in Diliman with a degree in BA in European Languages, and obtained her Bachelor of Laws degree from Arellano Law Foundation. She earned her designation of Associate, Insurance Regulatory Compliance from LOMA.
Fernandez belongs to the Group Marketing Division and heads its Strategic Marketing Team, which provides solutions to the personal insurance and investment needs of oversees Filipinos and their families. He graduated from San Beda College with a degree in BSC major in Business Management and Entrepreneurship and obtained his Master in Business Administration from the Pamantasan ng Lungsod ng Maynila. He is also an Associate, Life Management Institute awarded by LOMA.
Kelley is a business process manager of the Business Process Management Staff, which studies and reviews the Company's priority areas of operations to ensure the effectiveness and efficiency of current methods and procedures practiced by different work units. She graduated from Miriam College with a degree in BS in Accountancy. She is a Certified Public Accountant, a Certified Project Management Professional and an FLMI.
Other News & Press Releases