Insular Foundation welcomes new Gold Eagle Scholars
May 04, 2022
Insular Foundation welcomes new Gold Eagle Scholars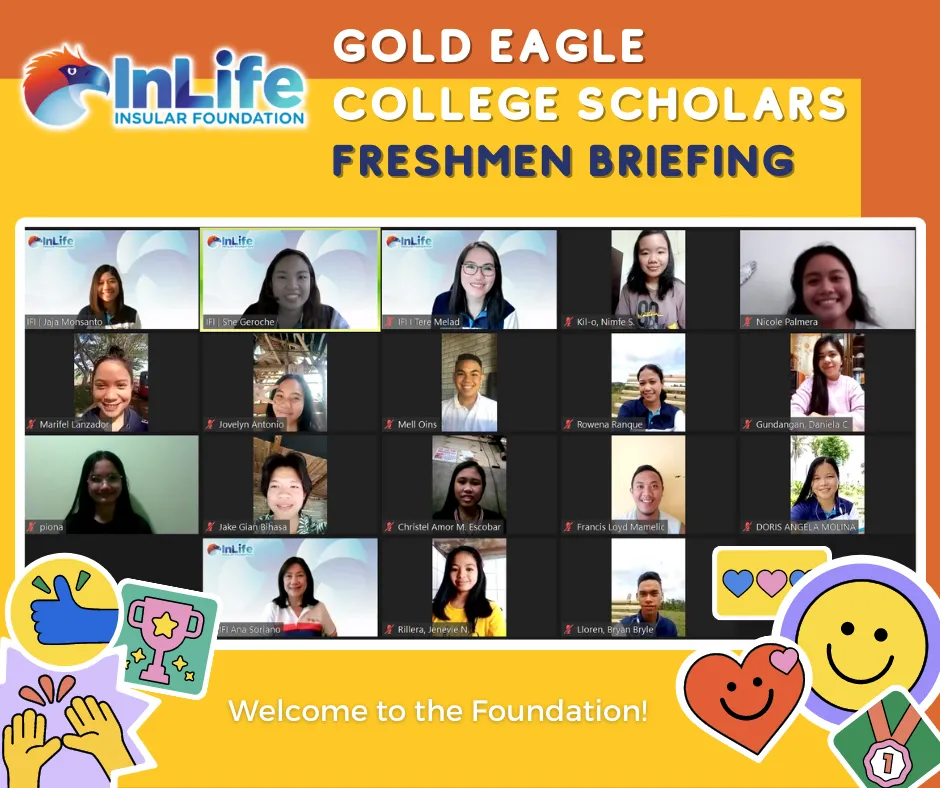 Insular Foundation, the corporate social responsibility arm of Insular Life (InLife), welcomed 27 new college scholars who are taking up education, mathematics, and statistics courses in its partner state universities. 
The Insular Foundation welcomed the new Insular Gold Eagle Scholars from the University of Philippines Diliman (UPD), Aurora State College of Technology (ASCOT), Benguet State University (BSU), Bohol Island State University (BISU), Central Mindanao University (CMU), and Davao Oriental State College of Science and Technology (DOSCST).   
During its online orientation, the Insular Foundation discussed the scholarship benefits which include stipend, transportation, and book allowance; the scholarship renewal rules; and the two-year requirement to serve in the country after graduation.  
Insular Foundation Executive Director Ana Maria R. Soriano said that through the Insular Gold Eagle Scholarship Program, InLife and the Foundation help poor but academically gifted students become teachers and data scientists. 
She also encouraged the scholars to become good influencers and leaders. "Be involved in meaningful pursuits and enjoy college life without losing sight of your purpose which is to get your college degree at the prescribed time."
Two of the new scholars expressed their appreciation to the Foundation for bringing them closer to their dream to become teachers. 
"My long-term goal and my family's dream for me to become an educator is a step closer to reality because of your generosity. By awarding me this scholarship, you have lightened our financial burden. The scholarship will also allow me to focus more on the most important aspect of school and that is learning. Donors like the Insular Foundation make life brighter for us. I hope that one day, I too will be in a position to bring smiles to needy students," said Bryan Bryle Lloren from BISU. 
"The scholarship that you granted is not just for us, the scholars, rather, it will be for our people. As a future educator, the scholarship will serve as my motivation to do greater good. Ayon nga sa ating kasabihan, ang edukasyon ay para sa kabataan at para sa bayan," said Avryll Arda from UPD.
For school year 2021 to 2022, the Insular Foundation's Gold Eagle College Scholarship Program supported a total of 108 scholars taking up education in the six partner state universities and colleges, and mathematics and statistics in UPD. Since its relaunch in 2008, the program has produced 74 scholar-graduates.
Hope for the future
Meanwhile, as part of the Foundation's holistic educational intervention for its scholars and other students, it conducted a webinar entitled "Asking for a Friend: How can I feel hopeful about my future?" in partnership with Edukasyon.ph. 
More than 100 Insular Foundation scholars and other students from the Edukasyon.ph network participated in an insightful discussion about the struggles of students and how to pursue goals with a positive attitude during the pandemic. 
Resource speakers Gracie Orden, Empath Mental Health Professional and Counselor; and Steph Naval, youth advocate, founder and CEO of Empath Corporation, shared the following insights to foster hopefulness even during these trying times:
• Thriving is the key. Most Filipinos, not just students, are on survival mode during the pandemic but it is better to thrive than to survive. When we thrive, we try to develop ourselves and be successful in whatever we do. 
• Don't forget to do self-care or have time for yourself. Develop a self-care list and follow it regularly. The list may include simple activities like hugging family members, playing with pets, taking a shower, doing mindful breathing, and appreciating nature. 
• Cling on to hope which is what we need now, especially the youth. Hope is believing that things will get better. Push goals forward, and act on these goals.
• Practice being hopeful to make it a habit. Being hopeful involves acknowledging the current difficult situation to move forward. One good practice is to keep a gratitude journal: list down even the small things to be grateful for even during a challenging situation.
• Embrace help from others. For students, be open to receive support from family, trusted friends, teachers, guidance counselor, and even online.
Other News & Press Releases