September 16, 2019
Insular Foundation Marks 50th Anniversary Through Leadership Summit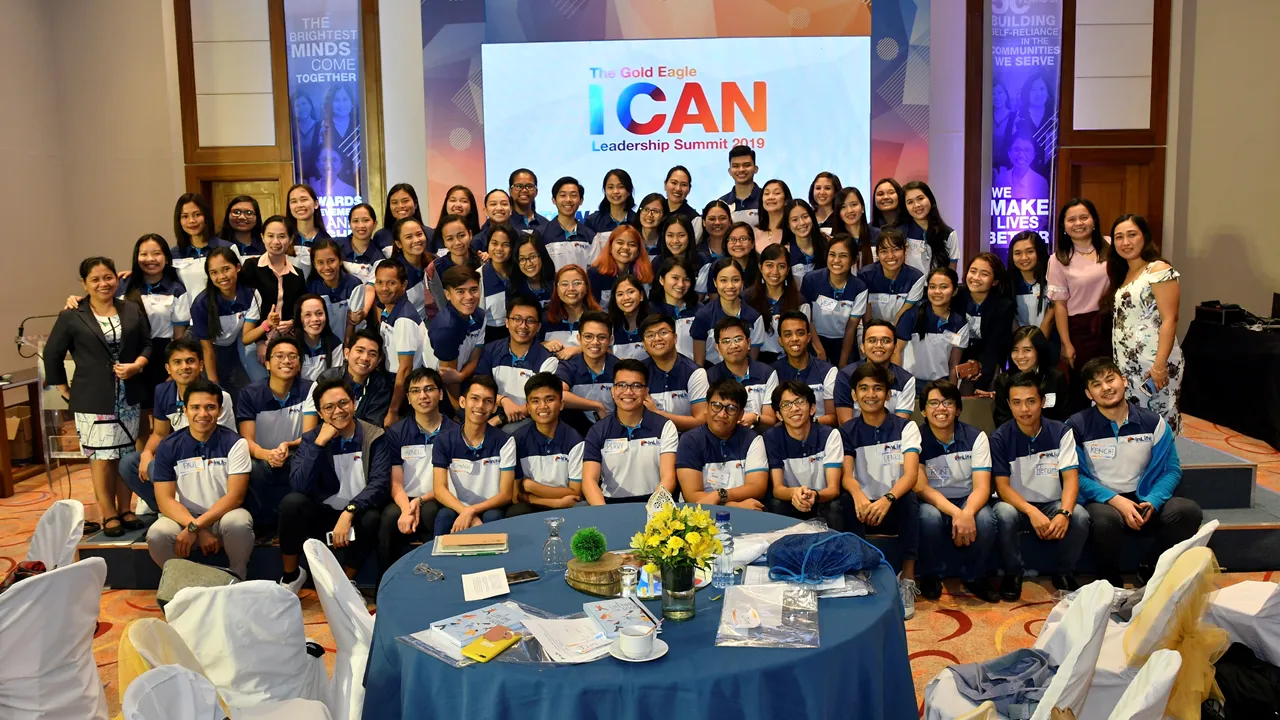 Education goes beyond the classroom.
Insular Foundation made this known to the scholars during the recent Gold Eagle ICAN Leadership Summit with the theme "Towards Achievement and Higher Sense of Self" in Insular Life Makati. The summit was attended by scholars from the University of the Philippines Diliman, Aurora State College of Science and Technology, Benguet State University, Bohol Island State University, Central Mindanao University, and Davao Oriental State College of Science and Technology; and recipients of the Company Scholarship for Employees' Dependents (CSED) Program.
InLife Executive Chairman and Insular Foundation Chairman Nina D. Aguas said the Foundation invests in education which levels the playing field for young Filipinos, and carries immeasurable development and social impact to the country. "While education levels the playing field, it is but one way and the journey must not end there. How you use that this for yourself and the people around you will determine not just your success but that of others. Each of us must be a force for good, an invitation to do our share --- our time, talent and treasure should go beyond providing for ourselves and our families but extended to our neighbors and our community," Aguas said.
In his keynote speech, Aurelio Montinola III, Chairman of the Far Eastern University and Gold Eagle Scholar, encouraged the scholars to lead a sustainable lifestyle in order to achieve a sustainable career that will create an impact to the sustainable Philippines. He added that this challenge needs to be anchored on a good education, sense of career purpose, change of health behavior, and active involvement in environmental initiatives.
"For your health, you will need to start by changing yourself. Diet, sleep, an exercise in moderation - these are the fundamentals to any lifestyle change," Montinola said. "Put simply, good physical health and an active lifestyle will keep you mentally fit to pursue your dreams of achievement and a higher sense of self. Lastly, for your and the world's future, I ask you to become more involved in an environmental activity," he added.
Another Gold Eagle Scholar and Senior Lecturer at the De La Salle University, Dr. Luis Razon, challenged the scholars to take on a culture of research and continuous improvement. "Insular Foundation has provided a perfect opportunity for yourselves and your future students. Let's learn more about this world and improve it," he told the scholars.
To further share life lessons to the scholars, the Leadership Summit also included presentations from two motivational speakers Arun Gogna, and Marianne Mencias; and three breakout sessions on: Tricks to become the Team MVP by Jan Silan; Bringing out your inner creative by Sha Nacino; and Rapid-fire tips to save time by Carlo Montano.
During the Leadership Summit, the Foundation also recognized the scholars who recently graduated. The UP Diliman scholar-graduates are: Jerielle V. Malonzo, summa cum laude, BS Mathematics; Alyssa Benedict D. Mauricio, Michael Sonne C. Pajanil, Vincent C. Villacorta, and Roslyn Vea D. Damasco, magna cum laude, BS Education; and Raven Kate T. De Leon, Gindie Faith C. Fontanilla, and Joy Florence M. Motin, cum laude, BS Education. The other graduates with honors are: Iris C. Ranara, cum laude, BS Education, Bohol Island State University; and CSED recipient Von Gwayneth Ayado, cum laude, BS Electronics Engineering, University of Sto. Tomas.
More scholars completed their BS Education degree from partner universities. They are: Suelen A. Cabat, Aurora State College of Technology; Irish Rochel B. Arevalo and Renante A. Leaño, Benguet State University; Khim Verly P. Rosaupan and Ria Chris B. Timario, Bohol Island State University; Stefanny M. Arbolonio, Melody S. Gregorio, and Leizel M. Monticod, Central Mindanao University; Teodoro G. Cabatlao and Janice D. Rom, Davao Oriental State College of Science and Technology.
Completing the roster of scholar-graduates are two CSED recipients: Angelo Gabriel Ocampo, BS Business Administration, San Beda College Alabang; and Marian Mendiola, BS Management Information Systems, Ateneo de Manila University.
Other News & Press Releases