Insular Foundation celebrates academic excellence: awards Gold Eagle scholars led by UP Diliman summa cum laude awardee
November 21, 2022
Insular Foundation celebrates academic excellence: awards Gold Eagle scholars led by UP Diliman summa cum laude awardee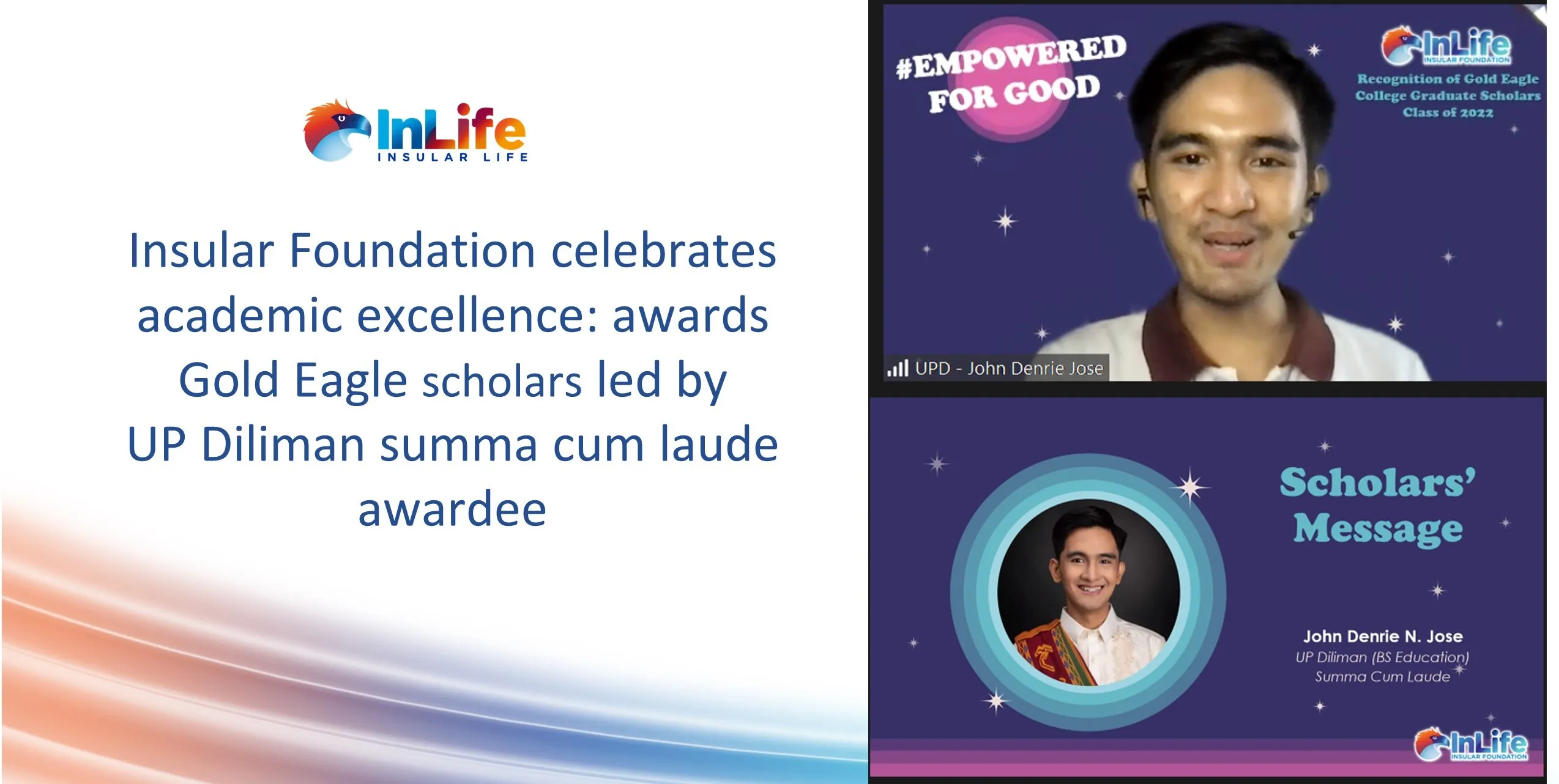 John Denrie Jose was a bright-eyed Education freshman in the University of the Philippines (UP) Diliman when he read about a scholarship being offered by the Insular Foundation, Inc.—the Gold Eagle Scholarship Program. 
For a young college student who had to stretch what meager allowance  his family provided, this was heaven-sent. After all, the scholarship included a monthly stipend and transportation and book allowances. As UP is a state university, tuition is free. "I really hoped to be selected as one of the ten scholars from the College of Education as I had been struggling to stretch a P500 or sometimes P1,000 allowance given by my brother in one week where most of the said amount was allocated for my transportation." To save money, he would wake up in the morning to prepare food he could bring to school, and commute to UP Diliman from his home in Taytay, Rizal. 
Denrie received the news that he was chosen as one of the ten Gold Eagle scholars one December morning, on his way home. The scholarship enabled him to rent a boarding house, and focus more on research, fulfilling his academic requirements, and creating instructional materials for his classes as an in-service teacher. Four years after, Denrie did not just prove himself worthy of the scholarship. He also gave so much back by graduating summa cum laude during UP Diliman's AY 2021-2022 graduation rites. "The Insular Gold Eagle scholarship program taught and helped me achieve the following: be independent, financially literate, an outstanding student, and most importantly, academically excellent. I am eternally grateful to the Insular Foundation for lending us helpful hands, enabling us Gold Eagle scholars to achieve our dreams."
Denrie led the 18 Gold Eagle scholars who graduated and were recently feted during Insular Foundation's online recognition rites. Fifteen of them graduated with latin honors. All of them received graduation cash gifts from the Foundation. Aside from Denrie, the Foundation recognized the following scholars from UP Diliman: Veronica Hilary Guevara and Shawn Christian Tuason (Math, magna cum laude), Jean Marie Dayao and Claire Joyce Prendol (Statistics, cum laude); and Education majors from the following state colleges and universities: Aurora State College of Technology (ASCOT): Allondra Abenojar and Astrid Ong (cum laude), and Kate de los Santos; from Benguet State University (BSU): Memorie Pilay (magna cum laude), Carmen Sakiwat (cum laude), and Val Copero; Bohol Island State University (BISU): Aphril Rose Paguican (magna cum laude), and Antonette Abugan and Anna Bitang (cum laude); Central Mindanao University (CMU): Hannah Binatlao and Mark Angelou Ocariza (cum laude; and Davao Oriental State University (DORSU): Hanna Fe Morales (cum laude) and Juliet Quijano.
During the virtual recognition rites, InLife Executive Chairperson Nina D. Aguas congratulated the scholars for their academic achievements. "Insular Foundation has opened the door of opportunity for you so you can acquire a good education. We salute all of you for finishing the academic race, for persevering in your studies, for loving your parents and siblings, for your ambition to making a better life for yourself and your loved ones.  All of you have graduated from state universities, and so the ties that bind you to giving back to our country and fellow Filipinos is deeper. Contribute to building resilient, empowered, and sustainable communities."
The Gold Eagle Scholarship program is Insular Foundation's flagship program which gives scholarship grants to students in Science, Technology, Engineering and Mathematics (STEM) courses offered by its six partner schools: UP Diliman, ASCOT, BSU, BISU, CMU, and DORSU starting A.Y. 2022-2023. For more than 50 years, the Scholarship Program has helped hundreds of students complete their college studies.
On its 53rd year, the Insular Foundation continues its mission of serving thousands of students and scholars so they could attain higher education and achieve a better life. It believes that investing in the development of the nation's human resources through education and caring for the environment will lead to a better life for the country and the Filipinos. 
Other News & Press Releases