InLife Sheroes reaches out to 7.6 Million Filipinos after 3 years
March 22, 2022
InLife Sheroes reaches out to 7.6 Million Filipinos after 3 years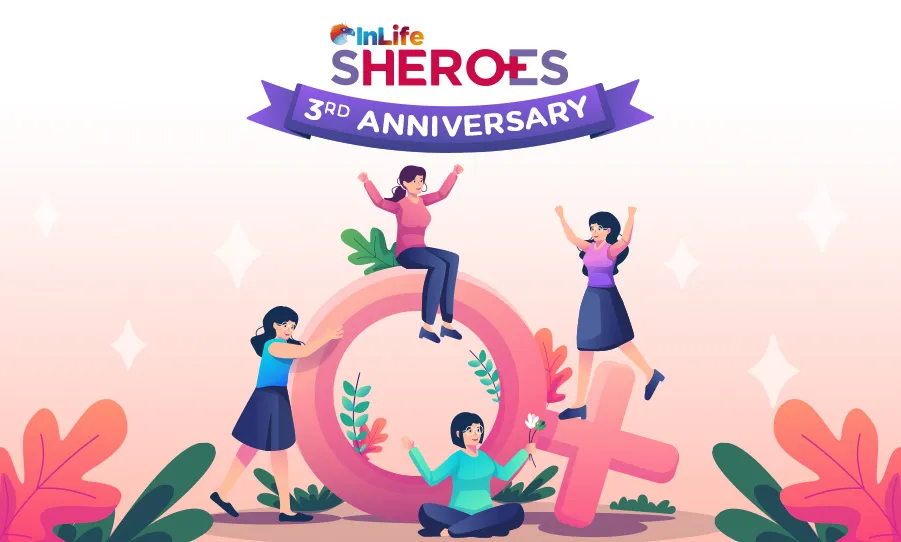 In 2019, when it was launched, InLife Sheroes aimed to reach one million Filipinos. Three years hence, it has touched the lives of more than 7.6 million Filipinos. 
InLife Sheroes, a movement that aims to empower Filipino women has come a long way. It has achieved 765% of its three-year target. 
"InLife Sheroes stays true to its mission of empowering the Filipino women through its four pillars of 
Financial Education, Health and Wellness, Women-specific solutions, and Access to Social and Business Networks. In the last year alone, we were able to achieve our numbers by having the following: financial literacy and gender sensitivity training sessions, partnerships with various organizations that cater to women for health and wellness campaigns as well as solutions for women-specific needs, and mentoring sessions with outstanding women in their respective fields," said InLife Sheroes Program Manager Josephine Manankil-Gonzales.
Gonzales added that InLife Sheroes provided women entrepreneurs an avenue to reach out to more customers through the Digital Bazaar in partnership with the UnionBank of the Philippines. InLife Sheroes also launched #InAko, a campaign that challenges Filipino women to take the next step towards becoming a Shero by learning from their financial mistakes and using these to take charge of their lives towards financial empowerment for their future, goals, family, and the entire nation. 
With InLife Sheroes reaching out to more than seven million Filipinos and surpassing its original goal, it now looks at fulfilling its vision of being the preferred insurance partner of Filipinas by providing solutions to women's insurance needs. In the Sheroes Landmark Study on Women, it found that six in ten Filipinas are entrusted with their household's budget. However, only 21% are able to include savings in their budget and of those who save, they are able to allocate 3% of their budget to savings. More alarming is that while life insurance awareness is 30%, ownership is at a very low 4%. InLife Sheroes continues to fill the gap by selling more life insurance policies to women. 
"In 2021, more than 73 thousand policies were sold to women, collectively generated by both InLife and our health maintenance organization subsidiary, Insular Health Care, earning P3.5 Billion of first year premiums (FYP). This translates to a growth of 47% in policy count and 91% in FYP over 2020 figures. Of InLife's total policies, 61% were sold to women. This is significant because for us, it means we are reaching out to more women, and in turn, it means more women are being empowered and, on the road to being financially-independent," said Gonzales. 
This advocacy for women empowerment has led InLife Sheroes to be part of case studies on Insuring Women for a Better Tomorrow, and Workplace Gender Equality undertaken by the International Finance Corporation and the Philippine Business Coalition for Women Empowerment, respectively. 
Recently, InLife Sheroes celebrated its third anniversary with the theme "Obra Maestra." Obra Maestra is the Movement's aim to build a nation of masterpieces made up of trailblazing women in various sectors of the society who create meaning and purpose for others, and who give way to a Nation of Sheroes. 
Nation of Sheroes, meanwhile, is a movement that encourages women to create and multiply random acts of kindness for those who need help. Recently, InLifers volunteered their services in Baguio, Muntinlupa and Davao Cities. 
Women trailblazers Ms Lorelei Osial, Pilipinas Shell President and CEO and Country Chair of Shell Companies in the Philippines; as well as Ana Patricia Non, 2021 Asia CEO InLife Young Shero of the Year and Maginhawa Community Pantry Founder, led the anniversary rites, and talked about how leadership has no gender, and that anyone could be a shero in various ways. 
As InLife Sheroes enters its 4th year, it looks at forging more partnerships with organizations that promote women empowerment, promoting gender equality and inclusivity through more intensive financial education sessions using its She Starts Module, and financial independence to more women through life insurance. 
To know more about InLife Sheroes, visit https://www.inlifesheroes.com/ 
Other News & Press Releases