November 28, 2019
InLife Receives EDGE Certification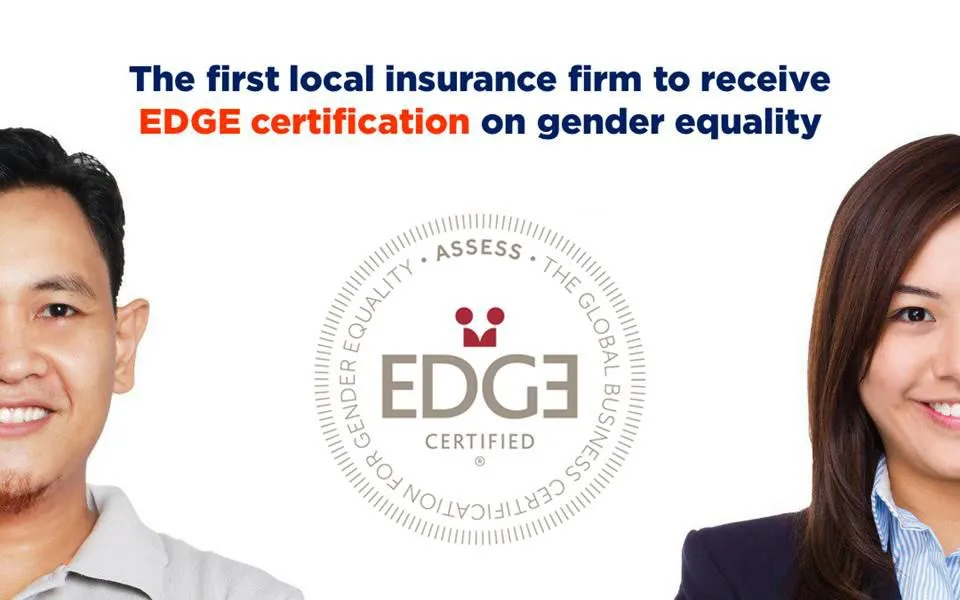 Insular Life recently obtained an EDGE Assess Certification making it the first
local insurance company
with the global recognition for commitment to workplace gender equality.
"We take pride in this assessment that our policies and practices adhere to international standards for gender equality in the workplace," InLife Executive Chairman Nina D. Aguas said. "We ensure that in our company, everyone has a fair chance of progressing in their careers regardless of gender."
As part of the EDGE assessment, a survey was conducted among all InLife employees. The survey revealed that more than 90% of employee-respondents believe that InLife provides equal opportunities in hiring employees. The survey also indicated that around 80% of employee-respondents would recommend InLife as employer to their friends.
"As a leading financial institution serving the Filipinos for more than 100 years, we are committed to contribute to the country's financial inclusion agenda for Filipinos by providing a place where they can work, blossom and contribute to the society," Ms. Aguas added.
InLife President Mona Lisa B. Dela Cruz, who has spent over 30 years of her professional life in the company, explained that InLife has always been a place where talent and dedication are rewarded.
"I am very happy that EDGE has recognized our organization for what it truly is: a place where everyone can be happy and successful," she said.
She explained that the move to acquire an EDGE certification was part of InLife's overall strategy to ensure that policies on equal opportunity are instituted in the company.
In fact, early this year, the company also launched a movement that specifically aimed at uplifting and empowering Filipino women called InLife Sheroes.
"This is the industry's largest and most targeted program for Filipino women. This program is part of our broader strategy to empower a million Filipinas in the next three years through financial literacy, health and wellness, women-specific solutions, and connections to business and social networks," added Dela Cruz. "We work on gender equality from many angles and viewpoints, both internally through our employees, and through our products and services."
EDGE which stands for Economic Dividends for Gender Equality is the leading global assessment and business certification for gender equality. To date, it has worked with nearly 200 organizations in 50 countries and 23 industries for their assessments.
An EDGE Certification measures where organizations stand in terms of gender balance across their pipeline, pay equity, effectiveness of policies and practices to ensure equitable career flows and inclusiveness of their culture. It is also designed to engage corporations in fostering equal career opportunities for women and men, and help organizations create an optimal workplace for women and men that actually benefit them.
Other News & Press Releases