InLife Negosyo Challenge empowers women-led businesses, offers cash grants and mentoring for top applicants
August 08, 2022
InLife Negosyo Challenge empowers women-led businesses, offers cash grants and mentoring for top applicants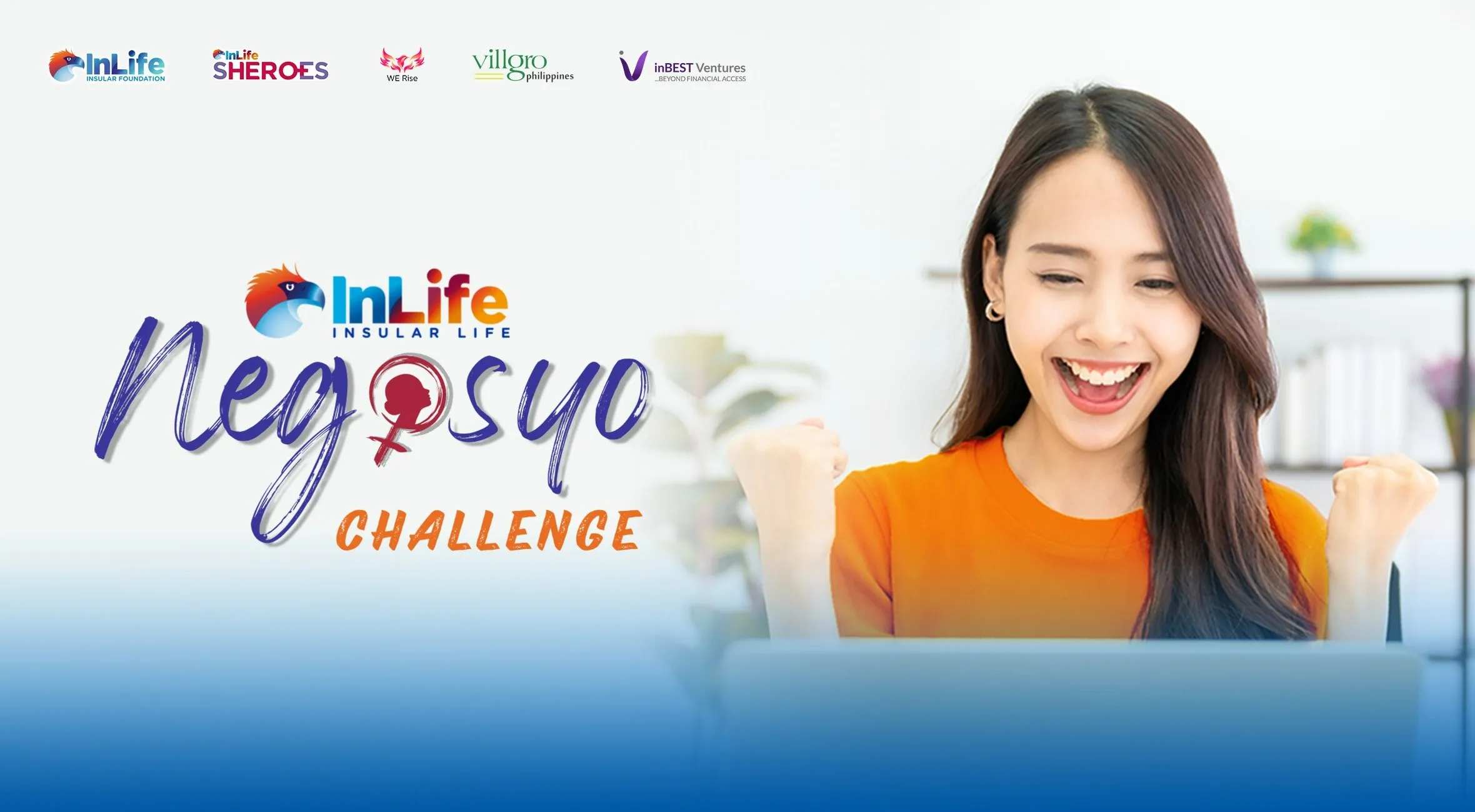 The Insular Foundation, InLife Sheroes Advocacy and Movement, Villgro Philippines, and InBest Ventures have joined forces to support women-led businesses and social enterprises that offer products and services that benefit women through the "InLife Negosyo Challenge."
"MSMEs are the backbone of our economy, comprising 99.5% of listed businesses in the country and generating 5.38 million jobs in 2020 based on the report of the Department of Trade and Industry and the Philippine Statistics Authority. However, we witnessed that most of these enterprises suffered a slump in their profits or closed shops at the height of this ongoing pandemic. Now that restrictions are eased in this new normal, MSMEs will play a vital role in the country's economic recovery. We are committed to do what we can contribute at Insular Life to help our MSMEs get back on their feet. It is our hope that through the Negosyo Challenge, participating enterprises will be able to scale their businesses, create more jobs, and spur the engines of economy," said Nina D. Aguas Insular Life and Insular Foundation Chairperson as well as InLife Sheroes Champion. 
"We believe that supporting businesses and enterprises that create deep, real-time change, and disrupt the inequities in our society are doing a noble task for the communities they serve and the country at large. We share their vision of creating a better world for everyone," added Insular Foundation Executive Director Ana Maria R. Soriano.
The challenge will provide grants, capacity-building, in-depth needs-based mentoring and technical assistance, and networking opportunities for the top applicants that will be chosen by a distinguished panel of judges. Applications are being accepted until Aug. 19, 2022.
An opportunity for women-led, women-focused businesses to expand and prosper
The challenge is open to early-stage social enterprises that address social and/or environmental challenges with a minimum of one year in operation in the Philippines. They may be a micro or small enterprise in terms of asset size.
The enterprise should at least be 20% women-owned or should have a leadership team with at least one C-level or Vice President/President (or its equivalent), or have a board made up of at least 30% of women.
Enterprises that benefit women and offer products specifically for women, even if they are not women-led, can also join the contest.
The enterprises must be operating in the Philippines. They should have a valid bank account in the name of the social enterprise and have an official receipt issued by the Bureau of Internal Revenue.
Up to PhP2 million in cash grants
Twenty social enterprises will be chosen to undergo intensive online learning labs that will enable them to learn from some of the best minds in the industry. This is also an opportunity for them to forge strong relationships with peers and impact ecosystem enablers.
Ten which will make it to the shortlist will then present their business proposal to potential investors and other organizations on a Pitch Day on November 24, 2022.
The top four enterprises that will be chosen by the distinguished panel of judges will receive cash grants; in-depth and needs-based mentoring and technical assistance for six months; and access to structured peer learning support.
The top enterprise will receive a cash grant of PhP1 million. The second placer will receive PhP500,000, and the third and fourth placers will receive PhP250,000 each.
The InLife Negosyo Challenge is presented by organizations and entities that promote women empowerment: 
The Insular Foundation, the corporate social responsibility subsidiary of Insular Life (InLife). For over 50 years, it has implemented programs that advocate for social and economic mobility, a sustainable environment, and employee volunteerism. 
The InLife Sheroes Advocacy and Movement, which joins other organizations that work toward giving women the opportunity to thrive in their own space; 
Villgro Philippines a women-owned and led, gender-smart incubator that funds, mentors, and supports enterprises that offer innovative solutions to address urgent social and environmental challenges; and 
InBEST Ventures, a local impact investment firm that provides appropriate and innovative small and growing businesses (SGB) with a preference for women-owned or women-led SGBs.
"To learn more about the InLife Negosyo Challenge, join us for the Open House on August 11, 2022. There will also be a panel discussion on 'Building a business in the pandemic' where experts from the industry, entrepreneurs, and stakeholders will share their learnings and views on how they navigated one of the toughest business challenges of our times. Register through https://bit.ly/InLifeNegosyoChallengeOpenHouse to join the Open House.," said Ana Soriano.
Applications may now be submitted via https://bit.ly/InLifeNegosyoChallenge2022. 
Visit https://www.insularfoundation.com.ph/news/inlife-negosyo-challenge-171 for more details.
Other News & Press Releases