InLife invests in CREIT's ASEAN Green Bonds offering
February 22, 2023
InLife invests in CREIT's ASEAN Green Bonds offering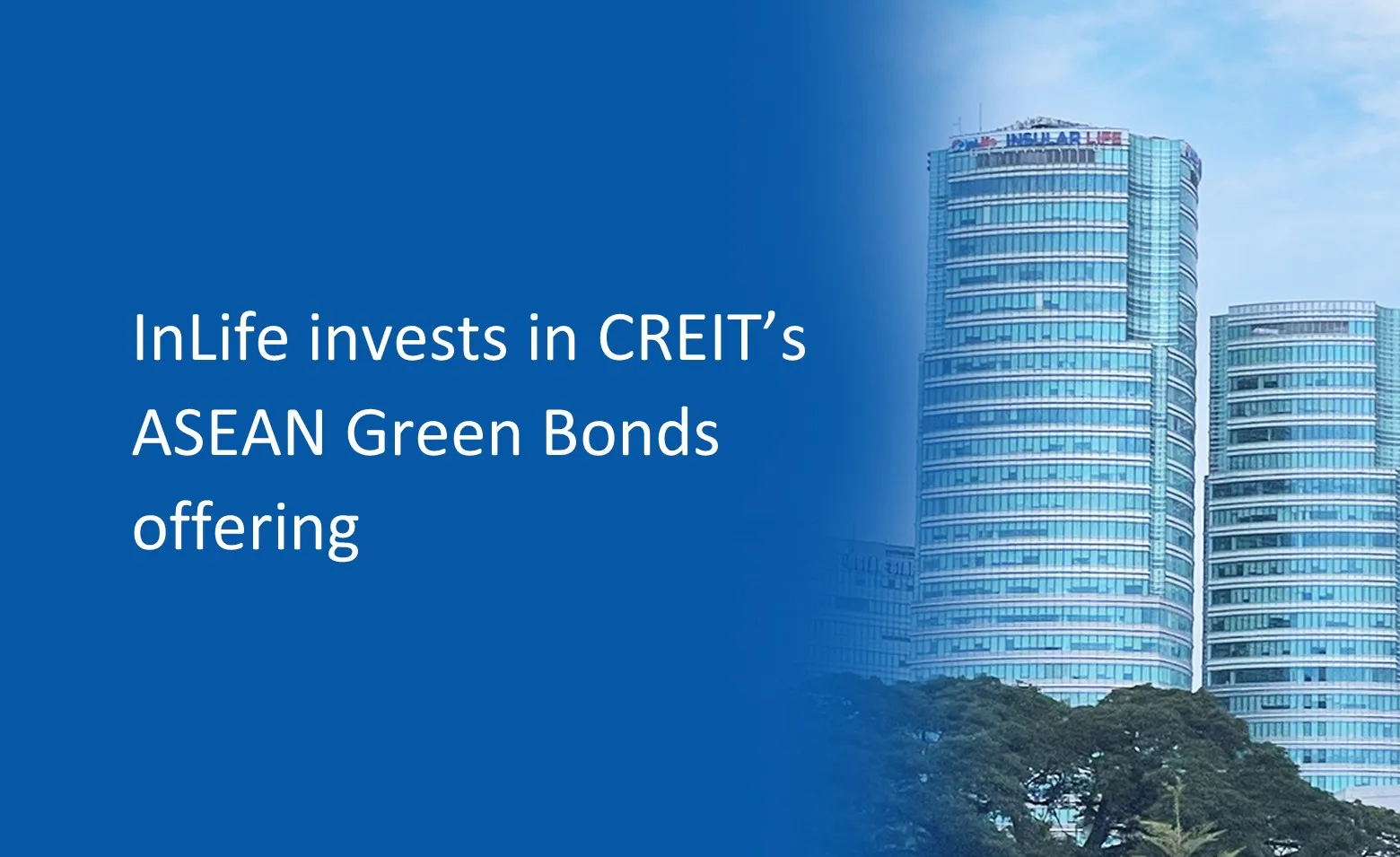 Insular Life (InLife) recently subscribed to the ASEAN green bonds issued by the Citicore Energy REIT Corp. (CREIT). 
The fixed-rate bonds bearing a coupon rate of 7.0543%, is the first of its kind, and will mature in February 2028. The CREIT ASEAN green bond offering raised P4.5 billion which will be used for CREIT's expansion plans. 
"We consider this a relevant undertaking to further our goal of promoting sustainability. We want to continue creating value through sustainable investing, and we are thankful for the opportunity CREIT afforded us. InLife, being a mutual company that is owned by its policyholders, has always endeavored to be sustainable and thrive in various circumstances. After all, we must be able to fulfill our future obligations when they become due," said InLife Executive Chair Nina D. Aguas. 
"Going into sustainable investing means aligning with InLife's mission of providing high-value insurance products and services while leaving a good legacy for the future generations. We are always mindful of our goal of providing a lifetime for good to all our stakeholders," said InLife Chief Investment Officer Vera Victoria C. Morales.  
In 2018, InLife made substantial investments on the International Finance Corporation's green bonds. Proceeds of the green bonds are being used for projects that promote renewable power, energy efficiency, sustainable agriculture, green buildings, and those that address climate change. Last year, the company put in another significant investment in South Luzon Thermal Energy Corporation's (SLTEC) transition to renewable energy (RE). SLTEC is a subsidiary of the Ayala Group's listed energy platform, ACEN Corporation.  Recently, InLife launched the Systematic Global Sustainable Investment Fund (GSIF). A first in the industry, GSIF is an investment fund that supports Environmental, Social and Governance (ESG)-focused outcomes with the potential to earn monthly payouts.  
The CREIT ASEAN Green Bonds have been rated PRS Aa+ with stable outlook by the Philippine Rating Services Corporation, which implies CREIT's capability to meet its financial obligations. The proceeds of the offering will be used to acquire a solar rooftop system and land parcels in Batangas that will be leased to solar power generators and operators affiliated with CREIT's sponsor, Citicore Renewable Energy Corp. (CREC). From these, three utility-scale solar plants with a total projected generation capacity of 269 MWdc (megawatt direct current) will be constructed as part of CREC's expansion pipeline.  
CREIT is the country's first RE REIT and largest RE landlord. It is sponsored by CREC, a leading developer and operator of pure renewable energy assets in the Philippines with 5GW of pipeline projects to be rolled out in the next five years.  
Other News & Press Releases