InLife Forum Underscores Value of Estate Planning
September 04, 2020
InLife Forum Underscores Value of Estate Planning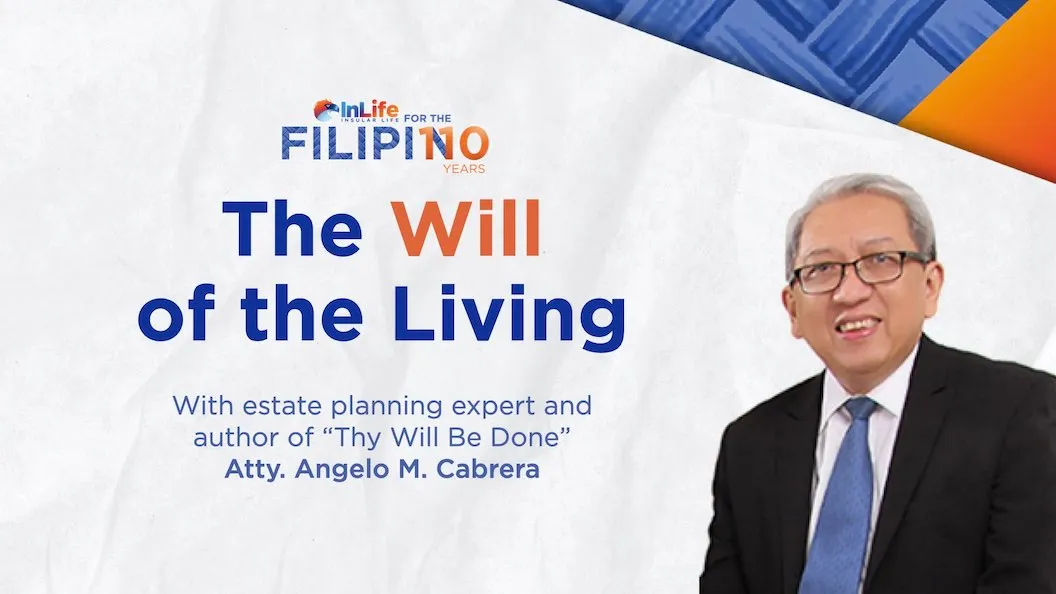 InLife (Insular Life), the largest Filipino life insurance company in the country, conducted an online public forum entitled "The Will of the Living" to highlight the importance of estate planning.

Estate planning expert Atty. Angelo M. Cabrera clarified misconceptions that estate planning is only for the rich and old people, and that a will is a death sentence. He stressed that estate planning guides the heirs to partition the estate, and ensures that the family benefits from the fruits of one's labor beyond his lifetime.
The author of the book "Thy Will Be Done" explained that financial needs take on a hierarchy starting with protection and savings for financial wellness at the bottom of the hierarchy; followed by investment to create wealth; and estate planning to manage wealth. He noted that life insurance is a necessary component of financial planning.
"Wealth is not only a blessing to you. It is also about making you a channel of blessings," he said, adding that wealth becomes a curse when heirs quarrel over their inheritance.
Atty. Cabrera defined estate planning as "the effective utilization, conservation and timely distribution of God's resources entrusted to a person to enable him, his family and communities to enjoy the blessings of wealth during and after his lifetime all in accordance with God's will."
He cautioned that inadequate, wrong or no planning causes strained relationships among family members; shrinking of the estate due to taxes and litigation costs; and failure to realize the estate owner's lifelong dreams.
Atty. Cabrera further explained that a last will and testament is a document that permits a person "to control to a certain degree the disposition of his estate" after his death. He noted that this may be in the form of a written notarial will; or a holographic will that is written, dated and signed by the testator himself. He added that unlike the notarial will, a holographic will follows no specific form and does not require witnesses.
While it is fairly easy to make a holographic will, Atty. Cabrera suggested consulting certified estate planners or financial advisors.
"The Will of the Living" forum is part of InLife's 110th Anniversary online public forum series to impart expert knowledge on various relevant topics, and to help Filipinos make informed decisions. With the theme "For the Filipino," InLife's anniversary highlights the organizations stability and heritage as a 100% Filipino company with the mission to bring "A Lifetime for Good" for the Filipinos.
Other News & Press Releases