Insular Life Extends Premium Grace Period, Releases Mid-Year Bonus to Employees
March 20, 2020
InLife Extends Premium Grace Period, Releases Mid-Year Bonus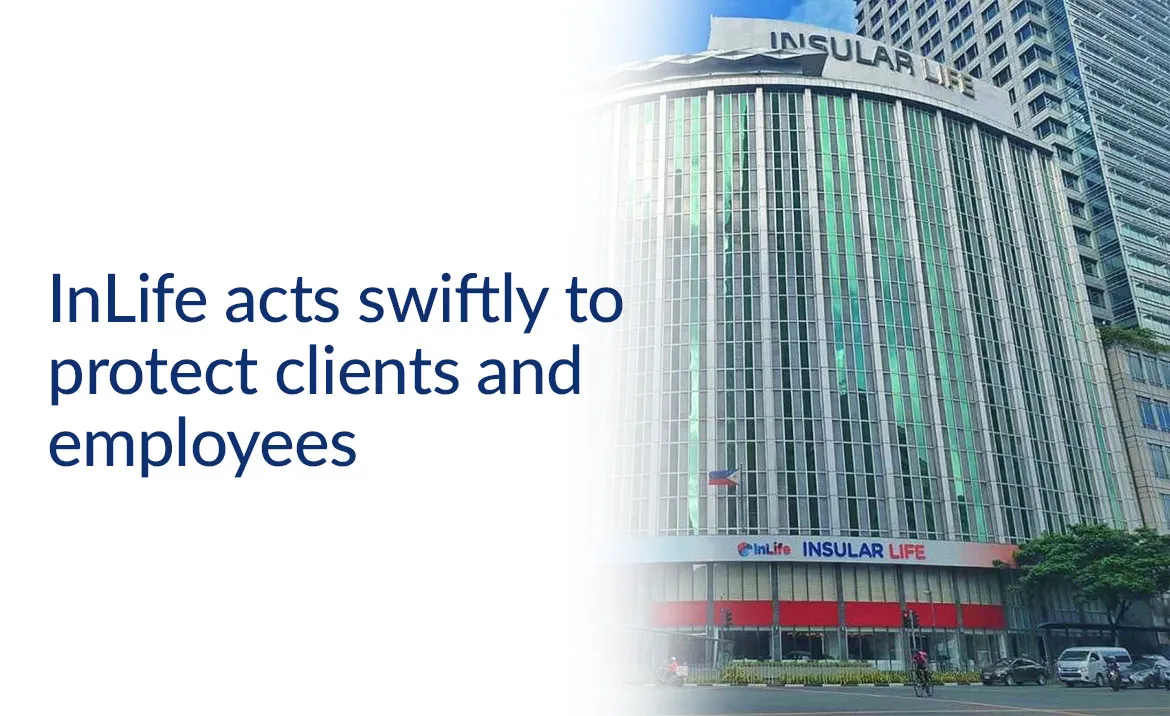 This is to ensure that policyholders will be spared from the worries of paying insurance premiums while the coronavirus pandemic grips the country.
"We understand that policyholders may need to reallocate their financial resources during this emergency situation. Thus, we are giving an extended grace period for all policy payments due from March to April 30, 2020," Insular Life Executive Chairman Nina D. Aguas said.
Aside from premium payment extension, InLife also assures that all policyholders are covered against COVID-19, except for accident-only policies.
Those who own the I-Heal plan, Premium Protect Series (InLife Premium Protect 1000, InLife Premium Protect, and InLife Premium Protect Plus – all available at the InLife Lazada Store), or any individual insurance plans with hospitalization riders may avail of its daily cash benefit feature in case of confinement due to COVID-19.
"As we navigate through this unprecedented public health crisis, we are committed to our policyholders and will continue to honor our obligations to ensure that our clients will have peace of mind even in this most difficult time," said Aguas.
Ms. Aguas noted that InLife continues to operate via its online channels. Policyholders may avail of various online services through the
InLife Customer Portal
.
"Thus, we remain operational through our implementation of a skeletal force to keep our data centers running well," said Aguas. "And new business, policy servicing for individual and corporate accounts, and finance are working from home to provide uninterrupted services."
"As the most digitally-connected domestic life insurance company, InLife is able render full service to customers even at this trying time," she added.
The company has also responded to the call of the government for strict implementation of community quarantine. It is also giving employees a company time-off during the duration of the enhanced community quarantine. Those covered by this are company employees and project-based consultant or contractor.
"We fully support the community quarantine being implemented at this point and the government's call for companies to take care of all their employees. So while our employees are on company time off, their salaries will be paid in full while work suspension is in effect," said Mona Lisa B. Dela Cruz, InLife President and CEO. "The work suspension will not be charged to their leave credits."
InLife has also approved the early release its 2020 mid-year bonus to further support its employees. The 14th-month pay is usually credited in the month of May.
Aside from financial help, the company will also defer collecting payment of loan amortization charged to the mid-year bonus. Employees under maternity leave will also receive the mid-year pay.
"The company recognizes the need of employees to provide for their families and the peace of mind it brings knowing that there is enough fund to tide up the situation," Dela Cruz added.
"We want to assure the public that we are taking all necessary steps to be responsive to the call for corporate citizenship by addressing all customer concerns about servicing, while taking care of the health and finances of our employees," said Dela Cruz.
Insular Foundation (IF) helps LGU
While InLife has taken active steps to secure its policyholders and employees, the company, through the Insular Foundation (IF) turned over funds to Muntinlupa Mayor Jaime Fresnedi in order to help the local government in their efforts to assist the healthworkers, as well as provide food for the depressed barangays in the city.
InLife Foundation Chairman Ms. Nina D. Aguas directed the IF to allocate funds to help healthcare workers who are in dire need for supplies and food assistance to families in depressed barangays in the city.
"There is so much to be done especially in helping our less privileged countrymen who are the most affected in this emergency. We are hoping this assistance will provide relief for them," said Aguas.
Other News & Press Releases