InLife Exec Chair Nina Aguas to talk about women corporate directors in fireside chat Women on Board
March 04, 2022
InLife Exec Chair Nina Aguas to talk about women corporate directors in fireside chat Women on Board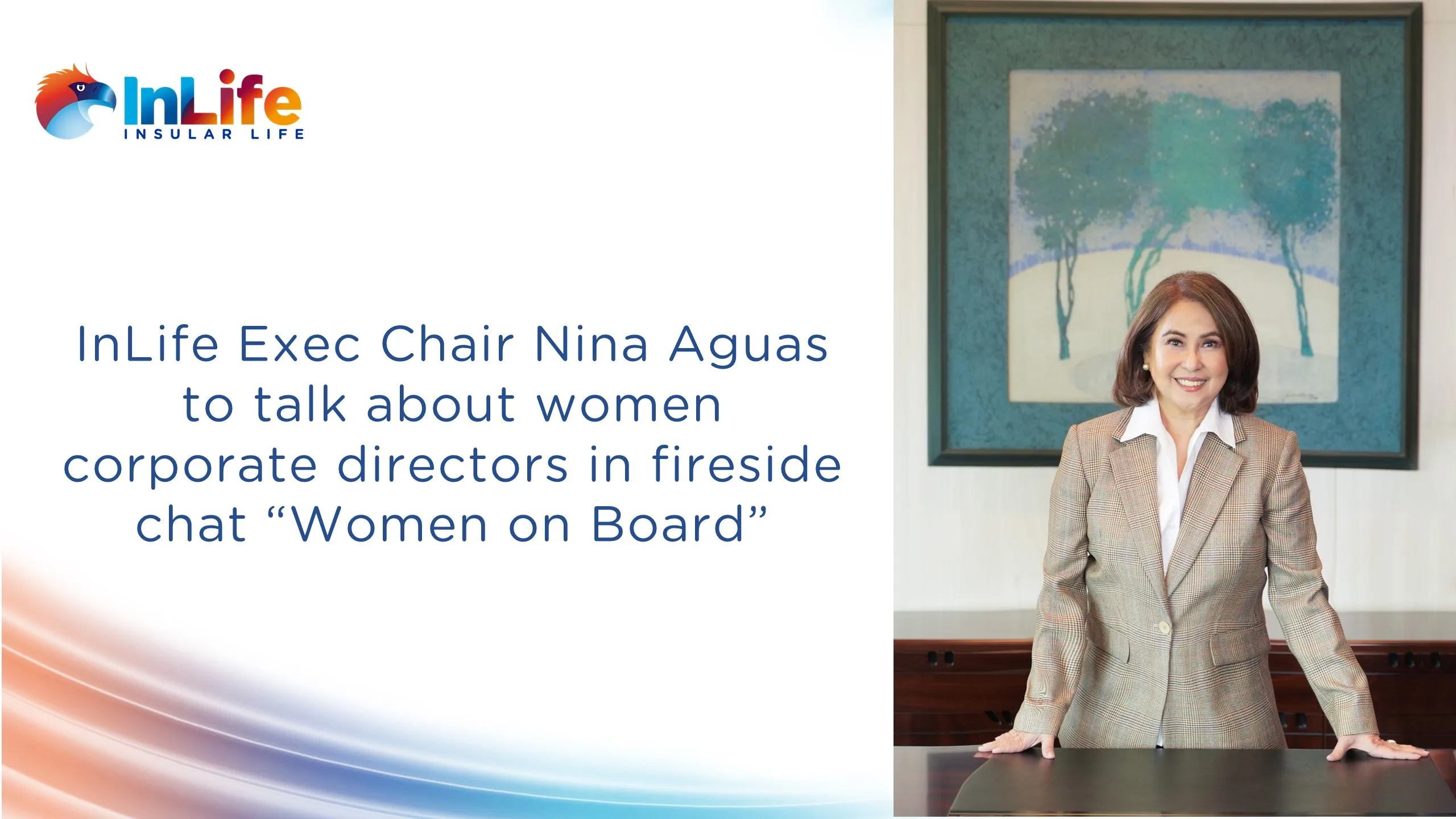 Insular Life (InLife) Executive Chair Nina D. Aguas is one of the featured speakers of a fireside chat on "Women on Board" in celebration of the Women's Month. 
"Women on Board," which will be held on March 10 at 6pm via Zoom, will take a look at four women corporate directors and their journey to occupying board seats in their respective organizations. 
Aguas is the first woman Executive Chair of InLife. She also chairs Insular Health Care and Insular Foundation, and sits at the boards of Pilipinas Shell, UnionBank of the Philippines, and Monde Nissin Corp. Aside from Aguas, the three other speakers are: AON Holdings &AON Group Int'l. Executive Board Chair Marguerite Soeteman-Reijnen, Logitech Director Marjorie Lao, and Trustpower Director Sheridan Broadbent. 
The session will also discuss the next generation of women corporate directors including how diversity in board membership could be achieved with the inclusion of more women in corporate boards. At present, only 17% of the boards of publicly-listed corporations are occupied by women. This, even if women have been increasingly occupying senior management roles in corporations. In a report released by P&A Grant Thornton, it said that "…Philippines ranks first among 32 countries surveyed in a global report on women in senior management positions, with 43% of Filipina executives in senior leadership role." Meanwhile, according to a report by the World Economic Forum, the international organization for public-private cooperation, using data released by the International Labor Organization, the Philippines is only one of five countries with the highest percentage of females with senior management roles. The others are Jordan, Saint Lucia, Botswana and Honduras. 
"Women on Board" is presented by the Management Association of the Philippines, Filipina CEO Circle, NextGen Organization of Women Corporate Directors (NOWCD), and John Clements Consultants, Inc. It will be hosted by CEO Advisors Managing Director Maan Hontiveros. 
To be part of the fireside chat on "Women on Board," please register here.
Other News & Press Releases