November 21, 2019
InLife EVP Maria Edita C. Elicaño Awarded 2019 DX Leader by IDC Philippines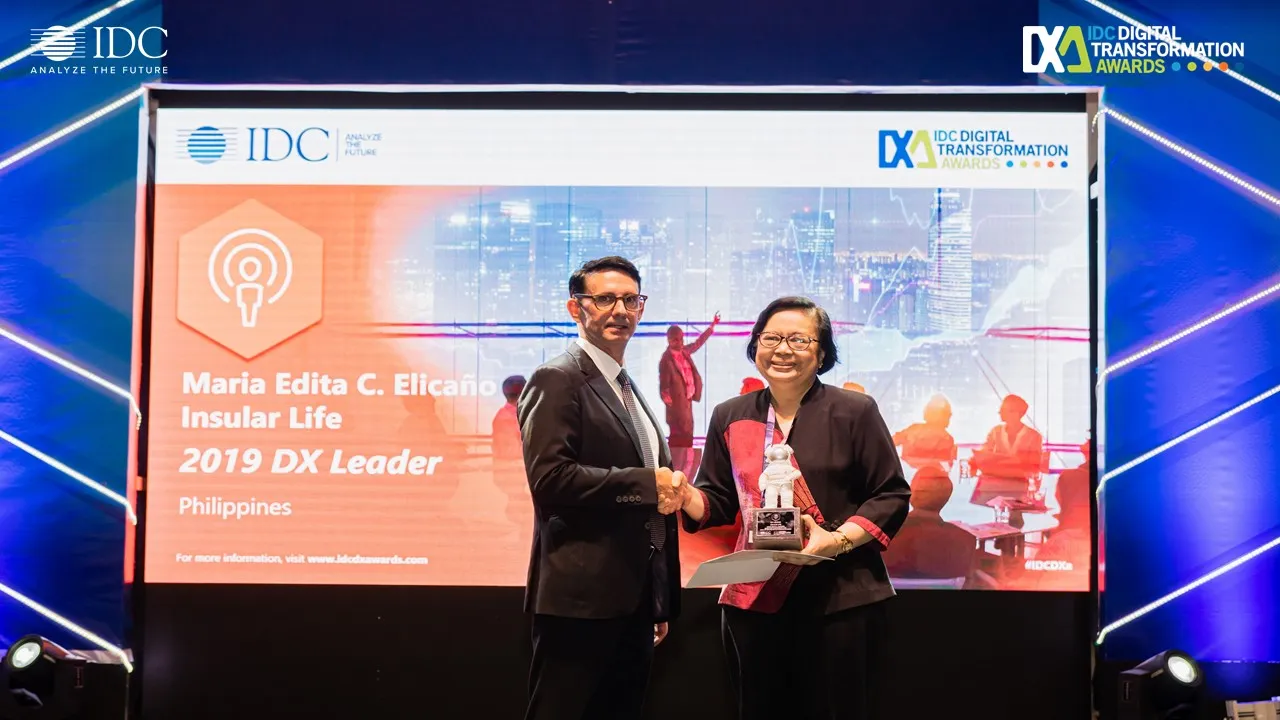 Insular Life (InLife) Executive Vice President and Administrative Operations Group Head Maria Edita C. Elicaño was recognized as 2019 DX Leader for the Philippines in this year's IDC Digital Transformation Awards (DX Awards).
Ms. Elicaño was selected among over 1,000 high-quality entries received from various companies across Asia-Pacific. This win qualifies her to the regional awards which will be held on the 24th of October in Singapore. She will compete against other winners in the same category to ultimately determine the region's best of the best.
Ms. Elicaño led InLife's efforts to enhance the customers' digital experience and increase the Filipinos' access to insurance products. Through her leadership, InLife has started to foster an Agile mindset among its employees, espousing shared accountability and creativity and stronger collaboration across various units of the Company. This culture of innovation fast-tracked the development of key projects from six months to a maximum of six weeks, such as the Automated Underwriting System, the policy- servicing facility, I-Serve, and the InLife flagship store on e-commerce platform Lazada, These digital transformation initiatives enabled the processing of more than 1,000 insurance applications in a single day, facilitated online services for policyholders, and amplified the online availability of insurance products for more Filipinos.
In her message, Ms. Elicaño thanked IDC for the award. "I would like to thank IDC for this recognition, showing us that Yes, this Filipino company can compete with the multinationals. Yes, this Filipino company can be a leader in this field where most may waver or falter. And Yes, this Filipino company has the innovative spirit and the focused commitment to pursue digital transformation."
IDC's DX Awards follows a two-phased approach to determine the country and regional winners. Each nomination is evaluated by a local and regional IDC analyst against a standard assessment framework based on IDC's DX taxonomy. All country winners will qualify for the regional competition, which will be decided by a regional panel of judges comprised of IDC Worldwide analysts, industry thought leaders, and academia. For more information about the award, visit www.idcdxawards.com.
Other News & Press Releases