InLife CTO Gwendolyn Kelley recognized as one of CIO75 ASEAN awardees
December 07, 2021
InLife CTO Gwendolyn Kelley recognized as one of CIO75 ASEAN awardees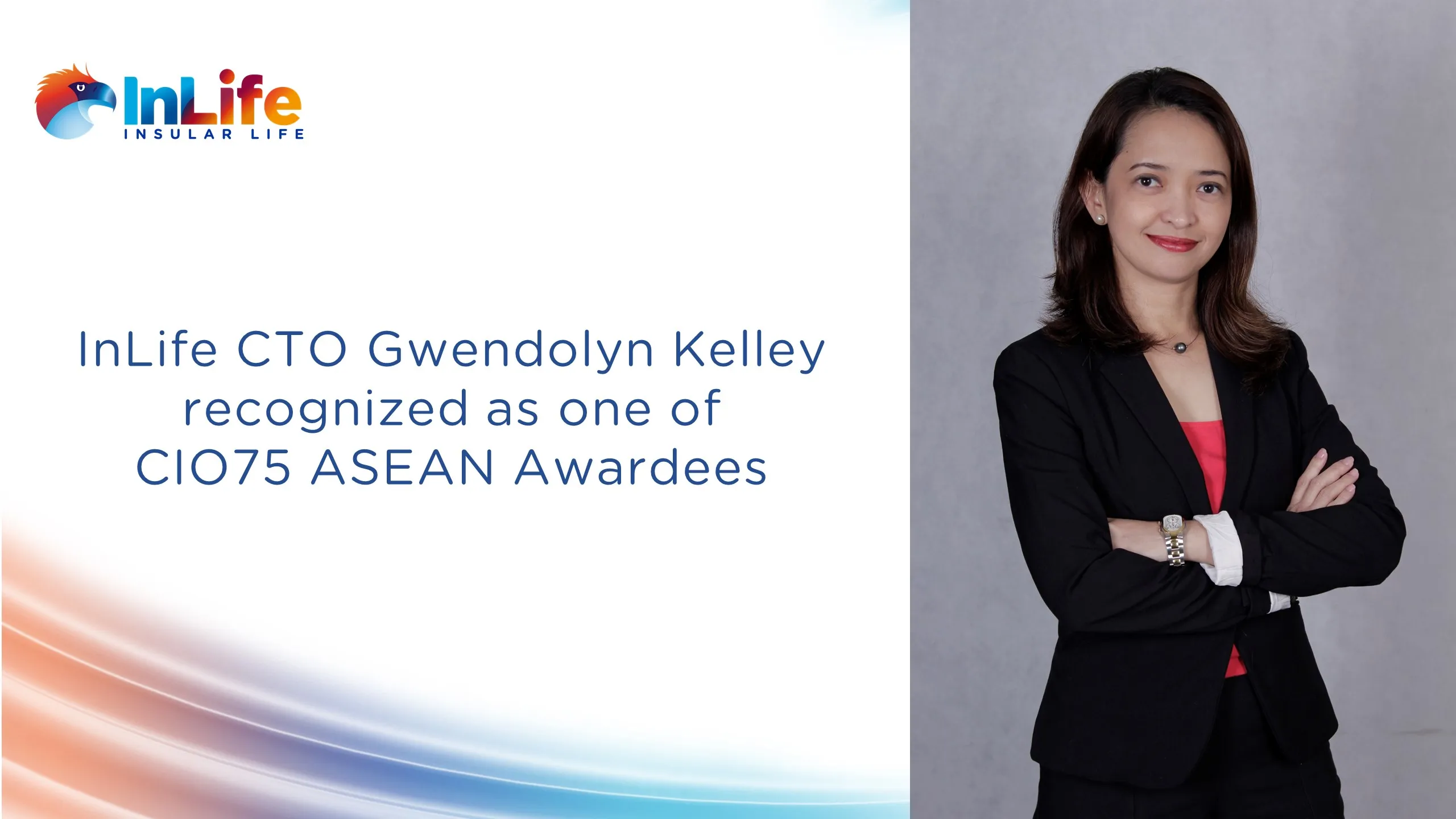 Insular Life's (InLife) First Vice President and Chief Technology Officer Gwendolyn D. Kelley was recently hailed as one of the 2021 CIO75 ASEAN, the leading awards program for technology leaders in the Southeast Asia and Hong Kong.
The CIO75 recognizes the top 75 senior technology executives driving innovation, strengthening resilience, and influencing rapid change across the Region. This year, the CIO75, one of International Data Group's global awards programs, received more than 150 nominations over 20 industry sectors and eight markets which included Singapore, Malaysia, Indonesia, Thailand, Philippines, Vietnam, Hong Kong, and Myanmar. 
Kelley is one of only 6 Philippine-based CIOs (Chief Information Officer) who received the award. 
She was recognized for her work in actively pursuing InLife's digital transformation which has enabled the Company to provide exceptional customer experience, improve operational efficiency and achieve growth and reach during the pandemic through the help of low-code platform OutSystems. This resulted in faster delivery of digital solutions which include first in the industry innovations: an e-licensing application that automates the financial advisors' licensing journey & connects to the Insurance Commission's licensing portal; Compass, a mobile app which empowers our financial advisors to perform their sales activities digitally; seamless payment journeys through the InLife Pay Link facility which allows customers to pay for their premiums using their mobile phones directed to a secure platform; an automated, paperless payment process improving internal operational efficiency - these all proved crucial during the strictest community quarantine periods.  There are other initiatives in the pipeline which aim to improve customer reach and strengthen the company's resilience. 
Kelley also influences the organization in the adoption of an agile culture and improving the digital dexterity of InLifers.  Internal and external training programs are offered to all employees to improve skills and mindsets on customer experience, continuous improvement, scrum framework, DevSecOps and low code programming among others. Through her leadership, InLife also established a Digital Employee Initiative (DEI) program that has exposed employees to new technology and digital skills needed to thrive both professionally and personally. The vision is to create Citizen Developers, a community of like-minded employees outside of IT who are supported with training and assistance on developing automated processes. 
"Enormous credit to the market-leading CIOs continuing to press ahead in innovating at pace – despite the notable difficulties – which once again demonstrates the depth of transformation taking place across the region. Congratulations, Ms. Gwendolyn Kelly, nothing can stop your pursuit of excellence," said James Henderson, Editorial Director of Asia Pacific at CIO. "CIO75 is not only a true representation of the regional market but a true illustration of the outstanding achievements delivered by individuals, wider teams and entire organisations."
The CIO75 ASEAN winners were unveiled during a virtual ceremony attended by over 300 technology executives from across the region. They were judged on the core pillars of Innovation and Leadership, honoring transformational, inspiring, and enduring CIOs at both in-country and regional levels within Southeast Asia and Hong Kong. For more info, visit: https://www.idg.com.au/article/693487/cio75-2021-75-26-gwendolyn-kelley-insular-life-assurance/
Other News & Press Releases