InLife Conducts Online Public Forums 'For The Filipino'
August 19, 2020
InLife Conducts Online Public Forums 'For The Filipino'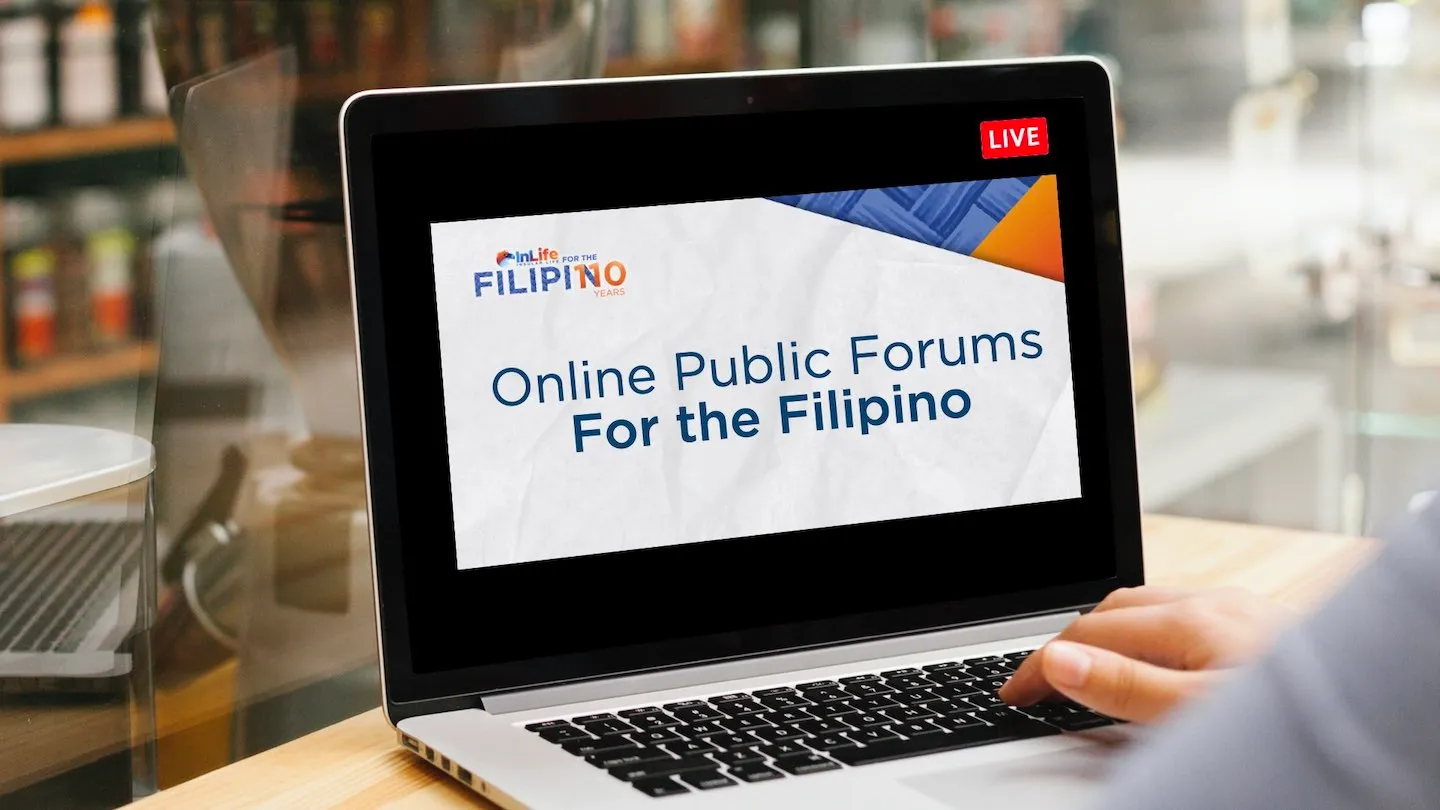 InLife, the largest Filipino life insurance company in the Philippines, marks 110 years of service "For the Filipino" this year.
As part of our 110th anniversary, InLife conducts online public forums to spread Philippine pride, faith and hope in the midst of uncertainties brought by the COVID-19 public health crisis.
Through the online public forums, InLife aims to share knowledge on various relevant topics to help Filipinos make informed decisions and plan their future.
"Our anniversary theme 'For the Filipino' reflects InLife's promise and fulfillment to look after the concerns of the Filipino no matter the circumstances. Insular Life is and will always be for the Filipino," InLife Executive Chairman Nina D. Aguas said.
Raise the Philippine Flag
InLife's first online forum entitled "Raise your Flag Now: Promoting Philippine Pride and Supporting Filipino Enterprises" highlighted Filipino ingenuity.
The guest speakers were registered speaking professional Lloyd Luna; Cherrie Atilano, founder of social enterprise AGREA which aims to help eradicate poverty for farming and fishing families; and Amina Aranaz-Alunan, Chief Creative Designer of Aranaz fashion accessories label.
Luna explained that step back leadership is an original leadership philosophy of the Filipinos. This philosophy is reflected in the Banaue Rice Terraces which was built by and for the community, to provide livelihood and to protect the environment.
Atillano who has been working with farming communities for 22 years now, noted that AGREA focuses on three goals, namely, zero waste; zero hunger, and zero insufficiency to build a one island economy all over the country.
Aranaz-Alunan shared that Aranaz bags bring authentic Filipino design and craftmanship to the international market. She added that the fashion brand also presents exotic, artisanal accessories that evoke love for leisurely life.
Living in the new normal

InLife's second online public forum entitled "Public Health or the Economy - Living with COVID-19" discussed how the pandemic affects Filipinos.
Jose Xavier Gonzales, Chairman of The Medical City, said public health could go hand in hand with the economy. Noting that health is every person's responsibility, he cited the importance of: personal behaviors which include good personal hygiene, wearing a mask, and observing social distance; and social norms such as avoiding crowded places, and maintaining distance when using public transportation.
Mukund Sharma, Executive Director of The Nielsen Company Philippines, said the COVID-19 crisis highlighted healthy living activities and health insurance as among the priorities of Filipinos.
Vincent Lau, Co-founder and CEO of Maria Health, traced the low insurance penetration in the country to awareness and accessibility issues.
InLife President and CEO Mona Lisa B. Dela Cruz said health insurance coverage is a basic need that is often overlooked by Filipinos, and sadly it had to take a health crisis of global proportions for Filipinos to purchase health care insurance.
Make your savings work for you
The community lockdown that restricted travel and dining options, and limited purchases to essential items translated to savings for some Filipinos. How do we make our money work during this lockdown period?
InLife tackled this question in the third online public forum entitled "Fundemic: What to do with your lockdown savings."
Entrepreneurs Carl Dy of Spectrum Investments, Ces Rondario of Impact Hub Manila, and Ivan Requintana of Essentials Daily shared how the "new normal" changed their lifestyle and business operations.
Dy said his family practices of leading simpler lifestyle, setting aside savings, and building up emergency funds proved very helpful during the quarantine period. He added that seeing opportunities in times of crisis will enable individuals to adapt to the changing financial situation.
Rondario and Requintana noted that moving to digital platforms helped their businesses sustain their operations during the new normal.
UnionBank's Chief Technology and Operations Officer Henry Rhoel Aguda, HSBC Philippines Head of Global Private Banking Ailene Manzano-Litonjua, and InLife financial advisor Mark Joseph Fernandez discussed ways to move money from savings to investments.
Fernandez pointed out major consumer behavior changes due to the public health crisis, with previously aggressive investors opting for relatively safe financial decisions, and previously conservative investors turning upbeat. He suggested regular monitoring of personal net worth and recalibration of financial goals as adjustment measures during uncertain times.
Aguda explained the importance of financial resiliency which entails "saving up for rainy days" and prudent investments. He added that digital banking proved to be everyone's reliable partner during the lockdown period.
Litonjua also stressed saving up, and added weighing available options for excess funds. She also suggested "forward-looking behavior" which involves early retirement and estate planning, as well as availing of insurance products.
As a mutual company, InLife is owned by our policyholders. InLife applies extensive experience in financial protection, life insurance, health and accident insurance, investments and retirement planning to bring "A Lifetime for Good" for the Filipinos.
Other News & Press Releases