InLife cited as only life insurer in LinkedIn's top 15 companies in the Philippines
April 26, 2022
InLife cited as only life insurer in LinkedIn's top 15 companies in the Philippines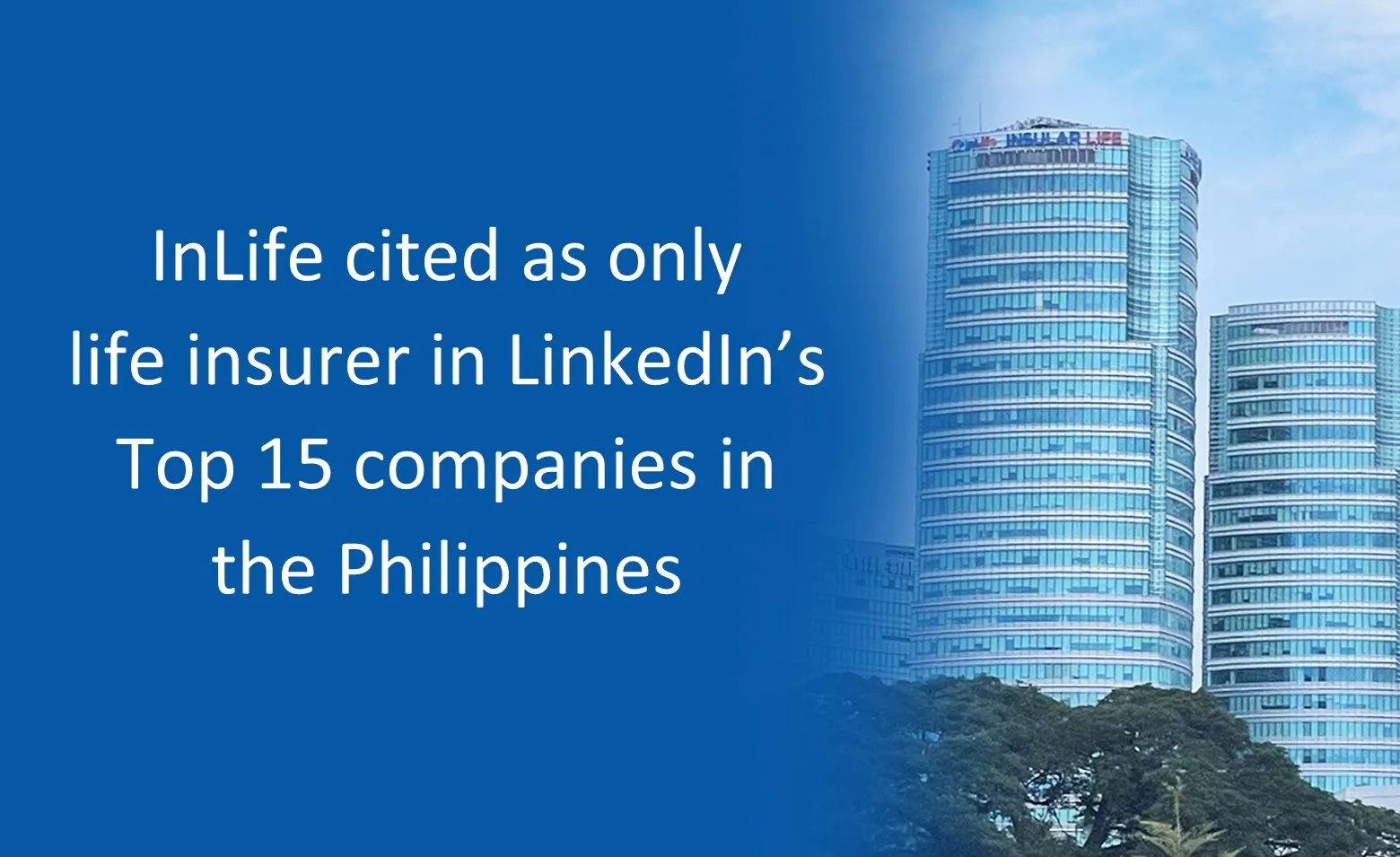 Among thirty-one life insurers in the country, Insular Life (InLife) is the only one which made it to LinkedIn's Top Companies 2022: The 15 best workplaces to grow your career in the Philippines.
In a statement, LinkedIn, a social network for professionals, said they used seven pillars to score each of the companies in the network. These are: ability to advance, skills growth, company stability, external opportunity, company affinity, educational background, and gender diversity.
"What a gift to InLife to be adjudged as the only life insurance company cited in LinkedIn Philippines' Annual Top Companies list. At InLife, we strive hard to give optimal support to our employees through various development programs that have enabled them to constantly enrich themselves both personally and professionally. InLifers are at the forefront of our mission to provide excellent service to our policyholders especially during these uncertain times," InLife Executive Chairperson Nina D. Aguas said. 
InLife's 111 years of uninterrupted service attests to the company's stability. As the largest Filipino life insurance company in the country, InLife stands on a mission to provide "A Lifetime for Good" to Filipinos through financial protection, savings, investments, and retirement. 
"We continue to be passionate about our goal of not only providing financial security to Filipinos but also prosperity and well-being for the communities we serve," said Aguas. 
Aguas noted that InLife continues to promote skills growth through constant learning and development programs that have armed its employees with transferable knowledge and skills. 
It established a digital Learning Management System which includes new virtual instructor-led programs on customer service, communication, leadership and management in order to facilitate learning programs especially during the pandemic. These have led to various employee activities that promote skills enhancement seen in the hackathons, operational excellence and other customer experience projects that have been implemented in the Company.  
The LinkedIn Top Companies 2022 is a ranking of the 15 companies that are investing in their talent and helping build careers that would set them off for long-term success. According to a statement, these are companies that are offering them stability in the ever-changing world of work. 
Other News & Press Releases