August 02, 2023
InLife CISO Noel Perdigon awarded GRC Leader of the Year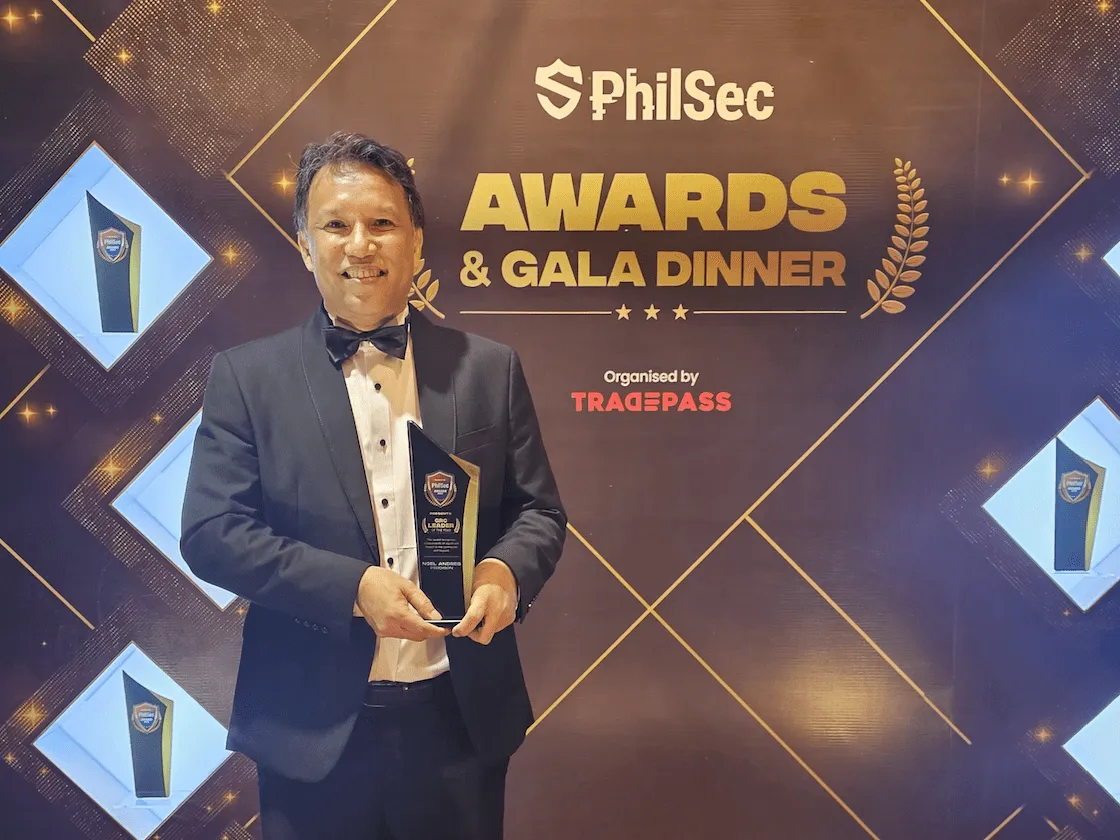 Insular Life's (InLife) Chief Information Security Officer Noel Andres M. Perdigon recently received the GRC (Governance, Risk, and Compliance) Leader of the Year Award at the PhilSec Awards 2023.  
Perdigon heads both InLife's Information Security and Data Privacy (ISDP) Division and Enterprise Risk Management (ERM) Division, and is also the Company's Lead Sustainability Officer for InLife's Environmental, Social and Governance (ESG) initiatives.
According to the Award organizers, the GRC Leader of the Year Award is given "to the most outstanding professional who displayed sheer magnificence in the field of Governance, Risk, and Compliance and through his competence enabled the best-in-class security for his organization, while also keeping it on the right track for growth & scalability."
GRC is defined as "a blanket term used to describe the strategies and technologies used to manage an organization's compliance with regulatory mandates and corporate governance standards."
In his acceptance speech, Perdigon underscored the importance of cybersecurity and preparedness "…give a man a zero day, and he will have access for a day; but give a man the privilege to phish and he will have access for a lifetime. We have to be vigilant, we have to create the culture of being security-aware, and live it every day, so that there will be no zero days and phishing to haunt us."
Aside from the GRC Leader of the Year, four other awardees in the field of cybersecurity were given the following awards: Cyber Woman of the Year, CISO of the Year, Digital Leader of the Year and Security Practitioner of the Year (Private Sector).
The Jury was composed of distinguished thought leaders in the cybersecurity space, among them, Armed Forces Of The Philippines Philippine Army Battalion Commander  Lt. Col. Francel Margareth Taborlupa, National ICT Confederation of The Philippines President Mary Joy Abueg, Department Of Information And Communications Technology (DICT) Advisor & Former Assistant Secretary Allan S. Cabanlong, Philippine Army Signal Regiment Deputy Regiment Commander Col. Joey Fontiveros, and Women In Security Alliance Philippines Chairman & President Mel Migrino. 
The PhilSec Awards 2023, the country's foremost cybersecurity awards program, was held at the Sofitel Philippine Plaza Manila on July 6, 2023.
Meanwhile, Perdigon was also a featured speaker in the Fireside Chat entitled "Implementing Information Security Governance and Risk Management to Protect Digital Enterprises" together with National Police College Chief IT Officer Elizalde Duran. Held during the Philsec 2023 Cybersecurity Summit on July 4 and 5, the two speakers' discussion centered on the topic of "Implementing Information Security Governance and Risk Management to Protect Digital Enterprises." They also discussed the draft National Cybersecurity Plan 2023-2028 of the DICT, and the future public and private sector collaboration through the possible establishment of Cyber Fusion Centers already operational in other countries. Aside from these, they also talked about fostering cyber resilience and promoting a cybersecurity educated society. 
Other News & Press Releases