InLife Advisory on Return to MECQ of NCR and Nearby Provinces
August 03, 2020
InLife Advisory on Return to MECQ of NCR and Nearby Provinces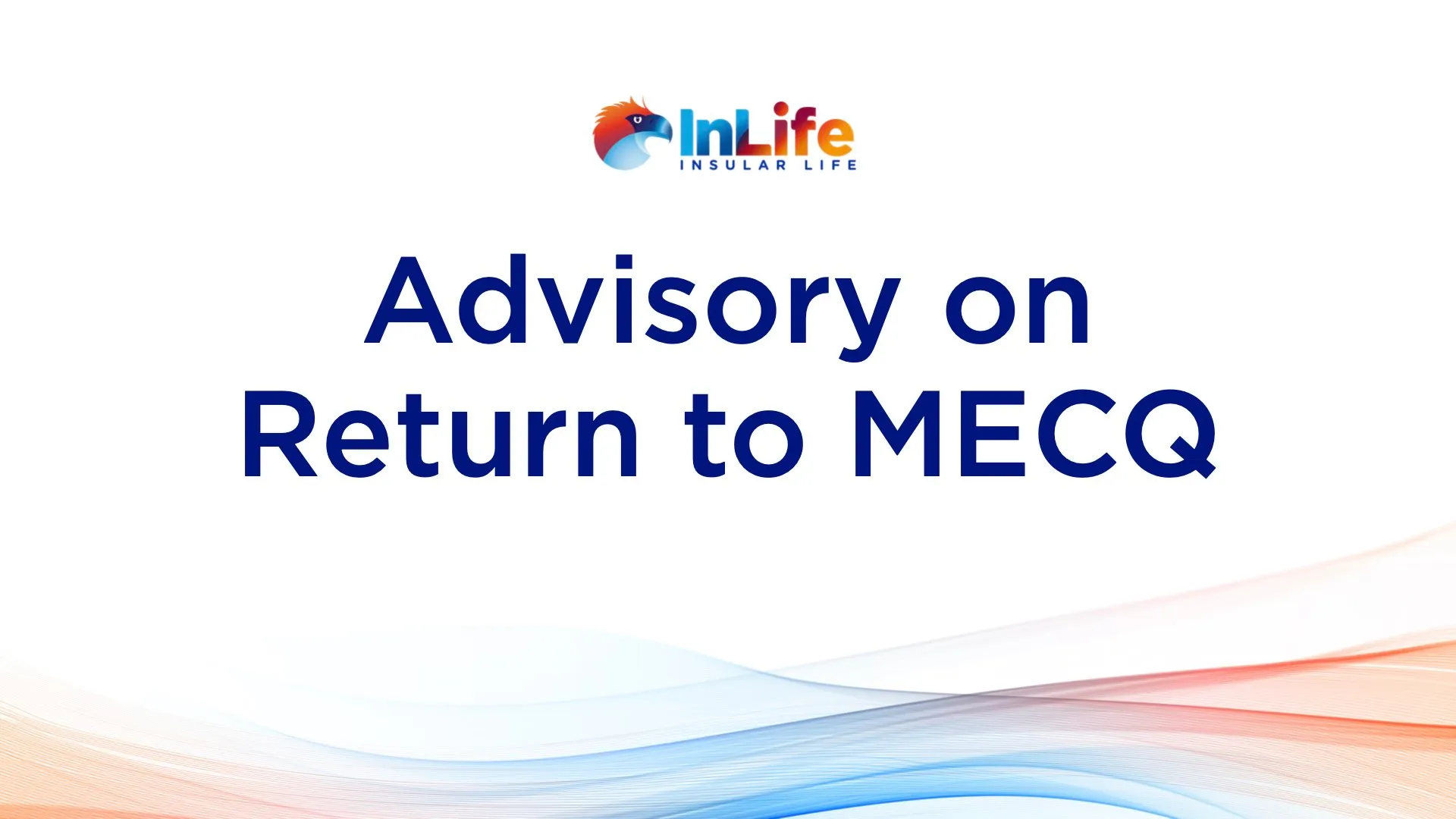 Insular Life (InLife) branches and servicing offices in n NCR, Bulacan, Cavite, Rizal, and Laguna will be closed from August 4 to August 18, 2020. We support our medical frontliners' appeal for a time-out and the government's decision to place the capital and its neighboring provinces under Modified Enhanced Community Quarantine (MECQ).

The following branches will be affected:
- Metro Manila Branches
- Alabang Insular Life Corporate Center
- Makati InLife Health Care Building
- Makati Ayala Avenue
- Greenhills
- Pasig
- Kalookan
- Quezon Avenue
- Aurora Boulevard
- Manila Chinatown
- Imus, Cavite
- San Pablo, Laguna
- Calamba, Laguna
- Malolos, Bulacan
- Baliuagm Bulacan

Despite the stricter limitations however, we shall continuously respond to your needs. There are various online facilities and servicing channels available to address your concerns.


For Policy Details and Servicing Transactions
Please register or log-in to the InLife Customer Portal to access your policy's information and conduct transactions such as fund switching, partial & full withdrawal, loan application, dividend withdrawals and claims.
You may also send a message to Ella of InLife, our 24/7 chatbot on Facebook Messenger who is ready to assist you with your policy-related queries.
For Premium Payment
Keeping your convenience foremost in our minds, we offer you a number of secure and reliable payment facilities.
Bills Presentment
Prior to your premium due date, you will receive a billing notification via email or SMS. This message contains a payment link where you just need to input your VISA or Mastercard details to process payment.
e-BAYAD
This is an online payment facility inside the InLife Customer Portal that allows you to settle your premiums via VISA or Mastercard. Register or log-in to your Customer Portal then click the "Pay Online" button beside the policy you want to pay for.
ECPay Partner outlets
Your InLife premiums will be received in more than 5,000 ECPay partner outlets nationwide, including 7-Eleven stores through their Cliqq kiosks or Cliqq app.
For more payment options, you can view the list of all the available facilities here.
For New Applications
During this heightened uncertainty we realize the importance of being financially prepared for illness, and all other situations that may happen. We assure you that our InLife financial advisors can respond to your call for life insurance, hospitalization or critical illness coverage and even investment goals while you stay within the comforts of your home. Through the InLife ViBE (Virtual Business Enabler), we can address your desire to avail yourselves of a plan through the digital platform. It can be as quick as 30 minutes.
For Other Inquiries and Concerns
You can reach us through the following channels and offices:

- Email: customercare@insular.com.ph or services@insular.com.ph.
- Website: insularlife.com.ph
- Facebook: https://www.facebook.com/InsularLifePH
- Twitter: https://twitter.com/insular_life
- Hotline: (+632) 8-876-1-800 or Toll Free: 1-800-10-INSULAR (4678527).
- Branches
All other servicing offices of InLife outside the MECQ areas will welcome you from 9am to 1pm, Mondays to Fridays on a by-appointment basis. You may visit our Branch Locator page to find the branch nearest you and set an appointment.
While these are trying times for the whole nation, we choose to stay hopeful that this will soon end so that we can once again, welcome all of you in person inside our office premises with our warm smiles.
Other News & Press Releases