Advisory on Return to GCQ of NCR and Nearby Provinces
August 18, 2020
InLife Advisory on Return to GCQ of NCR and Nearby Provinces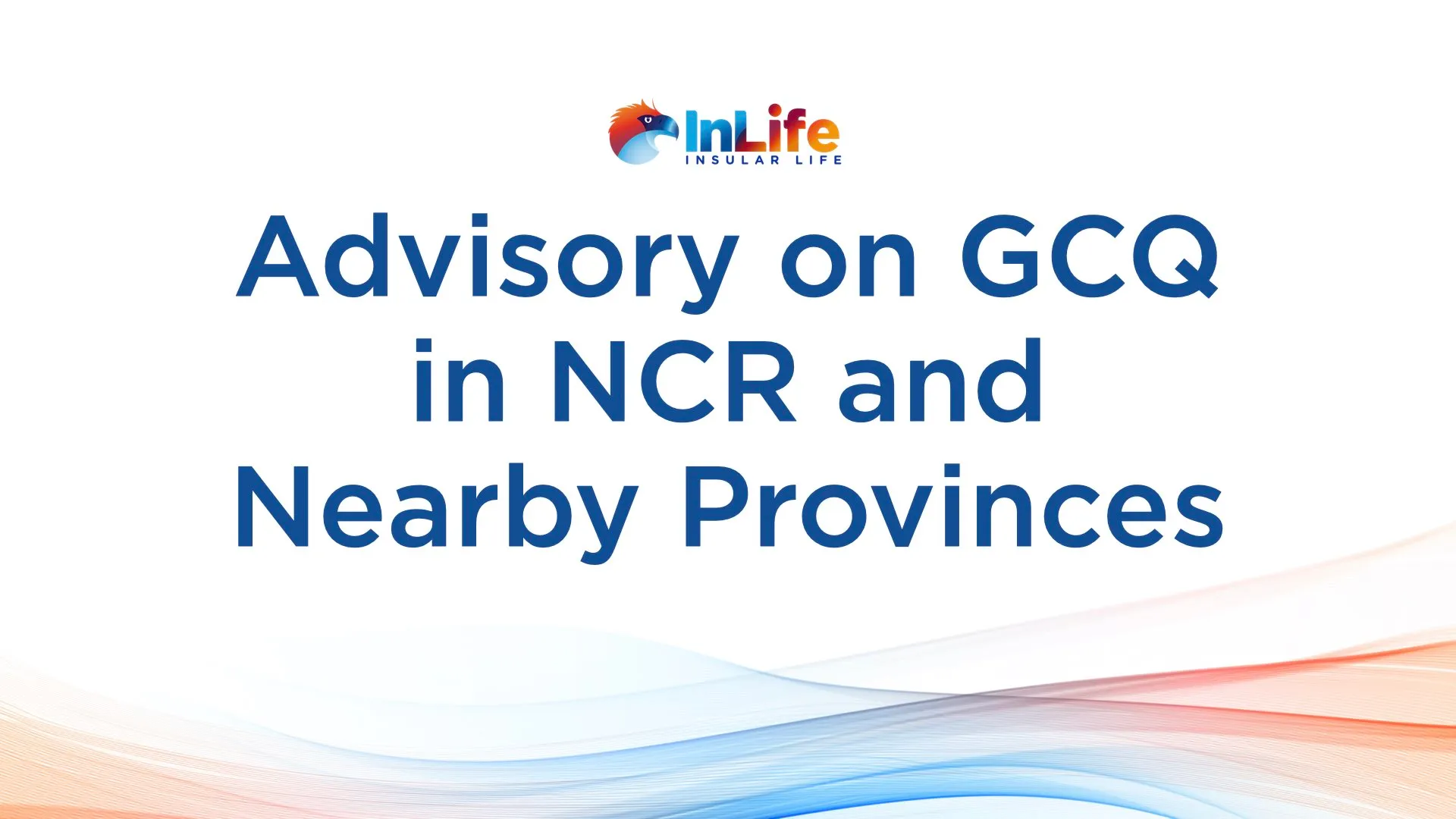 Insular Life offices and servicing branches in NCR, Bulacan, Cavite, Rizal, and Laguna will reopen starting August 19, 2020 with the areas back under General Community Quarantine (GCQ).
For everyone's continued safety and well-being, visits to InLife offices will remain to be by appointment.
INLIFE BRANCH SCHEDULE
Our new business hours will be from 9:00am to 1:00pm, Mondays to Fridays. A full list of our branches and their schedules is available here.
APPOINTMENT SETTING
Please set an appointment online at least one day prior your visit. Kindly follow this 5-step process:
1. Go to the Branch Locator in the InLife website
2. Select Location and choose the specific office or branch you intend to visit
3. Click on 'Set Appointment'
4. Book your preferred date and time from the available schedules in the calendar
5. Provide the necessary details such as Policy ID and the nature of the transaction.
- A screen confirming that your appointment is successful will be shown.

- An email will also be sent to your registered the email address to confirm your visit.
We will strictly follow the appointment system to allow us to efficiently attend to your concerns, while observing the physical distancing measures mandated by the government. If you are unable to book an appointment online, you may also call or e-mail your preferred InLife office or branch so that we may reserve a schedule for you.
You are also requested to wear your face mask AND face shield at all times should you be visiting any of our InLife offices. For your safety and that of our employees, we will not be able to service you without these basic protection gear.
We hope and believe that our current situation will improve in the coming months. In the meantime, we encourage you to maximize the use of our online channels when conducting your business so you won't need to leave the safety of your home.
---
PROMOTING SAFETY MEASURES
To avoid contamination or the spread of the virus, we are implementing the following:
- InLife offices and branches will be disinfected daily.
- Frontliners will be wearing protective masks and face shields.
- Thermal scanning will be conducted at all entrances.
- Hand sanitizers will be available in the lobbies of the offices or branches.
We seek your cooperation to observe the following:
- Queue for thermal scanning at the entrance of the office or branch.
- Accurately complete the Health Checklist Form.
- Cleanse your hands using the hand sanitizers available.
- Always wear your face mask and face shield inside the InLife office or branch.
FOR POLICY DETAILS AND SERVICING TRANSACTIONS
To access policy information and raise servicing requests, please register or log-in to InLife Customer Portal. You may also send a message to Ella of InLife, our 24/7 chatbot on Facebook Messenger who can assist you with policy related inquiries.
FOR PREMIUM PAYMENT

Secure and reliable payment facilities are also available for your convenience.
- Bills Presentment: Prior to your premium due date, you will receive a billing notification via email or SMS. This message contains a payment link where you just need to input your VISA or Mastercard details to process payment.
- e-BAYAD: This is an online payment facility inside the InLife Customer Portal that allows you to settle your premiums via VISA or Mastercard. Register or log-in to your Customer Portal then click the "Pay Online" button beside the policy you want to pay for.
- ECPay Payment Facility: Your InLife premiums will be received in more than 5,000 ECPay partner outlets nationwide, including 7-Eleven stores through their Cliqq kiosks or Cliqq app, and via GCash.

For more payment options, click here.
FOR NEW APPLICATIONS

During this heightened uncertainty we realize the importance of being financially prepared for illness, and all other situations that may happen. We assure you that our InLife financial advisors can respond to your call for life insurance, hospitalization or critical illness coverage and even investment goals while you stay within the comforts of your home. Through the InLife ViBE (Virtual Business Enabler), we can address your desire to avail yourselves of a plan through the digital platform. It can be as quick as 30 minutes.
FOR OTHER INQUIRIES AND CONCERNS
You may also reach us through the following channels:
- Email: customercare@insular.com.ph or services@insular.com.ph
- Facebook: https://www.facebook.com/InsularLifePH,
- InLife Contact Center: (+632) 8-876-1-800 or Toll Free: 1-800-10-INSULAR (4678527)
Other News & Press Releases