InLife Advisory on Bayanihan 2
October 15, 2020
InLife Advisory on Bayanihan 2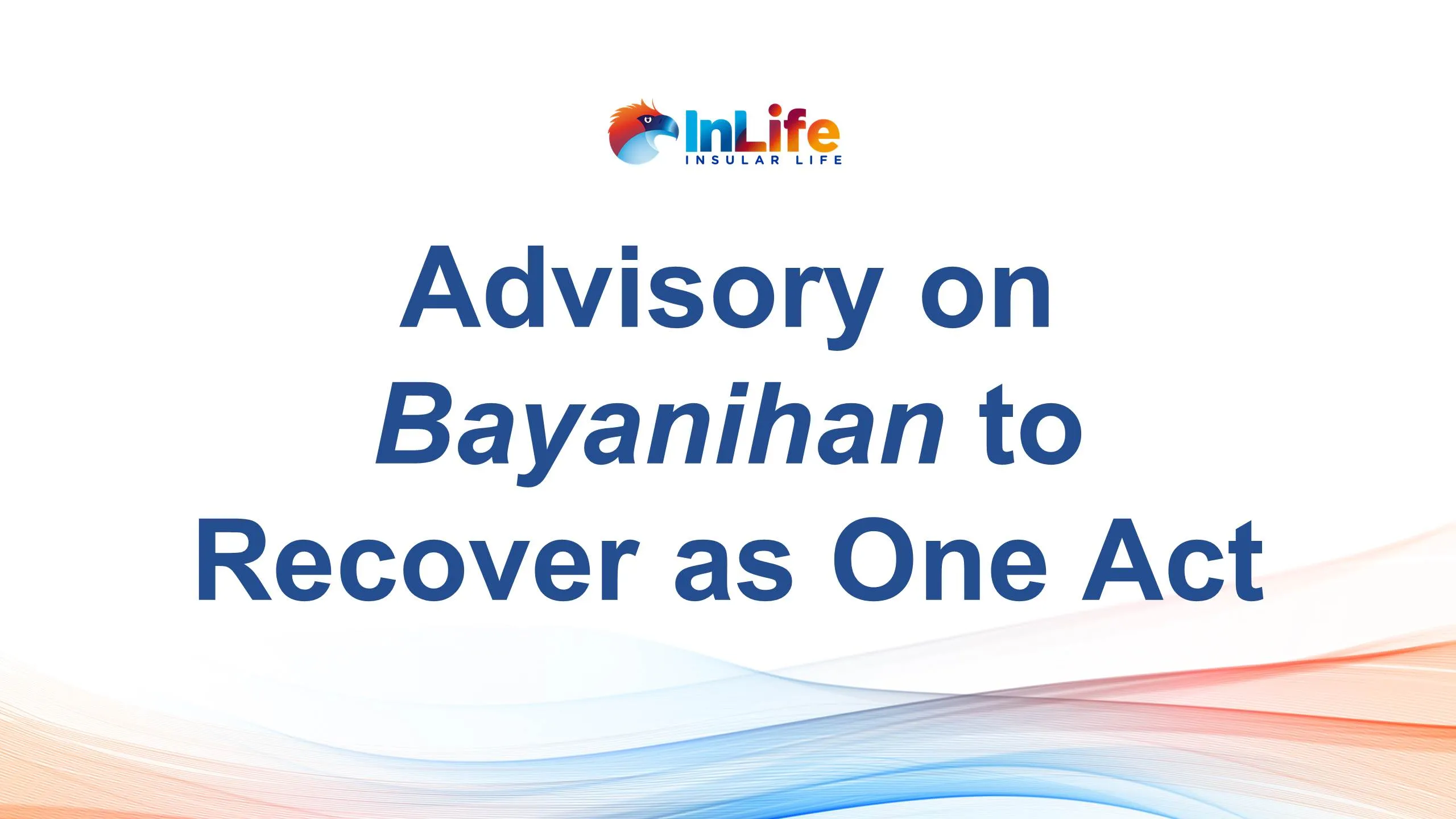 Insular Life (InLife), is extending the benefit of the "Bayanihan to Recover as One Act" (Bayanihan 2) under the Insurance Commission Circular Letter 2020-95.
To help you manage your daily expenses at this time, here are initiatives to ease your premium payments:
1. Extension of the 31-day grace period to 60 days
Policy premiums due September 14, 2020 to December 31, 2020 shall be allowed 60 days grace period.  This means that payments received after 31 days but within 60 days, will be considered paid- on-time.

2. Temporary disenrollment from the Auto Debit and Auto Credit facility
If you wish to temporarily disenroll the charging of your policy premiums through the Auto Charging Option (ACO) or Auto Debit Arrangement (ADA), an e-mail request may be sent via the InLife Customer Portal or to customercare@insular.com.ph.
For easy monitoring, please use "Opt-out" as Subject in your email request.  You may also course your request by visiting any of our InLife field offices. Please do not forget to set an appointment through the Branch Locator page of our website. 
Any time you want to resume your Auto Charging Option (ACO) or Auto Debit Arrangement (ADA), you may easily initiate the request via the same channels. In the meantime, you may continue to pay your premiums through InLife's alternative payment channels which may be more fitting to your current situation. For more payment options, you may visit the Payment Facilites page of our website.
If we do not receive any request to disenroll, premiums of policies enrolled in ACO/ADA, shall continue to be charged as scheduled.
Please note that policy loans are not covered by Bayanihan 2 because these are not commercial loans, rather advances on the cash value of your life insurance policy. Moreover, policy loans are not covered by any repayment schedule agreements.
We hope this news helps alleviate your concerns as we continue to ensure that you and your family lead a lifetime for good.
Other News & Press Releases