Fund Managers Recommend Multi-Asset Approach for Investors
September 27, 2022
Fund Managers Recommend Multi-Asset Approach for Investors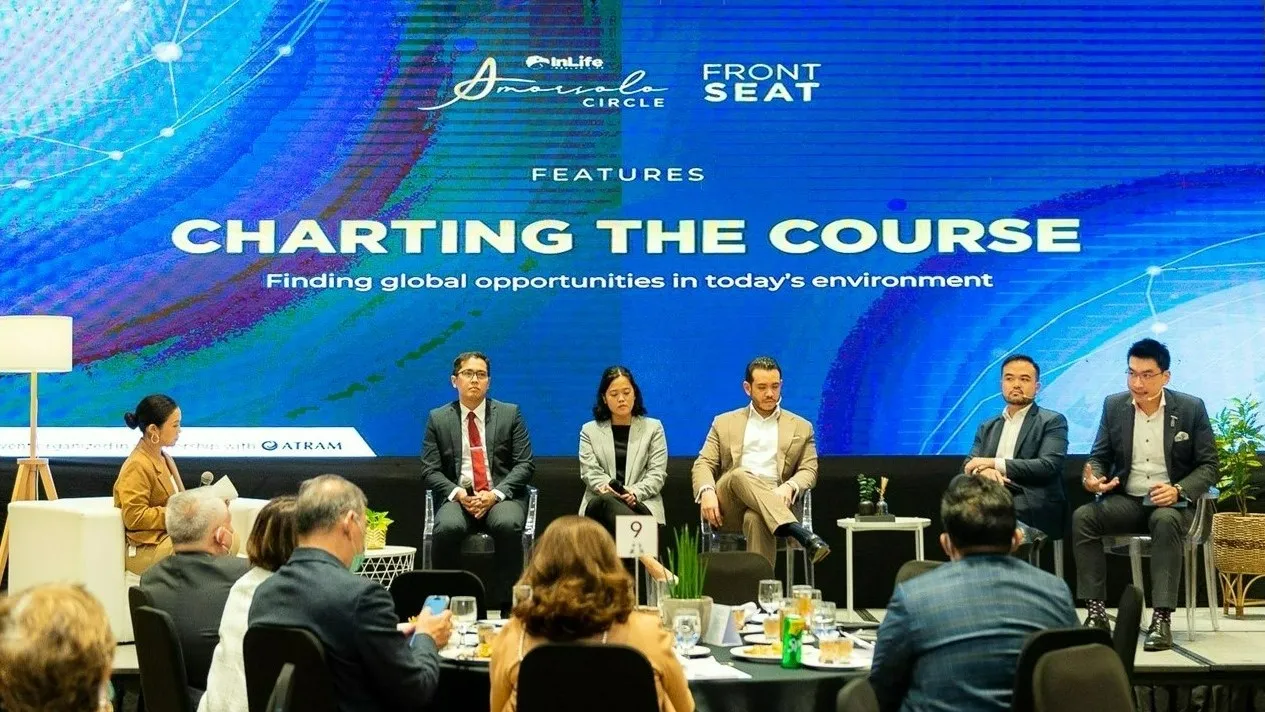 "Runaway inflation, geopolitical risk and supply chain disruptions are the core challenges for markets today. Having a multi-asset portfolio is a defensive way to face today's uncertainties." This is according to Anis Tiasiri of JP Morgan Asset Management, one of the speakers in Insular Life's (InLife) recent economic briefing for its Amorsolo Circle members.
Chris Wong, CFA and Shuangwei Lao of Fidelity International and Eugene Lau of Franklin Templeton joined Tiasiri as guest speakers in  the "Charting the Course" event held at the Seda Hotel in Bonifacio Global City, Taguig.
Tiasiri pointed out that they are able to allocate capital across different asset classes, in different geographic regions, to achieve a sustainable level of income without overstretching the portfolio's risk."
A multi-asset income likewise has a proven track record of providing positive returns in rising rate environments and outperforming traditional fixed income.
Quality Investing
In their presentation, Wong and Lao shared the ABC of quality dividend investing. They said that  a company should have an "A" - Attractive Value, with a broad look at valuations, strong earnings across different cycles, and a willingness to be contrarian. 
One should also look at "B" - Better Quality Companies with strong balance sheets, low volatility of earnings, low debt, and high cash. "C", meanwhile, stands for Consistent Dividends with above-average dividend growth.
Current State of the U.S. Market
When it comes to the U.S. market, Lau said that while its growth is expected to slow down in 2022, it would remain positive and keep stagflation at bay. Its recession outlook is low as its economic conditions remain healthy. Inflation in the U.S. is currently high, but will soon be moderate as supply challenges ease and demand normalizes.
Digital transformation, which includes analytics and artificial intelligence, is expected to spur growth. U.S. companies are also expected to maintain higher levels of profitability relative to the rest of the world, according to Lau.
Use Data, Not Fear in Investing
"In these uncertain times, it is understandable to be concerned about the future. However, we need to remember that in order to overcome these challenges, we must deal with them thoughtfully and with a good comprehension of the situation," said Geraldine B. Alvarez, InLife Agency and Branch Management Head, in her opening speech.
She pointed out that panic can result in more setbacks. Instead of being dictated by fear, use data and reason in making decisions.
Ms. Alvarez shared that in the challenges that InLife has faced, the Company not only survived but thrived. It continues to aim for excellence and remains steadfast in fulfilling its commitment of bringing "A Lifetime for Good" to Filipinos.
"As a 111-year-old company, InLife has a wealth of experience in dealing with crises of global scale. We remained standing after two world wars and through economic disruptions, both local and global. Amid multinationals, we remain among the strongest in the industry, the largest Filipino-owned and the only mutual life insurance company in the Philippines," she said.
InLife's insurance plans are able to access global investments, and bringing in the experts to speak about the current market environment is one of the many exclusive events for members of the Amorsolo Circle, InLife's community of its most valued clients. It is named after the country's first National Artist Fernando Amorsolo whose artworks depict the rich beauty, culture, and history of the Philippines. 
Get in touch with an InLife financial advisor to learn more about the Amorsolo Circle. To stay updated on InLife's latest products and events, follow its official social media accounts.
Other News & Press Releases