November 04, 2019
First "InLife Shero of the Year" Named at 10th Asia CEO Awards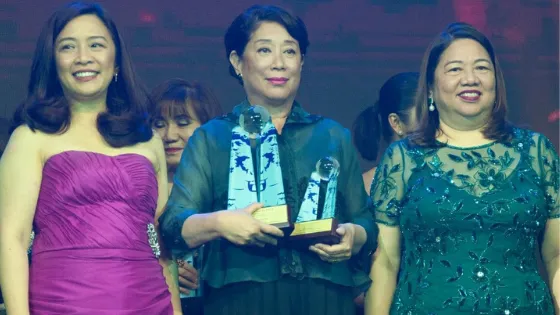 The first Asia CEO - InLife Shero of the Year Award went to Doris Magsaysay Ho, group president and chief executive officer of the Magsaysay Group, one of the country's largest business conglomerates. She received the award during formal ceremonies at the 10 th Asia CEO Awards held at the Marriot Hotel Manila, recently.
The InLife Shero of the Year is a new category in the Asia CEO Awards and is given to a Filipino woman leader who has achieved recognizable success, overseeing organizations in the Philippines that have advanced the nation's economic and, or social standing in the eyes of the world. Ms. Magsaysay Ho was formerly conferred the Global Filipino Executive of the Year Award at the ASIA CEO Awards 2012. She has also been recognized for her outstanding contributions in the global shipping industry multiple times. She was also the recipient of an Ernst & Young Entrepreneur of the Year for Social Responsibility in 2004.
Ms. Magsaysay Ho leads a conglomerate that has businesses in various industries such as: manpower deployment and human resources, hospitality and tourism, shipping and logistics, healthcare, education and training, oil and gas and specialized engineering trade.
"It is such as honor to receive this reward especially from a big company such as Insular Life, (which is) run by women who I admire so much," said Magsaysay Ho moments after she received the award. She added: "I believe that more than success, we should look for purpose and strive for meaning in whatever we do. This is what I have been trying to do; I dedicate this recognition to the men and women who make up our organization."
Magsaysay Ho was chosen from a finalist group composed of eight highly successful Filipino women executives called the Asia CEO Circle of Excellence. They are: Alegria Sibal-Limjoco, President of the Philippine Chamber of Commerce and Industry, Cherrie De Erit Atilano, CEO of AGREA Agricultural System International, Joan Penaflorida, President and CEO of Yondu, Mailyn Borillo, President of OSM Maritime Services, Marcelina Itchon, President and CEO of Aspen Philippines, Mona Magno-Veluz, National President of Autism Society of the Philippines and Myrna Yao, President and CEO of Richprime
Global.
"We are honored to recognize Doris Magsaysay Ho as our very first InLife Shero awardee. The success of her organization, as well as her personal endeavors, her striving for excellence for herself and others, deserve praise and recognition," said Insular Life President and CEO Mona Lisa B. Dela Cruz. She explained that the InLife Shero of the Year Award is an offshoot of the company's movement called InLife Sheroes in partnership with the International Finance Corporation (IFC), a member of the World Bank Group.
Through this movement, Insular Life aims to champion Filipino women empowerment by recognizing their strengths and helping them achieve their aspirations through four focus areas: Financial Literacy, Health & Wellness, Women-Specific Solutions, and Connections to Business & Social Networks.
"By showcasing the talent, achievement and influence of our InLife Sheroes, we are able to inspire other Filipino women that success knows no gender. Every Filipina is capable, just like our InLife Circle of Excellence and our first InLife Shero of the Year, Ms. Doris Magsaysay Ho," said Dela Cruz. The Asia CEO Awards recognize both companies and individuals who have demonstrated excellence in their respective industries and have contributed significantly to nation-building.
Other News & Press Releases