Finding Success as a Financial Advisor During These Uncertain Times
October 12, 2022
Finding Success as a Financial Advisor During These Uncertain Times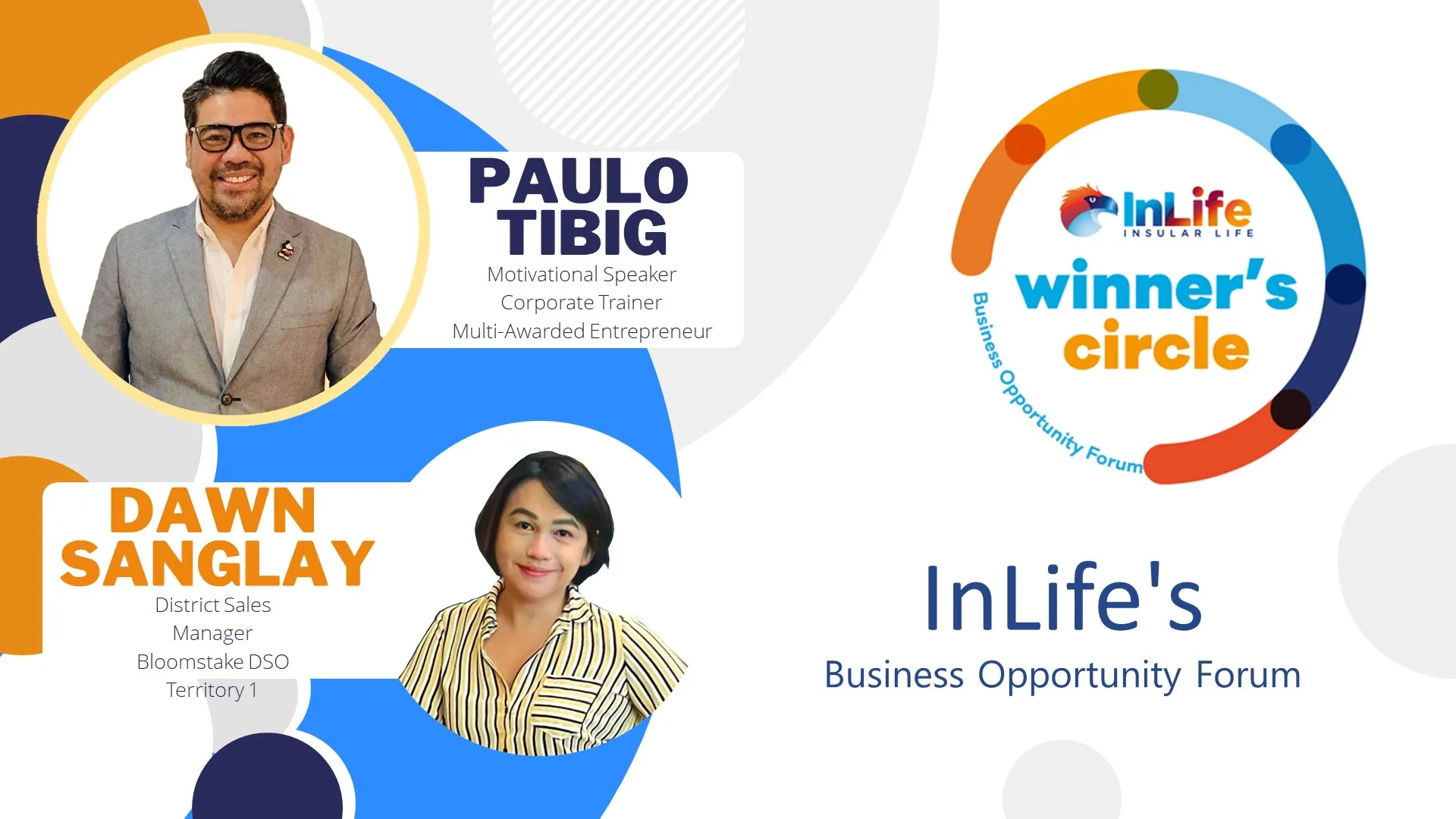 Whether you're considering it as a side hustle or full-time job, financial advising requires a lot of hard work, but, at the same time, offers a lot of perks. The greatest benefit, however, is not just the attractive commission but the knowledge you are helping fellow Filipinos become financially secure.
"The mission to uplift people and change lives is exhilarating. More than the revenue, more than the income, it's the fulfillment of helping people," best-selling author and motivational speaker Paulo Tibig said in a recent webinar.*
Tibig is known for his "learnjoyment" brand of workshops, and his books Strategies of a Champion Entrepreneur and Standout Without Losing Your Values. Here, he shares his insights and experiences as an entrepreneur with students, employees, corporate executives, and businessmen.
Lessons Learned from the Pandemic
Tibig pointed out that the global pandemic has made people realize several things: the importance of nurturing relationships, learning to be grateful, and appreciating one's work as a means to provide for family members. Health and financial security have also become top priorities for many people, with many realizing they shouldn't be complacent during challenging times.
"Dapat maging mas madiskarte (You need to be more innovative)," Tibig emphasized. "We also need to be more prepared because we are in a VUCA (volatile, uncertain, complex, and ambiguous) time."
He added that people should also watch their adversity quotient, which refers to how people will absorb or resist the changes happening around them. Asked how it can be enhanced, Tibig said that its improvement starts within.
"One should start with oneself. By conquering our inner fears, we can start dealing with the adversity outside. Pay attention to your mental toughness," he advised, adding that adversity can happen any time.
Preparedness, planning, and conditioning can also help in improving one's adversity quotient. 
"People who prepare or study early in the day are in their alpha state. The brain is at its peak state during the early hours of the morning," Tibig said.
The Perks of being a Financial Advisor
In the current climate, financial advising has emerged as an important occupation. While it is rife with challenges, it also comes with numerous advantages. It offers independence and flexibility in working hours. As financial advisors expand their network, they also earn leverage.
Being a financial advisor also brings with it immeasurable opportunities, with the rewards commensurate to their efforts, according to Tibig.
Most of all, fulfillment comes with the job. Financial advisors play a big part in ensuring a family's financial? preparedness, that parents can send their children to school, and that people can fulfill their life-long goals. It is an essential and highly relevant work that impacts a person's life.
The Winning Game Plan
Tibig shared that there are three ways one can succeed in the business. First, one should understand oneself and understand others as well.
"Know your personality and check on the things that will help you build relationships with potential and existing customers," he said, adding that one should be flexible and adaptable.
Second, change your bedside manner. People's views and personalities vary, and a financial advisor should have different approaches in his or her arsenal to establish deep customer connections.
Like a doctor, Tibig said, a financial advisor should, "pinpoint the pain point, listen and keep attention to their client's needs, provide requirements that fit the client, keep information straight and simple, and make financial advising light by telling stories and injecting humor."
Lastly, financial advisors should learn to invest in themselves, their business, and their customers. They should be mindful of their physical, mental, spiritual, and social health. They must find the time to learn more about their industry and how they can upgrade their skills. They should be open to mentoring and attending training sessions. 
Likewise, financial advisors must make sure that they always look presentable and address their customers' concerns as soon as possible. Make it a point to provide them the best before and after-sales service.
Finding a Winning Partner
To do well in the industry, one also needs to find the right company that best makes use of one's skills, gives continuous learning opportunities, and provides the best benefits. For Dawn Sanglay, that company is Insular Life (InLife), the first and largest Filipino life insurance company.
In the same webinar, the seasoned financial advisor and agency leader shared that she used to work for another insurance company. During the pandemic, she experienced a light bulb moment that prompted her move to InLife. The realization came after clients started asking for insurance products that addressed their concerns during the pandemic, and InLife had those products.
"Most clients these days buy from us because they not only know us, but because the products we're selling them will become important pillars of their financial portfolio and the future of their children," said Sanglay, who is now a District Sales Manager at InLife.
She added that her decision to join InLife was also influenced by the fact that it is a Filipino company.
"InLife has a bigger compensation compared to others, and I felt that it trusts Filipinos and believes in their ability. When someone believes in you, you begin to perform better," Sanglay said.
She revealed that she received very good feedback from her clients when they learned of her transfer to InLife.
"It's a Filipino-run company. Filipinos will always highlight you, and help you become successful,"she said. Sanglay became a member of the Million Dollar Round Table (MDRT) during her first year at InLife. This 2022, she qualified for the MDRT during the first quarter of the year.
To those considering a career in becoming a financial advisor?  Sanglay said that the "harvest is plenty, but the reapers are few."
"It's difficult in the beginning, but that's the beauty of living. You learn each day. We become better each day," she concluded.
*The webinar is part of InLife's Business Opportunity Forum, a monthly event for people who are considering a career as a financial advisor.
To learn more about how to become an InLife financial advisor, visit here. 
Other News & Press Releases