September 03, 2019
Entrepinay: Designed For The Filipina Business Woman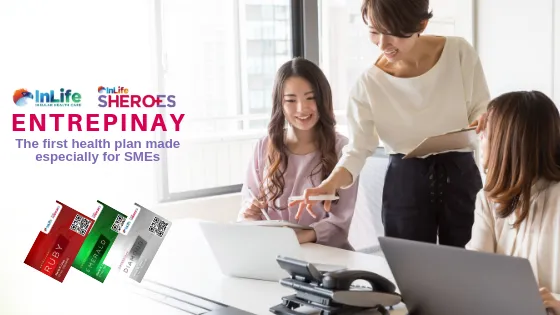 As more Filipinas get into starting their own business, InLife Health Care wants to make sure that they have access to quality and affordable health care for them and their employees. Prioritizing the health of their employees is beneficial not just for the employees, but for the business as well. It had been proven that businesses that provide health care for their employees have higher productivity levels compared to those who do not. Employees can focus more on their tasks rather than worrying about how they will deal with the expenses that come with falling sick, in the event that they do. This also encourages them to get regular check-ups to keep their health in tip-top shape, resulting in better productivity.
Designed for small business and start-ups run by Filipina entrepreneurs, InLife Entrepinay helps business owners provide high quality health care to their employees with ease and at affordable rates. With a minimum of three (3) initial enrolees to a maximum of 99, the InLife EntrePinay health care program provides preventive, emergency and non-emergency health care needs and life insurance coverage. The program has three packages: Ruby, Emerald, and Diamond.
Ruby comes with the basic inclusions such as: annual physical examination, two face to face medical consultations, a standard dental plan, unlimited 24/7 telemedicine consultation, a one-time outpatient emergency care coverage due to accidents, and personal accident benefit amounting to Php 100,000. Emerald and Diamond come with the same benefits as Ruby, with additional features such as: electrocardiogram (ECG), pap smear and prostate-specific antigen PSA for 35 year-olds and up, a deluxe dental plan, accidental death and disability benefit of Php 50,000, maternity benefits (childbirth delivery/ miscarriage benefit), life insurance benefit amounting to Php 50,000 , and outpatient and inpatient care for emergency cases due to accidents for Emerald, with the inclusion of viral and bacterial illnesses for Diamond.
The InLife Entrepinay program is part of the One InLife Sheroes Movement that aims to touch and improve the lives of 1 Million Filipino Women through solutions and services tailor-fitted to support entrepreneurship, financial stability, and health and wellness of women and the people they care for.
Other News & Press Releases