Edna Labaniego: Where Dvds, Diligence & Diskarte Will Take You
November 27, 2020
Edna Labaniego: Where DVDs, Diligence, and Diskarte Will Take You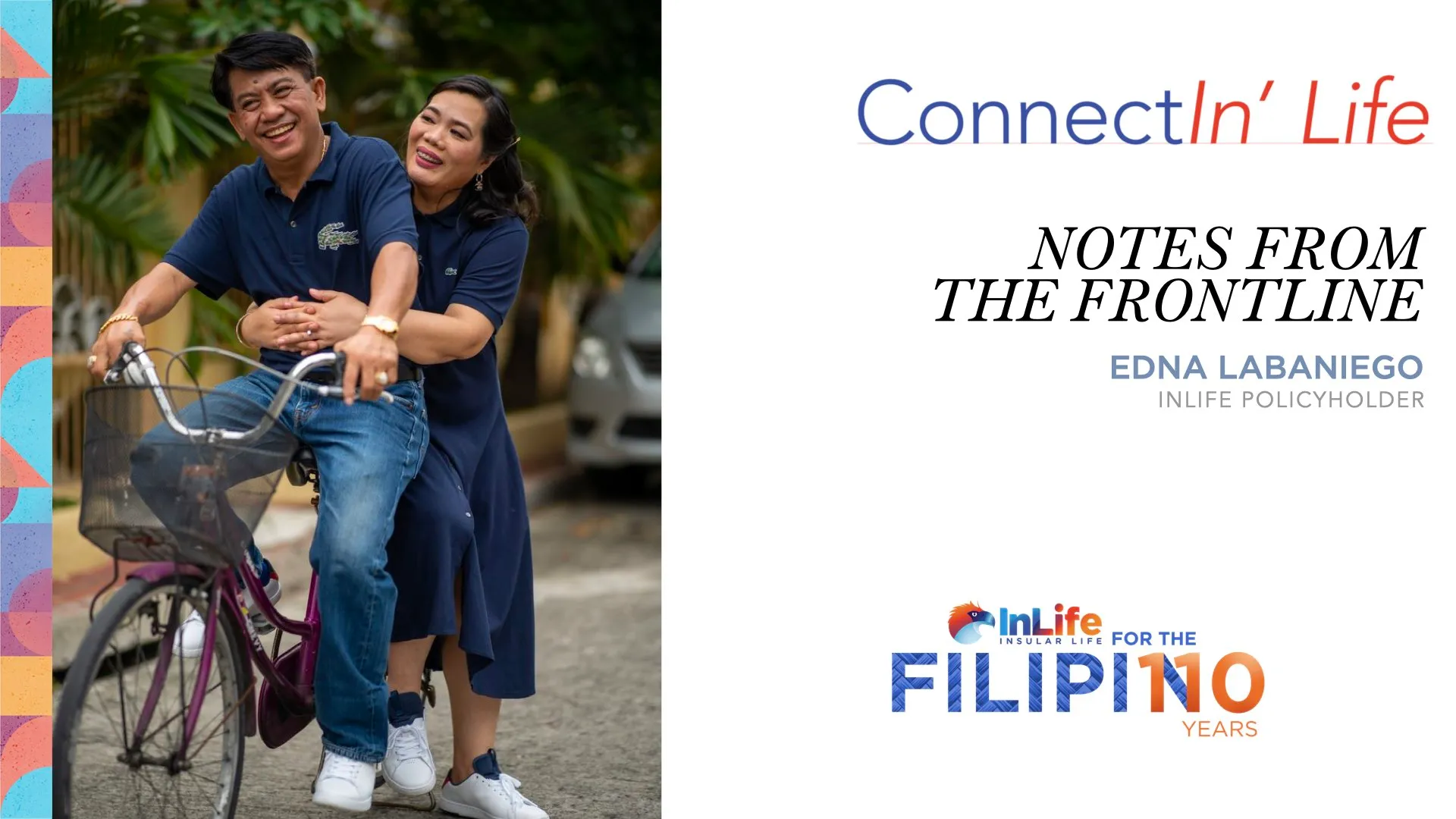 Exactly 25 years ago, Edna Labaniego, 48, was a DVD vendor, constantly evading street clearing operations and living with her family as informal settlers in Doroteo Jose, Manila. Today, she owns an electronics store, a motorcycle shop, three laundromats, and a boarding house; and shuttles between her family's homes in Sta. Cruz, Las Pinas, and Cavite.
Between her past life of strife and her present life of security were years of diligence, diskarte, and the cunning ability to turn a profit out of anything, even insurance policies.
"Madiskarte talaga ako. Noong vendor kami, kikita ako ng PHP 500-1,000 a day, ang expenses ko ginagawa kong 50% lang ng income. After eight years, nakaipon na ako ng PHP 150,000," said Edna, who came to Manila from Zamboanga after finishing high school. Her parents had no means to send her to college.
Edna found work at the Quiapo barter mall, earning PHP 350 per month. When a fellow sales girl left to work as a domestic worker in Dubai and told her about the bigger salary, Edna packed up and joined her friend in the same employer's household. It was easy to be directly hired from overseas back then, she said.
For three years, Edna worked as a nanny and an all-around helper in Dubai, with a monthly salary of PHP 3,500, which she sent back home to her parents. In 1995, upon the urging of her boyfriend, Edna returned to the Philippines, without any savings.
"Nagpaplano na rin talaga kami mag-asawa. At 'yung mga magulang ko, ayaw na rin ako pabalikin, pinapakasal na rin ako kasi 24 years old na ako noon. Eh basta sinabi ng magulang ko, sunod ako," she said.
When they were married in August 1995, Edna's husband Limuell already had a small livelihood selling pirated DVDs. He had wanted her to stay at home and allow him to provide for her, but she could not stand being idle, so by October, she was peddling DVDs along with him, buying rights to spaces where she could put up tables.
"Lumakas ang negosyo namin nung hinawakan ko na. Minsan, nagde- daily (income) kami ng PHP 2,000 kaya nakaipon ako. Noon, hindi pa mahigpit kaya nakakapagtinda kami sa bangketa," she recalled.
In 1996, when the couple had their first child, Edna began looking for ways to save aggressively, but she did not want to go to the bank. She had heard about insurance so one day, she and Limuell got on their bike and pedaled around Manila. They found an Insular Life office in Escolta, where they were received by financial advisor Gigi Pineda.
After being briefed about insurance and reading the terms, Edna bought an insurance policy for her eldest child, payable in 10 years. She scrimped all their money to be able to pay the PHP7,000 quarterly premium.
"Bilang isang nanay, lahat ng pangarap ko ay para sa kinabukasan ng anak ko. Kahit konting-konting ipon pa lang, nag-iisip na ako. Sabi ko sa asawa ko, kailangan natin mag-ipon para sa anak natin kasi ayaw ko maging katulad sa akin na hanggang high school lang," she said.
From DVDs to electronics
Edna's insurance policy gave her a cashback beginning on the eighth year, which timed perfectly with a decision to start a new business. A friend had advised Edna to rethink her DVD enterprise and try selling electronics in Quiapo, where she would have her own store and not have to worry about being apprehended by police on the streets.
A slot had just opened up in Raon—a rare opportunity—so in 2003, Edna took out her PHP 150,000 savings and jumped in. She sold lights and sound systems for videoke/ karaoke, which were all the rage then. Even when she did not have enough money to buy more merchandise, suppliers trusted her with their items, and she did not have to pay for what she could not sell.
"Gumanda ang takbo ng buhay namin. Hindi na kami squatter; nakabili na kami ng bahay sa Sta.Cruz noong 2011 dahil sa ipon ko sa electronics. Napakabilis ng lago ng negosyo," she said.
By that time, Edna had also begun to receive cashbacks from her eldest child's insurance policy, beginning with PHP50,000 a year until she received the full amount she invested, plus profits. Encouraged, she decided to get another insurance for her husband and later, for all her six children.
"Na-engganyo ako doon kasi ang gusto ko hindi lang insurance but business. Hindi lang 'yung kapag namatay ka may makukuha (ang pamilya mo). Ang tingin ko diyan ay business. Iyan talaga ang purpose ko," she said.
Every time she would receive a payout from her insurance policies, she would invest them in new ones. She now has 12 policies for her family, including her parents and a sibling. The premiums on these reach over PHP 1 million annually, but the returns are much more, she said.
"Ang kagandahan kasi may cash value. Iyan ang nakatulong sa akin kasi 'pag meron kang kailangan, madali mong mahiram, madaling mapakanibangan," she said.
"Syempre hindi naman lahat ng araw, meron ka, so 'pag gipit ako, pupunta ako sa (Insular) office, sasabihin ko sa kanila, pwede ba ako mag-loan? Within one hour, andyan na ang cheke kaya bilib ako sa Insular," she said. "Si Ma'am Gigi, naging mentor at manager ko na."
When her electronics store and insurance policies turned a profit, Edna invested in a boarding house in Tayuman. This was her dream, she said, ever since they were squatters in Doroteo Jose and could barely pay the PHP4,500 monthly rent.
"Tuwing sinisingil kami nagsasangla kami ng gamit kasi walang pambayad. So nangarap ako na sana ako naman kakatok para kumuha ng bayad, hindi 'yung ako kakatukin lagi para magbayad," she said. This dream and more came true for Edna and her family. All her children are in good schools, and the eldest is managing the laundromat and motorcycle businesses.
She said her experience proves that you don't need a lot of money to invest, especially in yourself.
"Sa akin kahit wala akong pambili ng damit, inuuna ko ang insurance kasi alam ko magagamit ko iyan balang araw," she said.
To read stories of connecting lives for good, download
InLife's 110th Anniversary Magazine.

DOWNLOAD
Other News & Press Releases