Dr. Jerome Senen: Bayanihan Para Sa Bayani
November 26, 2020
Dr. Jerome Senen: Bayanihan Para Sa Bayani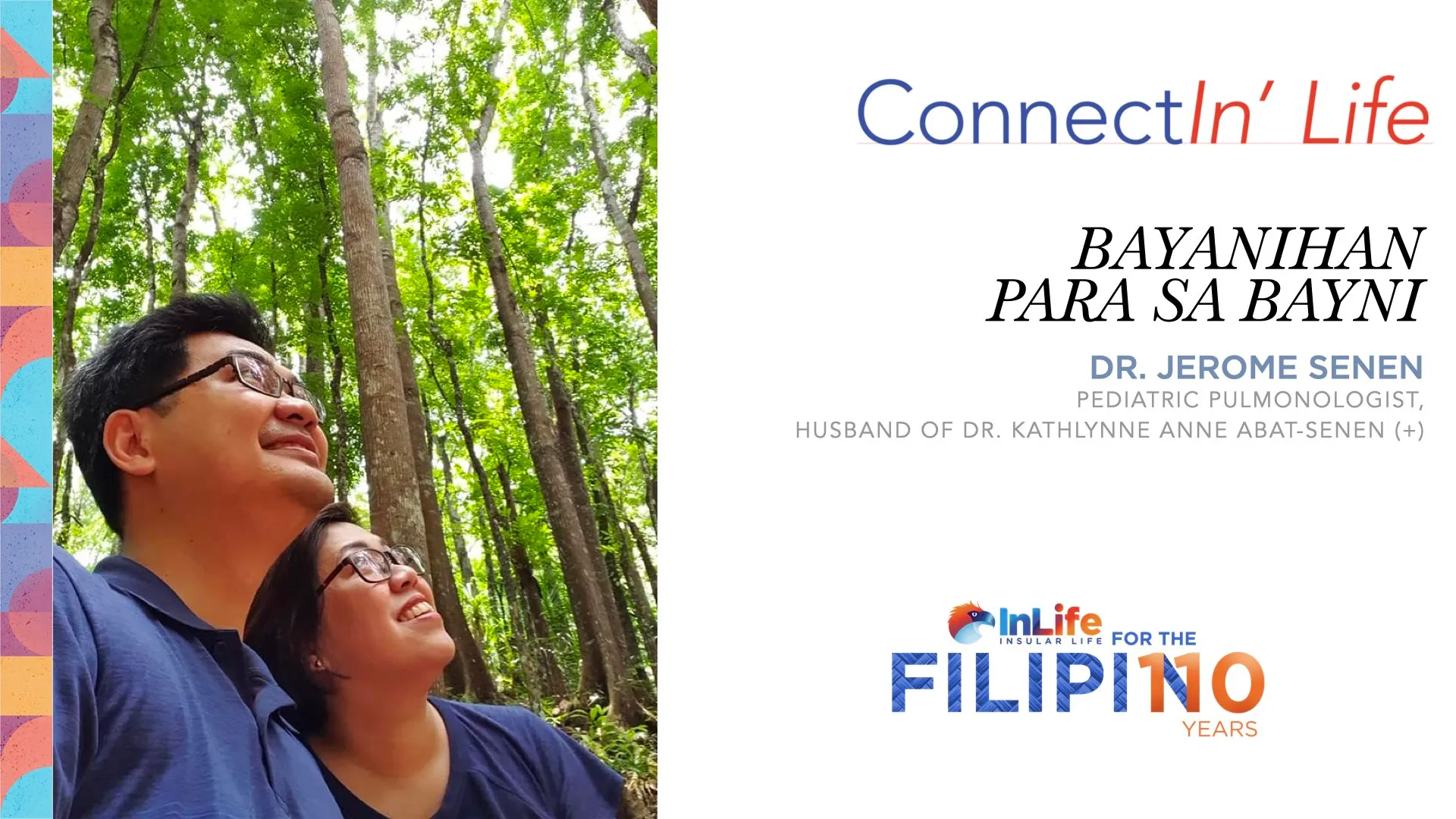 Mornings are the toughest.
He still wakes up at 4 a.m., as he usually does, to prepare the kids for school. And he half-expects to see her in her corner of the room, painting, doing calligraphy, recording songs, or editing videos. He is the early riser between them, but when his wife gets an urgent call in the middle of the night, she finds it hard to go back to sleep, so she indulges in her hobbies.
But Dr. Kathlynne Anne Abat-Senen is no longer in her corner. She is no longer singing or writing or taking hospital calls. And her husband, Dr. Jerome Senen, is still waking up early and trying very hard to live the life she had wanted for them.
"It's still a bit surreal for me. Every time I wake up, I still half-expect that I will see her next to me. That's one of the first things I missed— 'yung may katabi ako sa pagtulog and 'yung routine namin na we have breakfast with the kids, then attend to our patients," Jerome said.
Jerome is a pediatric pulmonologist while his wife Karen, as she is called by family and friends, was a neonatologist and lecturer at the Philippine General Hospital (PGH). They have a private clinic in Valenzuela City and in several hospitals in Bulacan. When the pandemic hit and doctors began to get infected, the couple decided to continue attending to their patients, despite the risk, because that was what they were called to do as doctors.
"Sabi namin, it would be a disservice to everybody kung magtatago tayo, so we continued seeing patients," Jerome said. "We did extra precautions: naka-full PPE (personal protective equipment) kami kahit sobrang pawis, hindi kami makainom, maka-CR, makahubad kasi ang init ng PPE. It's a good thing our house has a small shower outside so we would clean up before seeing the kids."
Because many pregnant women were unable to have their regular check-ups during the lockdown, there were a lot of premature and complicated births, which meant Karen's services as a neonatologist were very in-demand. This took a toll on her health.
In late June, Karen was one of the medical frontliners infected with COVID-19. She recovered in July and remained in high spirits, even recording a song to celebrate her discharge from the hospital. But just a week later, she tested positive for COVID-19 again and had to be readmitted to PGH but this time, her situation did not look good.
In August, after 44 days in the hospital's intensive care unit (ICU), Karen lost her battle against COVID-19.
Her parents and siblings, who had last seen her in March before the government-enforced lockdown, could not hold her. Her children could not say goodbye and even her husband, who stayed at the hospital the entire 44 days, could count the times he was allowed to see her in the ICU.
"Ito yung hindi nakikita ng regular na tao. It's not only the dread na baka mamatay ka. There's also the emotional stress of family members—being away, not being able to say goodbye except through a video call," Jerome said.
"The price of the virus is not just the life of the person but also the people that she will leave behind. My kids are still small, 8 and 11 (years old), at lalaki silang walang mom. Doon ako naiiyak eh," he said.
The children have received counseling and support from their school, and are currently preoccupied with their online classes. Jerome's mother, a retired teacher, and his brother, an IT specialist, help look after them. On weekends, they visit Karen's parents in Las Piñas to play with their cousins, or they bring flowers to Karen's resting place.
Outpouring of love
Karen's was one of the high-profile COVID-19 cases among medical frontliners, not just because it raised the issue of COVID-19 reinfection, but because in the darkest of times, it showed the amazing ways people came together to support her family.
"Sa financial, thankful kami na andami- daming tumulong sa amin. Lahat ng networks ng mga kilala namin or kilala namin in passing, or even mga hindi namin kilala at all, even from the other side of the world, helped us in their own little ways—mga small things that if you add up have helped us tremendously," Jerome said.
His classmates from Philippine Science High School volunteered to make digital portraits to raise funds for Karen's medical bills, as did Karen's friends from grade school and high school. A Facebook group of fountain pen collectors, of which he and Karen were members, did a fundraising auction of their collectible pens. A pediatrician's artist friend did caricatures and donated the proceeds to them, as did a batchmate in medical school (University of the Philippines Manila) who sold her paintings for Karen.
A US-based ninong and friends abroad raised $25,073 through GoFundMe for the ECMO (extracorporeal membrane oxygenation) machine Karen needed. The machine had to be rented from the National Kidney and Transplant Institute for PHP 750,000, plus PHP 20,000 per day of use. Karen used the ECMO machine for over 30 days. She was also hooked to a ventilator and had to undergo dialysis using another machine that was not available in PGH and hence, had to be rented. These are on top of the daily medication and blood transfusions Karen required.
"The cost is very, very staggering. Good thing talaga na andaming tumulong sa amin," Jerome said.
"Parang nagkaroon ng spirit of bayanihan, not just sa finances but even in other aspects like blood donation. One example: meron kaming medication na hindi mahanap anywhere, so we posted on Facebook asking for help. Meron na lang nag-contact sa amin—friend namin ni Karen na doctor na matagal na naming hindi nakikita—she bought the medicines from St. Luke's (Medical Center)," he said.
Jerome was also grateful to PGH for giving him a place to stay while Karen was in the ICU, and for coordinating with other hospitals for everything they needed. He also mentioned Sen. Richard Gordon, who through the Philippine Red Cross, provided blood supply for Karen's needs.
Above all, Jerome said he could not have done it without Karen's siblings. They sought and facilitated assistance through Facebook, driving people to PGH to donate blood. While they knew how friendly their sister was, even they were astounded by the outpouring of love from strangers. They realized it was the payback for the earnest service Jerome and Karen had given people through the years.
"We had no regrets seeing our patients kasi kung di kami titingin, paano na sila?" Jerome said. The parents of premature babies Karen had helped save have sent not just financial aid but also letters and prayers for their doctor.
"Minsan may magpapadala sa GCash namin ng PHP 50, mga hindi mo aakalain na magpapadala kasi alam ko naman na mahirap din buhay nila. Baka yung PHP 100 or 200 na padala sa akin iyon ay pantawid na nila ng meal, but they opted to send it to us," he said.
Help health workers
Karen's case has turned the spotlight on health workers fighting a battle that seems to have no end in sight. Jerome is thankful for all the post-humous recognition Karen had received, especially from the Valenzuela City government and its congressional office. But his biggest desire is for the country's leaders to realize that health workers need help, and for the people to do their part to prevent the spread of COVID-19.
"Medical frontliners really, really need help kasi hindi lang kami ang kailangan to stop the virus. Everybody has to do their part; if we don't, walang mangayayari sa Pilipinas," he said.
"Don't go out of the house if not needed," Jerome practically pleaded. "The story of Karen is a precautionary tale, na kahit gaya ni Karen na grabeng pag-iingat na, sinunod lahat ng precautions, pero tinamaan pa rin and hindi sya naka-recover. It's a lesson na dapat matutunan ng lahat."
Jerome, who chairs the pediatric department of Marymount Hospital in Meycauayan, plans to resume working in November when he's done with Karen's paperwork. Some have questioned this decision but it was what Karen would have wanted him to do, he said.
"It's a promise I made to Karen—that I would continue to be a doctor to the kids who need me. It's my way of honoring her memory and the pact we made during the pandemic," he said.
Is he scared?
"Yes, but if magpapadala ka sa takot—if every physician ay matatakot—walang mangyayari sa atin. Pupulutin tayo kung saan-saan, magkakasakit tayo pare-pareho," he said. "I just have to be prepared mentally, spiritually, psychologically, emotionally because that's what Karen wants me to do— to work but to also be prepared."
To read stories of connecting lives for good, download
InLife's 110th Anniversary Magazine.

DOWNLOAD
Dr. Kathlynne Anne Abat-Senen was one of the
InLife Sheroes
featured by Insular Life for its Mothers' Day 2020 special: Mothers on the Frontline. When asked what it is that drives her to do what she does, she answered: "I have always been motivated by Ralph Waldo Emerson's quote 'The purpose of life is not to be happy. It is to be useful, to be honorable, to be compassionate, to have it make some difference that you have lived and lived well.' I am fortunate to have a family that encourages me to live a life of purpose."
Read her story
here
.
Other News & Press Releases