Digna Lacuanan: Shifting Gears to Win in Life
November 24, 2020
Digna Lacuanan: Shifting Gears to Win in Life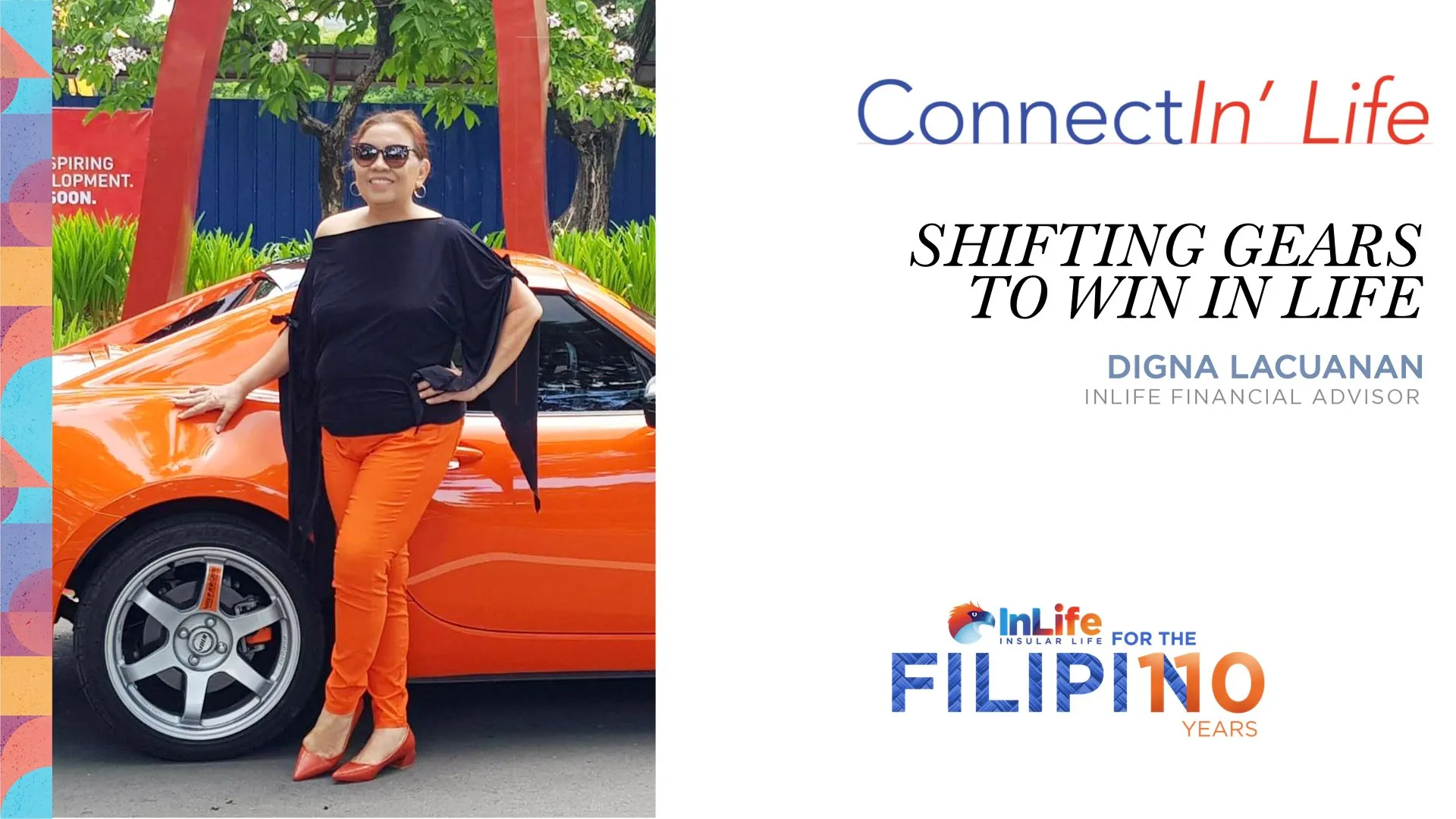 Digna Lacuanan, 69, is a car aficionado and loves to race not just on the circuit but in endurance races as well (cannonball runner). Having driven a vehicle since she was 12, Digna picked up many of life's lessons from driving.
"You have to learn to shift gears, increase speed, or slow down as needed. Kung hindi ka marunong, mamumulubi ka," she said. "You should be able to see opportunities as they come."
The COVID-19 pandemic presented Digna and her team of 36 financial advisors at Money Managers the opportunity to shift gears and maximize digital selling. While others complained about the restrictions caused by the lockdown, Digna drove her team in the right direction—providing insurance to delivery riders, online sellers, food suppliers, security guards, tricycle drivers, and other essential workers.
"Don't discount this market because they are the ones in need. Yung iba, ang sabi pareho lang naman ang effort 'pag malaki or maliit (ang insured), so doon sila sa malaki. Sabi ko, huwag ganoon, selfish iyon. Everybody deserves to have a good life," said Digna, who has been with Insular Life since 1998. She established Money Managers General Agency in 2013 and now runs it with her husband and son.
"Good ethics is good business," she said. "What is your reason for waking up in the morning, for going to the office? Ako, excited ako kasi I know I will be able to serve people again. I have been with InLife for more than two decades but never ako nag-regret."
This perspective is a huge turnaround for Digna, who used to loathe insurance agents because of her family's tragic experience.
A farmer in Sorsogon, her father bought life insurance (not from InLife) and religiously paid for it. When her father died, Digna was told by her mother to go to Manila to claim the PHP 1 million death benefit. All she got was PHP 747.00, just enough to cover her fare back to Bicol. It turned out that their agent collected her father's premiums without remitting them, leaving her father's insurance policy to lapse.
"Napakasakit ng experience ko doon. Akala ko makakatapos ako ng medicine kasi may PHP 1 million, but wala pala, so after ko mag- medtech, hindi na'ko nakatuloy sa medical school," recounted Digna.
"Having learned from that, I make sure that for every client I talk to, may lifetime relationship kami.
I know retirement has to come, that's why I asked my son to join my team—so he could help my clients who trusted in me," she said.
Digna's belief in insurance was restored in 1998, when her sister, an InLife agent, died of cervical cancer. Her sister's insurance policy covered not only the health expenses and house amortization but also left enough money for her son to live a comfortable life.
"Life insurance is important to every person because it is the foundation of all financial plans," she said.
Digna was 48 when she began to seriously work in the industry. She was a medical technologist and a certified public accountant who, in her words, had been "parked at home" for years because her priority was to raise her family. Insurance was her ticket to reclaiming her ability as a woman to make her own money—and she did.
God and sports cars
Her first big sale in I.Care gave her a PHP 600,000 commission. She had been praying for just enough to buy a PHP 50,000 owner-type jeep so she would not have to haul boxes of insurance forms while commuting. But God provided way more. She bought her first car—a top-of-the-line Mistubishi GSR— and her first mobile phone, a Nokia 3210. That car is no longer running, and Digna now has a collection of sports cars that include an Audi and three MX5 but the GSR remains in her garage to remind her of her struggles and God's enabling power, she said.
Through the years, Digna has held on to her life verse: "I can do all things through Christ who strengthens me" (Philippians 4:13).
While it was the income from selling insurance that had sustained her, it was the relationships she has built with her clients—who call her Tita Digna or Mommy—that have kept her in this line of work.
She gives not just financial advice but even marriage counsel to young couples. She helps draft the will of her elderly clients; she brings food to families who have lost loved ones; she does the books of friends fixing their estate—all as free, value-added service.
"As much as I can, I try to embrace my policyholders as family members. You will not just serve them but love them as well," she said. "I listen to their stories, I pray for them, na they will have a long life para ma-enjoy nila ang retirement funds nila."
Digna recalled how she was once approached by a child at the mall. The child's mother saw her and told the child to pay her respect to the one who sold her parents her education policy. She had finished college and now has her own family. Another client—a rich guy who ended up in a hospital ward because his savings were depleted by his illness—was able to move to a better room and receive better care because Digna helped his family to take out funds from his insurance.
"These are the rewards, the joys of my work. It is not just about dying, it is also about living with dignity," she said.
"You are good as your last sale" is a myth Digna wants to debunk.
"At the end of the day, what matters most is you are still that same person aspiring to make things better for those who believe, creating ways to help secure a child's future or let a widow mourn with dignity or ensure people grow old gracefully and happily. Rejections come, but so what? Bukas bibigyan ka ulit ni Lord ng makakausap," said Digna, who it turned out, is riding shotgun to life's True Driver.
To read stories of connecting lives for good, download
InLife's 110th Anniversary Magazine.

DOWNLOAD
Other News & Press Releases