Darwin Borromeo: Stability, Service and a Long Staycation
November 25, 2020
Darwin Borromeo: Stability, Service and a Long Staycation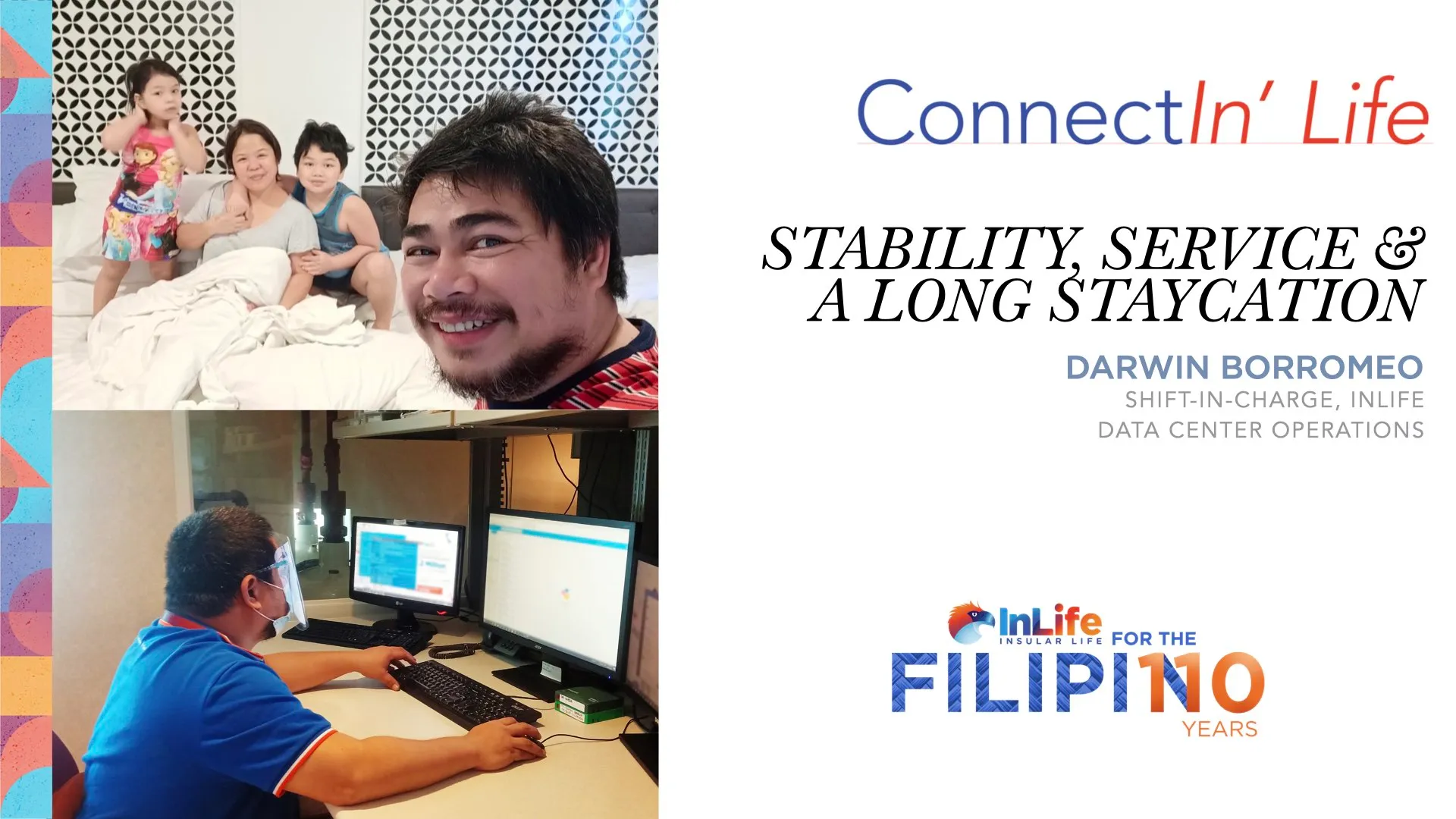 When Darwin Borromeo finally decided to look for a job in 1999, three years after graduating from college, he had only two requirements: the company must be based in Makati, where he lived, and it must be stable.
"Iyong matatag talaga, hindi magsasara," he said.
He was offered a job as a clerk at the Records Management section of Insular Life (InLife), which was then headquartered in Makati. The work was not related to his computer science degree, but he took it because his father said InLife was as stable as a company could get.
It was not until 21 years later that Darwin, now Shift-in-Charge of InLife's Data Center Operations Unit, understood just how stable the company was. When the government declared an enhanced community quarantine (ECQ) that barred any movement save for essential work, InLife found ways to remain operational and retain its employees, as it had done in the past 110 years.
"Kampante ako sa company kasi nabuhay nga noong World War 2 na may mga nagpapatayan, ito pa kayang pandemic lang. Kailangan kami ng tao. Hindi kami pwedeng mag-sarado," he said.
Darwin's team was the only one physically reporting to the office— three people per 12-hour shift—to make sure the data center's system was working smoothly to support operations. They had to update the system daily for inputs from all district and regional offices, including sales, payments, policy updates, payouts—anything that came in and out of InLife's data system was in their care. The team also examined over 300 laptops issued to InLife personnel who were working remotely.
As an incentive for their extra-long workdays, InLife considered all hours served by the Data Center Operations Unit during ECQ as overtime, which meant higher pay. Darwin said even those who did not report for work due to travel limitations received their regular salaries.
To make things easier for those who are able to report to work, InLife billeted them and their families in a hotel a few blocks away from the company's head office in Alabang.
Darwin remembers getting the call from his boss on March 16, rousing him from sleep and telling him to pack up immediately and bring his family to Parque España Residence Hotel in Filinvest, where he and four other employees with families would be staying for a while.
For a while turned out to be 75 days.
"Seventy-five days, walang labasan. Nililibang ko na lang ang mga bata. I watch movies with them kahit antok na antok na ako. Minsan takbuhan sa loob ng Parque, tagu-taguan kasi two-bedroom unit naman iyon with maid's quarter kaya malaki," said Darwin, who has an eight-year-old son, and a four- year-old daughter.
Bonding time
Their suite also had cable TV and Wi-Fi so the kids were fine. Darwin's wife kept herself busy in the kitchen, where she and the other wives took it upon themselves to cook for InLife employees at the hotel. They would plan the menu, and Darwin's boss, Ma. Araceli S. Gonzales, bought food for their weekly supplies.
Darwin said InLife made sure they had vegetables, fish, and meat in every meal, plus free vitamins to boost their immune system. The proximity of the office to the hotel also gave Darwin and his team extra hours to rest and spend with their loved ones.
"Yung ibang company noong ECQ, biglang nag-deklara ng closure. Marami akong kilala na nawalan ng trabaho. Pero yung InLife prinovide lahat. Quaran-pigs na nga tawag namin sa sarili namin—kain, work, tulog," Darwin said.
When quarantine measures were eased and Darwin and his team had returned to their own homes, the company hastened the automation of certain procedures in anticipation of another lockdown. By June, the Data Center Operations Unit was working from home and coordinating through Microsoft Teams like other InLife departments; and only one person was physically needed at the office.
Darwin said he was "very proud" to be part of InLife's legacy of uninterrupted service. The extra money he saved up from the overtime pay also allowed him to invest in a small lot in Taguig where he could build a home for his family soon.
"Binigyan kami ng kumpanya ng maganda, sinuklian din namin ng maganda. Hindi ko naiisip na may crisis na pwedeng maharap ang Insular Life na hindi nito kakayanin," he said. "Dito na ako magreretiro."
To read stories of connecting lives for good, download
InLife's 110th Anniversary Magazine.

DOWNLOAD
Other News & Press Releases