Christmas Message of InLife Executive Chairman Nina D. Aguas to Policyholders
December 20, 2020
Christmas Message of InLife Executive Chairman Nina D. Aguas to Policyholders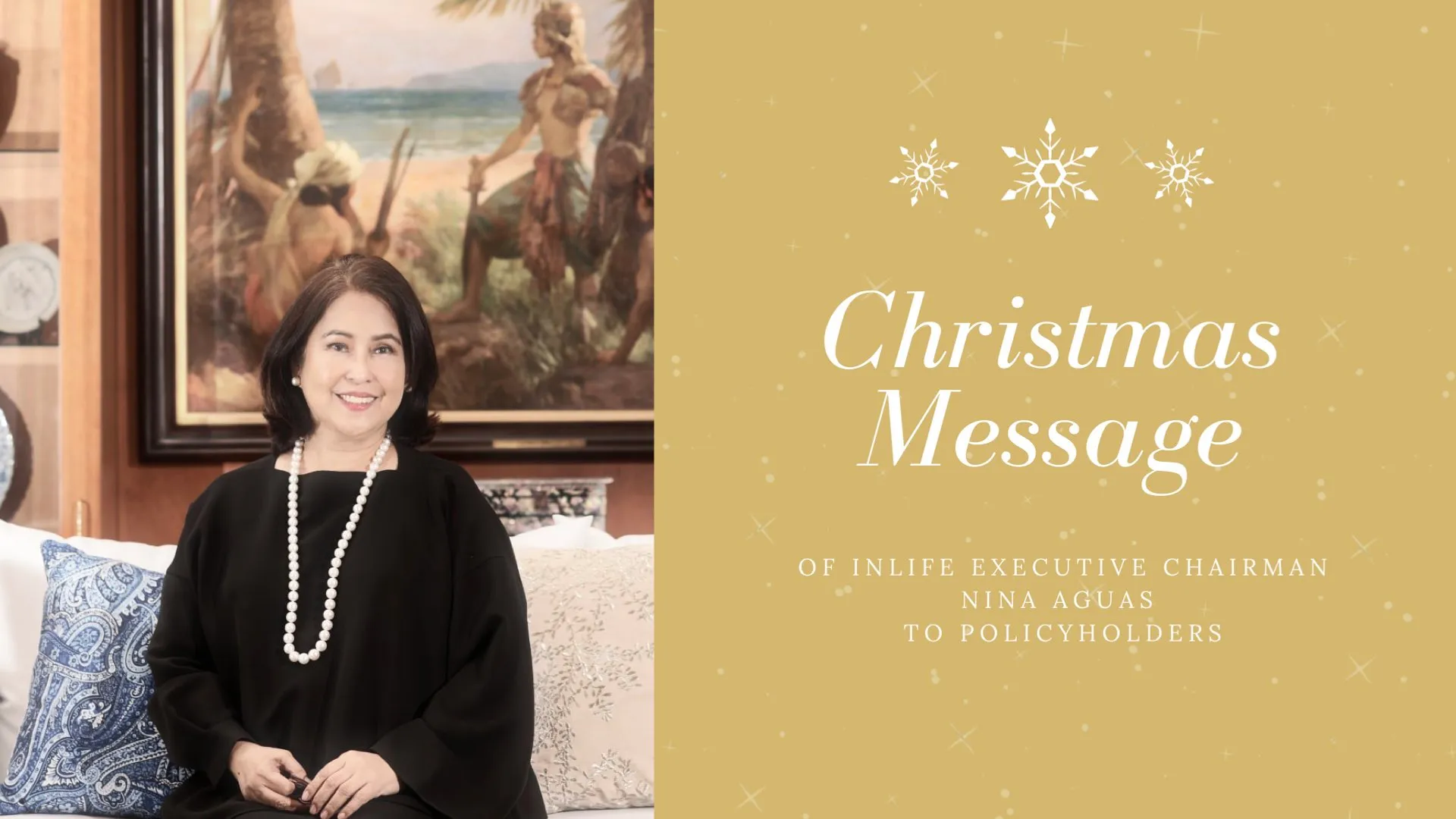 Dearest Valued Policyholder,

The year 2020 will forever define our lives and the new decade. Our generation has never imagined or experienced a world of confinement and lockdowns for the reason of public health. The pandemic took the lives of friends and family and touched us in many different ways, (but where perhaps, we are the same), Covid brought home the significance of life and living and how very precious this was.

Our circumstances gave us time to reflect on what matters most, as individuals, as a company and family of InLifers, as a community, and as a country.

Our presence, our words, joys, sadness, laughter, and tears, our music and drama travel the internet and allowed us to safely come together to uplift, inspire, support one another and celebrate significant milestones like our 110th anniversary. We became Zoombie natives, Teams, Google meet... We entertained ourselves with Netflix, K-Dramas, and the US presidential elections.

I must admit it's a year of overwhelming challenges and not one for the faint-hearted. What is not lost on me is how many were asked to share their jobs, for reduced pay or completely lost their jobs and livelihood as businesses closed. We continue to lead and defend Insular Life and our businesses in the face of the economic contraction and financial strain that all businesses face not just in our country but globally.

Despite what may seem insurmountable given the nature of our business that is largely dependent on face to face engagement, we are thriving and are able to support everyone financially, professionally, and emotionally. Indeed we are blessed and are in a very good place. We continue to pray for everyone made helpless and hopeless by the pandemic and help out when and where we can.

Yes, we had severe pressure on our top revenue lines and reduced net income.

Generating profits and being financially stable are important to create an impact. But equally important is the second bottom line, our purpose and the difference we make in the broader society.

Especially, at a time such as this. We made sure that all the scholars under our care were provided with their usual educational allowances even when most are in virtual classrooms. Provisions for PPE, food, shelter and insurance, and hospital allowances were extended to medical frontliners. Additionally, we offered free life insurance and hospitalization allowance to 110,000 non-medical frontliners. And in the wake of Typhoons Rolly and Ulysses, food packs and hygiene kits were given to almost one thousand families severely affected in Bicol, Catanduanes, Marikina, and Isabela.

I am extremely grateful to all InLifers, employees and financial advisers who despite their own personal struggles remained committed, worked long hours, and adjusted so fast as demanded by the new way of engaging, and yes because of the deep affection for our company and to our policyholders. We are determined to fight for Inlife, remain relevant to you our PHs, and deliver stronger and better results in 2021.

2021 is a recovery year, but it will not be easy. The terrain will continue to be rough, uncertain with limited visibility. We do not have a light switch that we can simply turn on/off. Vaccines and medical solutions, increased trade velocity, stronger customer appetite, and increased demand for goods and services, travel are some of the vital few needed to restore full economic activity.

But life is what we make it and let's cling on to Hope and we pray for better days.

As we close the year, there are two takeaways I want to leave with you this afternoon.

First, life has dealt us a curveball and our journey ahead has limited visibility. We may be running scared and wavering in our confidence. Where do we find the strength to persevere? From my own experience, the answer is often found within; not outside. We dig inner and deeper and at the same time, find the courage to release ourselves from our perceived limitations. Let's find our own purpose and strength so we can re-grow and flourish again. Let's stay focused and embrace discipline.

The second is to keep the Faith. The operative virtue is HOPE. Together we paddle along a steady stream of hope and avoid the muddy waters of doubt. Together we build confidence, and with God's grace, we can say that this too shall pass, come out stronger and wiser and look back to this remarkable time of our lives as a Great Teacher.

And so we ask - why be merry?

Because ...

Christmas ain't canceled
And neither is hope.
If we lean on each other,
I know we can cope.

Christmas isn't canceled,
It never could be.
Because Jesus came,
for you and for me!"

So I say, Thank you Jesus for this year 2020 - MERRY Christmas, stay safe and blessed!

Thank you for your continued trust in Insular Life!
(original signed)
Nina D. Aguas
Other News & Press Releases