Analyn Guivencan: Notes From The Frontline
November 26, 2020
Analyn Guivencan: Notes From The Frontline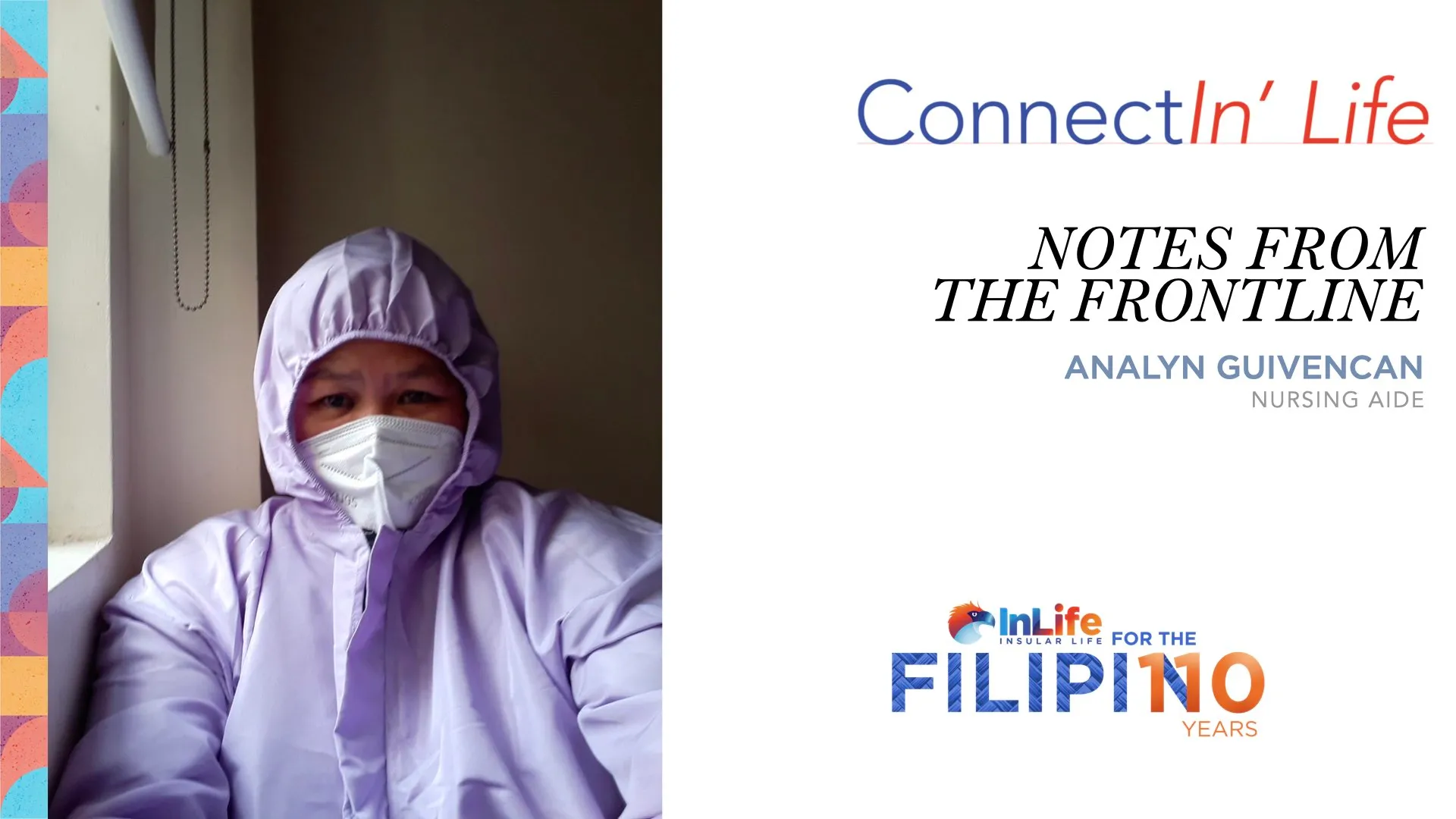 If she had not been too afraid to work in a hospital, Analyn Guivencan would have been in Israel by now, working as a caregiver and earning more for her family. And yet, years after she turned her back on that opportunity, Analyn finds herself exactly where she did not intend to be—at a hospital in the Philippines during a deadly pandemic.
Analyn is a nursing aide assigned at the so-called COVID-19 House of the Ospital ng Muntinlupa (OsMun) in Alabang, which is run by the city government. OsMun is one of the few public hospitals with the capacity to admit and treat COVID-19 patients.
"Yung mga classmates ko sa TESDA, nasa Israel na... Siguro dito talaga ang destiny ko. Hindi ko ito plano, basta dumating lang, pero nagustuhan ko na din," said Analyn, who completed her training in health care services at the Technical Education and Skills Development Authority in June 2008.
"Gusto kong mag-abroad pero noong mag- OJT kami, di ko pala kayang mag-alaga tapos mamamatay. Mas mauuna akong umiyak sa relatives. Kung aso nga iniiyakan ko," she said.
But as fate would have it, in 2014, Analyn got a job at the housekeeping department of OsMun. The department was abolished when an agency took over the job last year, and the more experienced housekeepers, including Analyn, were absorbed as nursing aides.
She was assigned to the third floor of the hospital where she helps take care of patients. There was no COVID-19 then.
"Kami ang nagpapalit ng diapers ng pasyente, nagbibihis, nagpapakain sa kanila. Lahat ng concerns nila sa amin muna, bago ang nurse," she said.
When the third floor of the hospital was converted into the COVID-19 House for confirmed cases and persons under investigation, Analyn was hesitant to go to work. She gave in when her supervisors explained that the hospital lacked manpower. They were also told that they would only be assisting the nurses and that a shelter would be provided for them.
"Sabi nila 'laban' kaya laban... Natakot ako kaya lang noong magsabi sila na may shelter, naisip ko mahihiwalay ako sa pamilya. Hindi sila madadamay kapag na- infect ako," she said.
Analyn said the health workers' shelter in Tunasan was provided by a nurse who is based abroad while their food and supplies were provided by
Insular Foundation
, the social responsibility arm of Insular Life. Tere Melad, Insular Foundation Program Manager, joined the team of OsMun in buying provisions for them whenever stocks ran out. The shelter was available for three months, from March to June.
Despite the support, the workload and risks she had to manage daily at the COVID-19 House began to take a toll on Analyn. Patients would open up to her about their fears, pain, and suffering, and she absorbed all of them. "Nagka-anxiety ako kasi nakikita ko ang mga pasyente na naghihirap, lalo na 'yung mga bata na makikita mo nahihirapang huminga. May mga pasyente, hindi nakakarecover," she recalled.
Surviving COVID-19
Analyn almost quit her job. She knew that she was vulnerable because she was 49 years old and hypertensive. But she just could not find it in her heart to abandon the young nurses who she once found crying uncontrollably as the hospital was slowly being filled up with COVID-19 patients. She stayed and requested to work the night shift because wearing personal protective equipment during the day was unbearable due to the heat.
While her job was high-stress, Analyn said she felt it was worth it when she saw patients recovering from COVID-19. But sometimes, when she meets patients' relatives who take their frustrations out on them, she would again question why she puts herself at risk-taking care of other people.
"Maiisip mo, 'ito bang mga taong ito ang pinag-aaksayahan mo ng (buhay mo)? 'Yung mga relatives nila inaalagaan mo tapos sasabihin nila 'pinapasahod kayo ng gobyerno so trabaho nyo iyan,'" she said.
What the relatives do not understand, she lamented, is that frontliners consider their patients as their own family and that no amount of salary can compensate them for what they do and sacrifice during this pandemic.
On July 19, 2020, Analyn tested positive for COVID-19. She immediately thought of her family. Her only consolation was that she was staying in a shelter then so it was impossible for her to infect them.
She said she knew it was coming because she had almost all the symptoms—cough, cold, fever, and diarrhea. She also lost her senses of taste and smell, the most defining factors for COVID-19.
Analyn believed she got the virus when the string of her N95 broke while she was assisting a doctor in cleaning a laryngoscope which is being used in intubating a patient.
She found herself back at the COVID-19 House, this time as a patient. She thought she would not make it when she saw other patients being discharged one after the other, leaving her behind.
"Naisip ko, bakit sila negative na, ako hindi pa. Araw-araw, dasal ako ng dasal na gumaling na ako," said Analyn who could not contain her emotions when recalling her ordeal.
Finally, on Aug. 7, Analyn tested negative for COVID-19 so she was discharged the following day. She proceeded to another shelter for isolation, instead of going home.
When the provision for that shelter ended on Sept. 6, Analyn returned home and was surprised and sad to experience discrimination from her own neighbors. One of them, she suspected, was heavily spraying disinfectant outside her house as evidenced by the white marks on their water container. Another wanted to cordon off their house and isolate their family.
This is when she really appreciated having a shelter for frontliners in the past months.
"Importante talaga may shelter para hindi kami nadidiscriminate. Sabi ko nga, ito ba ang nararamdaman ng hero? Ganito ba ang mararanasan namin kapag nasa labas na kami ng hospital?" she said.
Some of her colleagues had resigned when their families were infected, and she, too, gets asked by her four children and husband why she continues to work. Her response was simple: "Kailangan eh."
To read stories of connecting lives for good, download
InLife's 110th Anniversary Magazine.

DOWNLOAD
Other News & Press Releases