March 17, 2020
Advisory to InLife Stakeholders on Enhanced Community Quarantine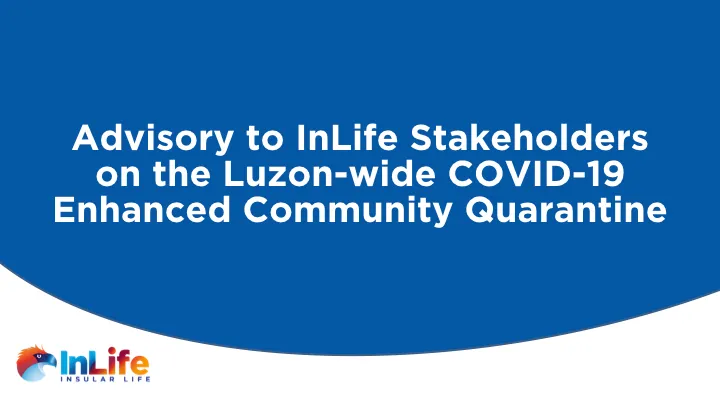 With the entire Luzon being placed under a state of Enhanced Community Quarantine effective March 17 to April 12, 2020, Insular Life will follow the directives of the national and local government to help prevent the spread of the covid-19 virus. We shall observe the following :
Insular Life will operate via alternative work arrangements, balancing our employees' safety and welfare on the one hand, and on the other, ensuring that our business remains open for selected services during this heightened health emergency situation.
2. Online Policy Services
Our policyholders may avail themselves of our various online services. If there are payments or other transactions required of their InLife policy, they may register and log-in to the
InLife Customer Porta
l for 24/7 payments, Customer Care live chat, policy monitoring, fund switching, premium redirection, and more.
3. Hospitalization Claims
All our policyholders are covered against COVID-19 with the life insurance benefit (except accidents-only policies). For those who have I-Heal plan, InLife Premium Protect Series (
InLife Premium Protect 1000
,
InLife Premium Protect
, and
InLife Premium Protect Plus
-- available in the
InLife flagship store in Lazada

)
, or any individual insurance plans with hospitalization riders attached to it, they may avail of its daily cash benefit feature in case of confinement. Specific benefits shall be based on your policy's contract provisions.
We understand that policyholders may need to reallocate their financial resources during this emergency situation. Thus, we are giving an extended Grace Period for all policy payments due from March 11 to April 30, 2020, to 60 days instead of 31 days.
As we navigate this unprecedented public health emergency, we are committed to reducing business disruption as much as we can because we know that thousands of people are counting on us. We are continuously monitoring the situation and we will take appropriate actions, as the situation unfolds. For now, let us remain vigilant, but calm and level-headed. Let us all stay healthy and observe conscientiously the health advisories from reliable sources.
Other News & Press Releases