September 07, 2016
Adopt-A- Scholar Program: Sustaining the future one step at a time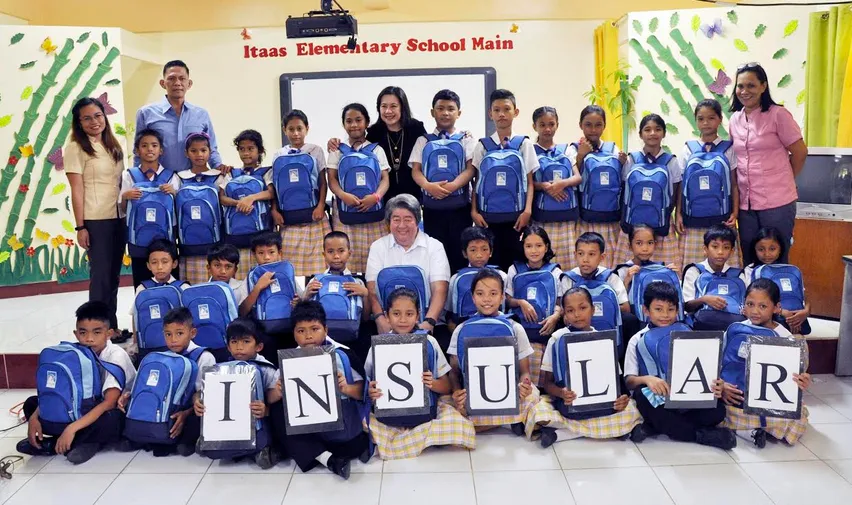 "What do you want to be when you grow up?"
Aside from their names, we often ask children what they want to become in the future. Usual answers include being a teacher, doctor, policeman, nurse, engineer, even the president of the country. Children begin dreaming at a young age. It is important, then, to sustain this through proper education. But in a country besieged by poverty, education can be quite expensive, even with the presence of the public educational system. After all, attending one's classes is just one thing. There are other needs that must be met: school supplies, uniforms, bag, shoes, packed food, and transportation to and from school.
Believing that small steps may be taken to make these children's future better, Insular Life embarked on an employee-volunteerism program in 2009 called "Adopt-A- Scholar," where employees voluntarily adopted more than a hundred Grade One students from Itaas Elementary School (IES), located inside the New Bilibid Compound in Muntinlupa City. In 2011, a new batch of 113 grade one students was adopted by employees. Those adopted in 2009 have graduated from grade school in 2015, while those in 2011 will graduate in March next year. The scholars come from the poorest families in the community and some of them are even children of prisoners and prison guards. Their sponsors pledged to support their schooling by providing each scholar a year's supply of school supplies, a set of uniform, a bag or a pair of shoes, and storybooks.
These children look forward to the yearly turnover ceremonies where they would receive their school things from their sponsors. Scholar Mujahida Mikee Udal shares how the Program has helped her and her family, "Nakakatulong po ito sa pagtitipid sa gastos dahil po si papa ay hindi lubos makapagbigay ng financial support kasi po ang papa ko ay walang trabaho." (It helps lessen our expenses because my father cannot give us financial support because he is unemployed.) This is echoed by scholar Mariel Bautista, "Malaking-malaki ang tulong na mga school supplies upang magamit ko ito sa aking pag-aaral. Ang mga bag, uniform, at shoes ay malaking tulong din sa akin at sa mga gastusin ng aking mga magulang." (The school supplies are a very big help in my studies. The bags, uniforms and shoes are also a big help in lessening my parents' expenses).
The sponsors benefit from the Program, too. Their experiences of hardships and trials early in life prompted them to be part of the program, help the less fortunate, and have kept them grounded. Metchie Narciso, a customer service assistant of Insular Life's Davao office shares, "I am the youngest in a brood of 8, and the first child to graduate from College. It is my big pride and honor to have done so despite not having much in life. If you really have the desire to go to school, you can make it. God will provide as long as we also do our part."
For Maricor Baron, a supervisor of Corporate Accounts Department who has been a long-time volunteer of the Big Brother, Big Sister Philippines since 2006, the Adopt-A- Scholar Program is another avenue for sharing her blessings.
"In Big Brother, Big Sister Phils., every year in May, we distribute school bags and school supplies to remote mountainous areas. While the government usually provides free education in those remote areas, most often, parents cannot send their kids to school because they cannot provide the school supplies. I was very happy when Insular Life initiated the Adopt-A- Scholar Program because it will help the kids achieve their dreams."
And yet, again, for some, being a part of the Program is a commitment they have made between themselves and God.
"I have made a commitment to God that 10% of my bonuses will be offered back to Him, so by sponsoring 5 children, I have partly fulfilled my promise to Him,"
says Rey Ealdama, Senior Manager and Head of the Customer Information Management Department.
Aside from the school materials, the top 3 scholars are also given cash awards at the end of each school year. Samuel Bryan Daduya, who has been the top student for the last 4 years, and who dreams of becoming an engineer someday, vows to weather the hardships, come what may.
"Minsan po kulang ang baon at pamasahe ko kaya tinitipid ko na lang po ang baon ko upang makapasok sa eskwela pero magsisikap at magsisipag pa rin po ako sa aking pag-aaral upang maabot ko ang aking mga pangarap."
(Sometimes, I do not have enough money for food and transportation so I try to be thrifty so I can go to school, but I will still strive hard in my studies so I can reach my dreams.)
Nation-building through education, is a responsibility that should be shared by every Filipino. We do our part in ensuring that our children have a good future if we sustain their need for education. Insular Life's Adopt-A- Scholar Program aims to accomplish this, little by little, so that these children can achieve their dreams and become productive citizens of our country someday.
Other News & Press Releases