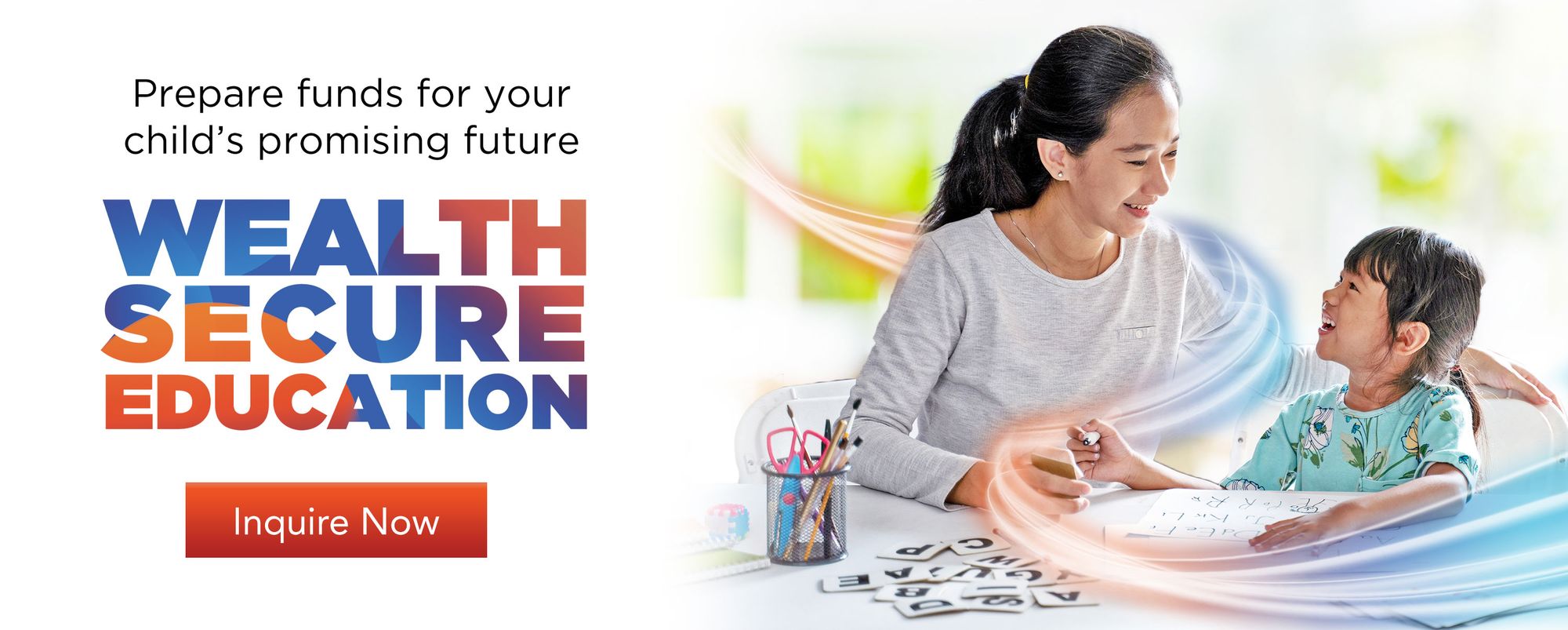 Back
Wealth Secure Education
Insular Life's Education Packages
Wealth Secure Education is an investment-linked, life insurance plan that provides funds you can use for your child's education.
Consider the advantages of Wealth Secure Education:
Disciplined Savings


Helps you save up regularly whether annually, semi-annually, quarterly, or monthly.

Flexibility


Allows you to build funds for your child's high school, college, or even post graduate education. Withdraw when the need for school-related expenses arises.

Competitive Earnings


Lets your money grow more than the usual savings instrument.

Financial Protection for the Parent


Provides assurance that your child's education can be provided for no matter what happens.
Fund Types
Dollar Global Multi-Asset Fund
Peso Global Multi-Asset Fund
Peso Global Technology Fund
Additional Benefits
Waiver of Premium Benefit
Waives all regular premiums due during the continuance of the disability, which has been ongoing for 6 months, whether temporary or permanent, due to sickness or accident
Accidental Death Benefit
Accidental Death Benefit
Special Accident Rider
Pays additional benefit covering not only death but also specific injuries resulting from the accident
Dread Disease Rider
Provides a lump sum amount when the insured is diagnosed with any covered dread diseases.
Hospitalization Rider
Provides daily hospitalization allowance if the insured is hospitalized due to injury or sickness.
Hospitalization Plus Rider
In additional to the benefits of the Hospitalization Rider, it provides cash bonus every five (5) years provided there was no hospitalization claim for the prior five-year period.
Payor's Rider
Waives the policy's regular premiums if the policy owner dies prior to the expiry date of the rider, i.e., until age 23 of the child.
Wavier of Premium Supplementary to Payor's Rider
Should the Payor become totally and permanently disabled within the premium paying period, the rider waives the premium due during the continuance of the Payors disability or the termination of the rider, whichever comes first.
Talk to an InLife Financial Advisor
You're one step closer to financial freedom.