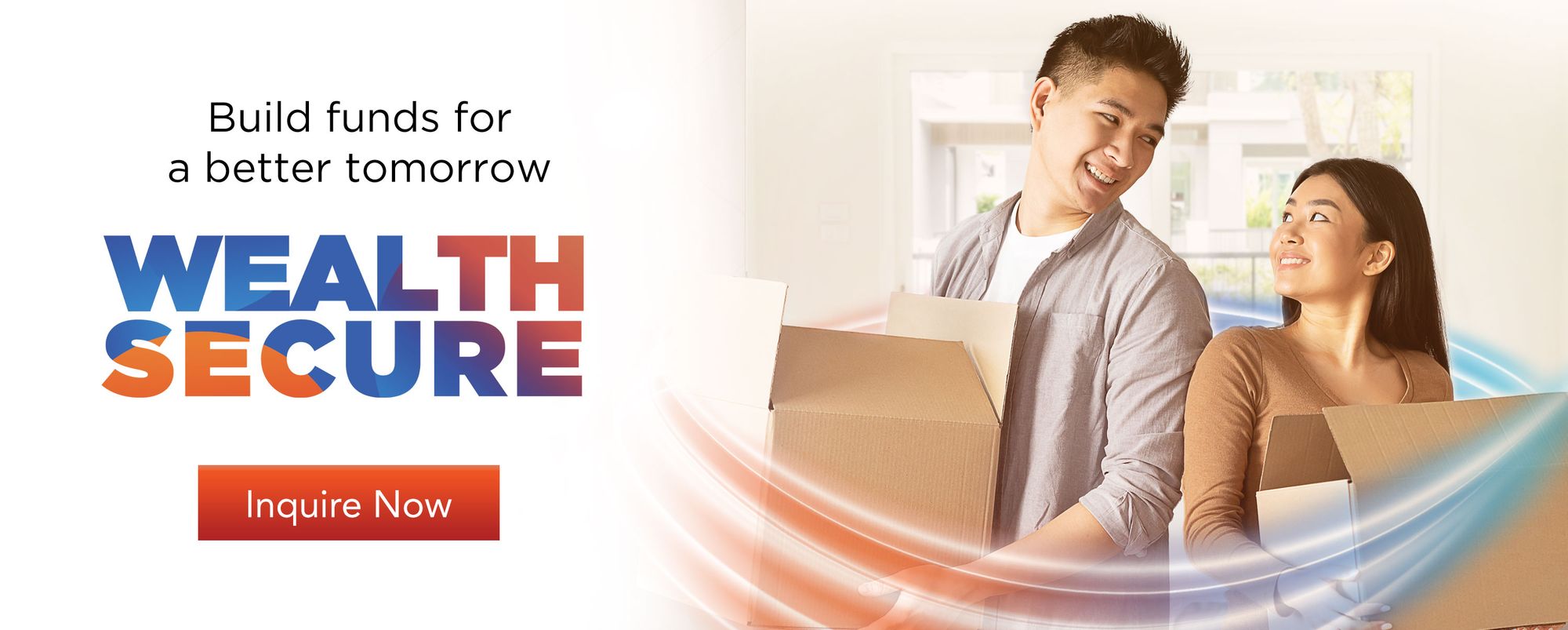 Back
Wealth Secure
Setting aside a small amount regularly to increase your savings can do wonders in the future. These savings, if intended for a goal you wish to achieve five or more years from now, can be invested in a financial vehicle that will take you towards financial success. Insular Life can help you here.
Achieve financial success, a life of financial independence, through Wealth Secure.
Wealth secure is an affordable life insurance product with an investment component that makes fund available for your financial needs in the near future. Set aside an amount of P28 a day and look forward to making your short to medium-term goals happen while being covered against life's eventualities.
Consider the advantages of Wealth Secure:
Readily Available Funds




Allows you to save up funds for your financial needs in the near future.



Competitive Earnings


Lets your money grow more than the usual savings instruments.

Flexibility


Allows you to add to your investments or even make partial withdrawals anytime.

Life Insurance Coverage


Provides benefits to your loved ones in case of demise.
The payments you will be putting in regularly in Wealth Secure will be invested in any of the eight (8) existing funds - Money Market, Fixed Income, Balanced, Equity, Growth, Select Equities, Guardian, ONE Fund or a combination of both, depending on your goal, time horizon and risk/return profile.
Fund Types
Dollar Global Multi-Asset Fund
Peso Global Multi-Asset Fund
Peso Global Technology Fund
Additional Benefits
Waiver of Premium Benefit
Waives all regular premiums due during the continuance of the disability, which has been ongoing for 6 months, whether temporary or permanent, due to sickness or accident
Accidental Death Benefit
Accidental Death Benefit
Special Accident Rider
Pays additional benefit covering not only death but also specific injuries resulting from the accident
Dread Disease Rider
Provides a lump sum amount when the insured is diagnosed with any covered dread diseases.
Payor's Rider
Waives the policy's regular premiums if the policy owner dies prior to the expiry date of the rider, i.e., until age 23 of the child.
Wavier of Premium Supplementary to Payor's Rider
Should the Payor become totally and permanently disabled within the premium paying period, the rider waives the premium due during the continuance of the Payors disability or the termination of the rider, whichever comes first.
Talk to an InLife Financial Advisor
You're one step closer to financial freedom.