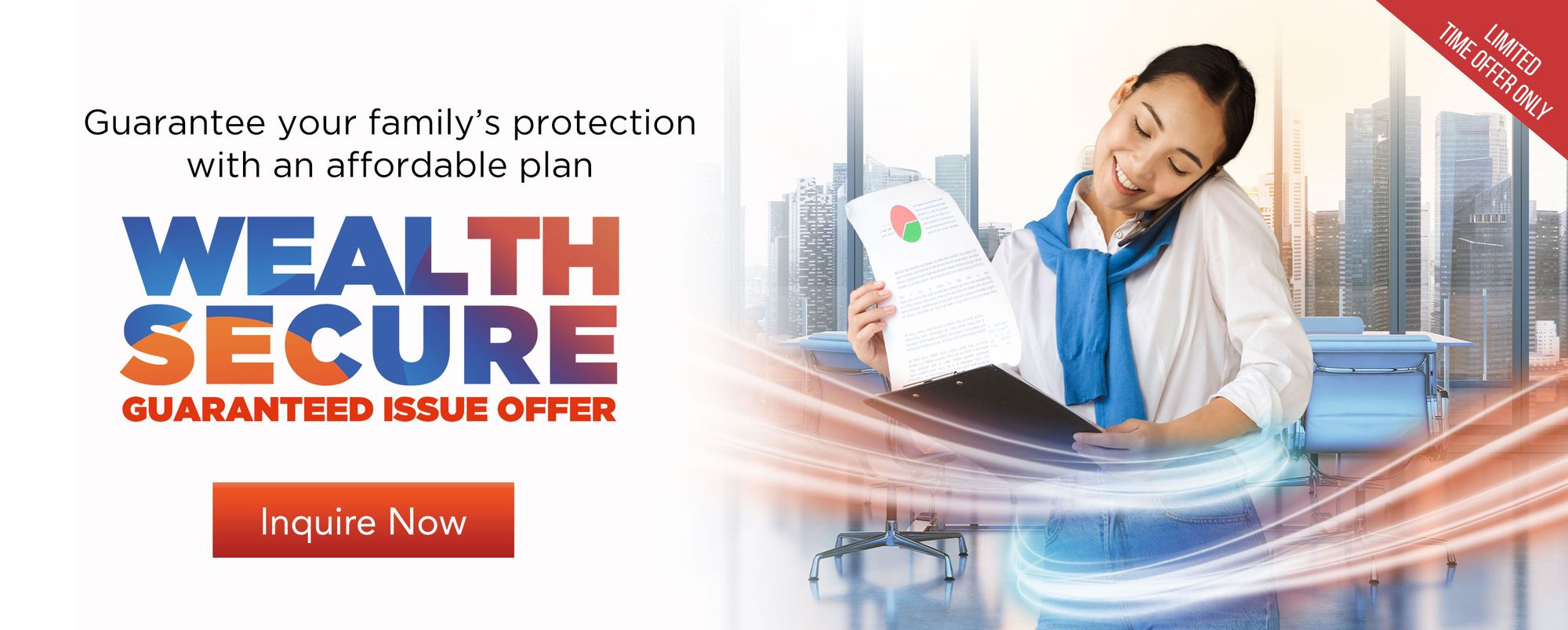 Back
Wealth Secure - Guaranteed Issue Offer
Wealth Secure - Guaranteed Issue Offer (GIO) 

is an affordable life insurance and investment plan with guaranteed acceptance. It provides lifetime coverage to help your family cope with the financial loss should the inevitable happen to you.
Wealth Secure GIO is available for a

limited time

only. Make sure not to miss out on this offer! In this day and age, preparing for all types of unexpected scenarios is almost a requirement for you to enjoy the present with your loved ones and to lessen your worries in life. 
Consider the advantages of Wealth Secure GIO:
Easy Application


Getting a policy is simple! No lengthy application forms to fill up; no need to go through a medical exam. Just send us your contact details below and an InLife Financial Advisor will guide you through it.


Fast Processing


Other insurance policies take a few days before getting approved -- not with us! With InLife's Automated Underwriting System (AUS) and the assistance of a Financial Advisor, your application will be approved instantly.


Affordable


For a minimum monthly premium of P2,500, you can start setting up a financial protection plan that can secure your family's future.


Lifetime Protection




Leave your loved ones with a financially-secure life with a life insurance benefit that's equal to 5x the annual regular premium plus the living benefit. If the claim is filed within the first two (2) years of the policy being issued, the amount that will be paid will be the living benefit plus the return of the insurance charges.
*The fund values are for illustration purposes only and are not indicative of the actual rate that may occur.
Make sure your family has something to get them by even when you're no longer around. Get guaranteed life protection with InLife's Wealth Secure GIO. Contact your Financial Advisor today!
Talk to an InLife Financial Advisor
You're one step closer to financial freedom.