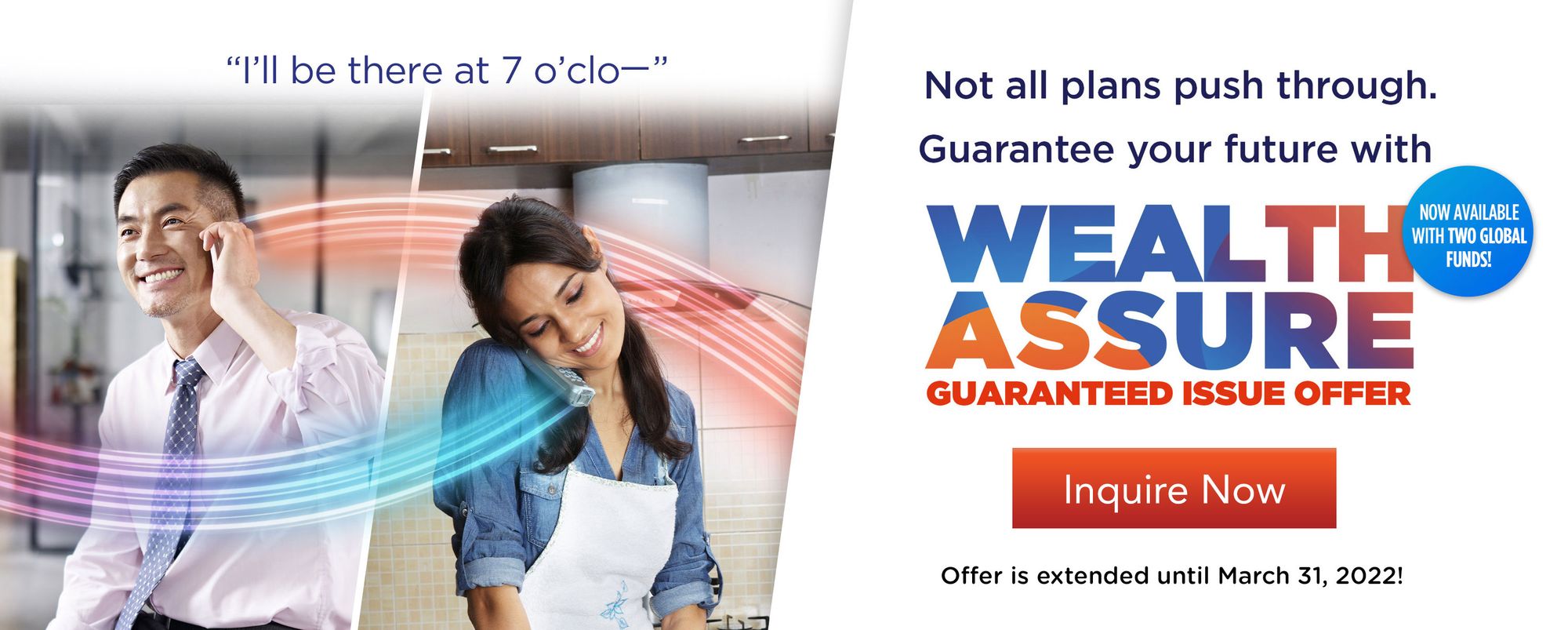 Back
Wealth Assure - Guaranteed Issue Offer
Wealth Assure Guaranteed Issue Offer (GIO) is a life insurance plan that you can avail without having to go through the usual insurance application process of lengthy forms and medical exams. It's a regular pay product, which means that your premiums are payable in regular intervals, whether monthly, quarterly, semi annually or annually.

Wealth Assure GIO also lets you maximize the money you put in regularly because it has a built-in investment feature. A portion of your money goes into a fund that invests in different stocks of global and local companies, government securities, or other financial assets - based on your choosing.

Consider the advantages of Wealth Assure Guaranteed Issue Offer:

Easy




Applying for this plan won't take up too much of your time because you don't have to fill out lengthy application forms and no medical exam needed




Fast


Be assisted by an InLife Financial Advisor who will walk you through our Automated Underwriting System (AUS) so that your application is approved instantly




Secured


Receive insurance coverage for a lifetime that's 5x more than what you're paying for, plus the value of your fund

Let your hard-earned money work even harder for you and see it grow by investing in these two new funds: the Peso Global Technology Fund and the Peso Global Equity Fund




Accessible




Withdraw partially from your funds any time, even while the policy is in effect
Guarantee your future quickly and easily with a plan that works with Wealth Assure GIO.

This product is available until March 31, 2021 only.
So, don't miss this chance and sign up today!
Additional Benefits
Waiver of Premium Benefit
Waives all regular premiums due during the continuance of the disability, which has been ongoing for 6 months, whether temporary or permanent, due to sickness or accident
Accidental Death Benefit
Accidental Death Benefit
Special Accident Rider
Pays additional benefit covering not only death but also specific injuries resulting from the accident
Payor's Rider
Waives the policy's regular premiums if the policy owner dies prior to the expiry date of the rider, i.e., until age 23 of the child.
Wavier of Premium Supplementary to Payor's Rider
Should the Payor become totally and permanently disabled within the premium paying period, the rider waives the premium due during the continuance of the Payors disability or the termination of the rider, whichever comes first.
Talk to an InLife Financial Advisor
You're one step closer to financial freedom.