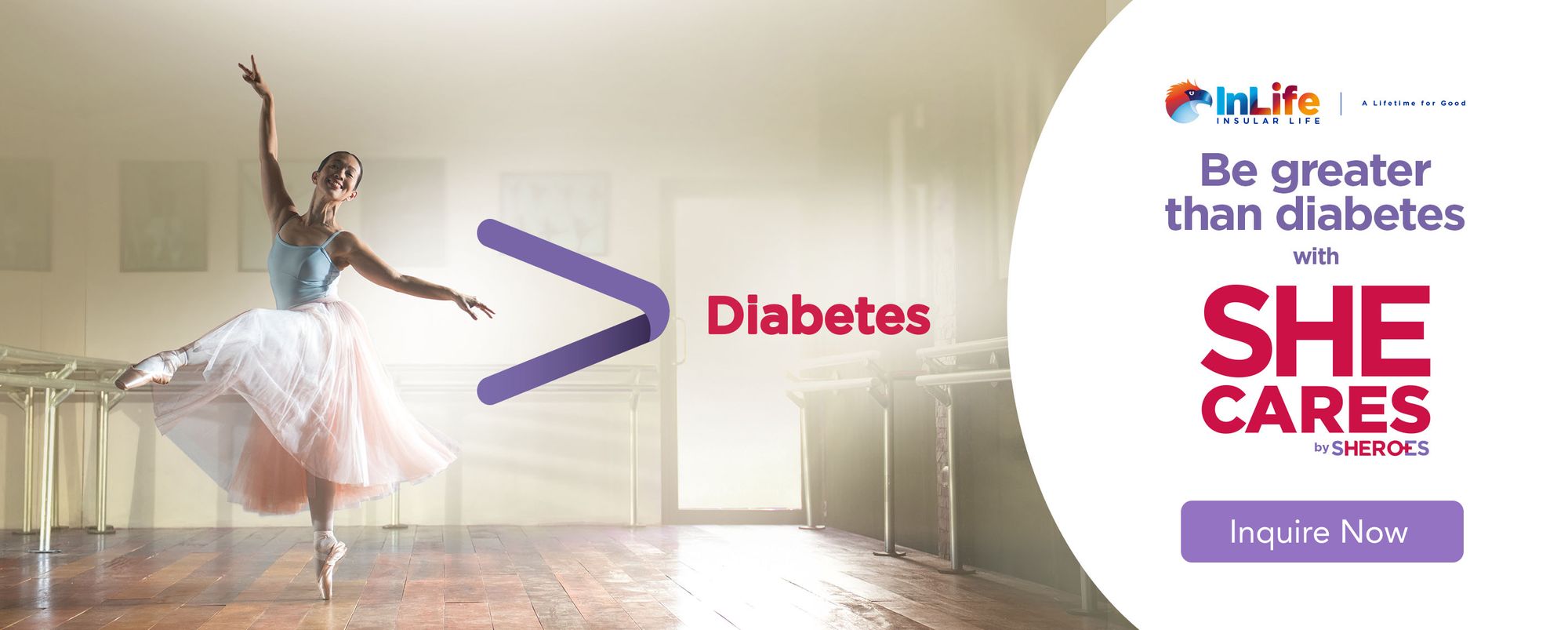 Back
She Cares by Sheroes
Be Greater than Diabetes with InLife She Cares
She Cares by Sheroes 
offers a 3-in-1 solution that is customizable to carefully address your health, protection, and investment needs as a hardworking Filipina. It helps you prepare for your financial future so you can prioritize caring for yourself and give your best self to the people that you love.
She Cares is brought to us by the
InLife Sheroes
movement, a partnership between Insular Life and the International Finance Corporation (IFC) of the World Bank Group that aims to make good things happen for more Filipino women through
insurance and health solutions
.
Consider the advantages of She Cares:
Superior Health Benefits


Now, you have the ability to choose which health benefit would be most suitable for you. Because you know yourself best, you can design your plan so that you get only what you need. It can be based one your habits, your family history, your environment -- your choice! 




Lifestyle Diseases





Diabetes




The body of a diabetes patient cannot produce insulin. That's why regular insulin injections are needed to control blood sugar levels. With She Cares, you will be given a

one-time cash payment

to help you manage the costs that come with the treatment. This applies if you have diabetes now or if it occurs in the future.




Other Diseases




Even when we try to be intentional with our choices, we are constantly exposed to less healthy and more

instant

options. This has made diseases commonplace. She Cares is designed to address that through

cash payouts

that can help with treatment costs if you are diagnosed with any of the covered female-specific cancers (Breast Cancer, Ovarian Cancer, Uterine Cancer, Cervical Cancer) and lifestyle acquired diseases (other cancers, heart attack, and stroke).




Treatment and Care




Being confined in the hospital can get stressful. That's why we want to lessen the burden for you. With the hospitalization benefit that She Cares provides, you will receive a

daily cash allowance

to help you with your expenses if the confinement is caused by a sickness or an injury. An additional allowance will also be given if a surgical procedure is required for you to get better.

Prolonged Protection




When you're well into your senior years and feel you need health benefits the most, She Cares will still be there for you. Coverage is until age 70.

Higher Coverage




You can keep supporting your family financially even when you're no longer around with the life insurance benefit. It's a payout to your beneficiary equivalent to 5x the amount you pay in premiums annually plus the amount you've accumulated in your investment fund.

Fund Growth




She Cares is a VUL (variable unit linked) insurance plan. This means that there is a built-in savings component combined with the life insurance benefit. Here, your money is placed into a fund which invests in other financial instruments -- stocks, bonds, treasury bills, etc. -- depending on the amount of risk you are comfortable with. Through time, your investment will grow, allowing you to fund your goals and seize them!

Additional Benefits




You have the option to add more benefits to your She Cares plan for extra protection against accidents, disability, and hospitalization. It all depends on what you think you need.
With She Cares, providing a lifetime for good for yourself to make it even better for your loved ones has never been easier. Connect with an InLife Advisor today. 
Fund Types
Dollar Global Multi-Asset Fund
Peso Global Multi-Asset Fund
Peso Global Technology Fund
Additional Benefits
Waiver of Premium Benefit
Waives all regular premiums due during the continuance of the disability, which has been ongoing for 6 months, whether temporary or permanent, due to sickness or accident
Accidental Death Benefit
Accidental Death Benefit
Special Accident Rider
Pays additional benefit covering not only death but also specific injuries resulting from the accident
Talk to an InLife Financial Advisor
You're one step closer to financial freedom.