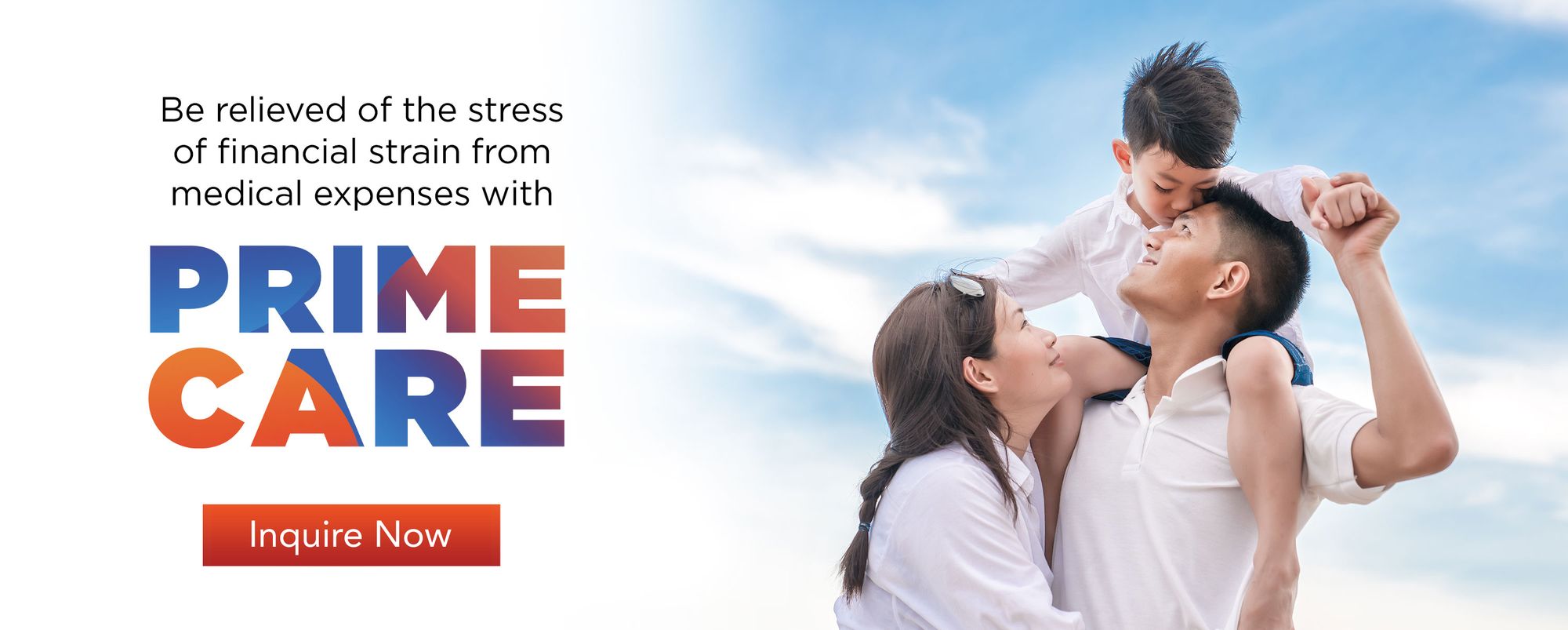 Back
Prime Care
Prime Care is a critical illness plan that can be renewed every year. If the person being covered by the insurance policy (insured) is diagnosed with any of the 35 covered critical illnesses below, a lump sum amount is given upon diagnosis as well as a cash allowance for 30 months to cover ongoing medical expenses.
Prime Care is available through an InLife Advisor and also through the 
InLife Store
via a simple, self-service online application and payment.
Consider the advantages of Prime Care:
Lump sum cash upon diagnosis

- Get a lump sum cash benefit equivalent to 6 month's allowance upon diagnosis of critical illness which you can use to cover for tests, blood works and immediate healthcare needs.




Monthly payout of medical allowances

- 

Receive a fixed amount of monthly cash allowances for 30 months for your recovery expenses.




Additional lump sum cash in case of total and permanent disability

- 

While receiving the monthly cash allowance and you become totally and permanently disabled due to the diagnosed critical illness, you will receive an additional lump sum amount equivalent to thirty-six (36) times the monthly cash allowance.






Access to medical experts


Should you want a second opinion, you may freely do so as Prime Care gives you free access to a worldwide network of medical doctors through 

Best DoctorsTM


Life Insurance Coverage


In case of untimely passing, while receiving the monthly cash allowance, your beneficiary/ies shall receive a lump sum amount equivalent to all unpaid monthly cash allowances.





Convenience
Prime Care is a simple-issue product. You don't need to go through a medical exam to get covered.

Ensure a hassle-free journey to recovery with InLife's Prime Care.


Critical illness refers to any of the following:

1. Alzheimer's Disease / Severe Dementia
2. Aplastic Anaemia 
3. Bacterial Meningitis 
4. Benign Brain Tumor
5. Blindness (Profound Vision Loss)
6. Brain Surgery 
7. Cancer
8. Coma 
9. Coronary Artery By-pass Graft
10. Deafness (Loss of Hearing) 
11. End-Stage Liver Disease 
12. End-Stage Lung Disease 
13. Fulminant Hepatitis 
14. Heart Attack (Myocardial Infarction)
15. Heart Valve Surgery 
16. HIV due to Blood Transfusion 
17. HIV Infection contracted in an Eligible Occupation
18. Kidney Failure 

19. Loss of Limbs 
20. Loss of Speech 
21. Major Burns (Third-Degree Burns) 
22. Major Head Trauma 
23. Major Organ / Bone Marrow Transplantation 
24. Motor Neurone Disease 
25. Multiple Sclerosis
26. Muscular Dystrophy 
27. Paralysis / Paraplegia 
28. Parkinson's Disease
29. Persistent Vegetative State 
30. Poliomyelitis 
31. Primary Cardiomyopathy 
32. Primary Pulmonary Arterial Hypertension 
33. Stroke 
34. Surgery to Aorta 
35. Terminal Illness 

Talk to an InLife Financial Advisor
You're one step closer to financial freedom.