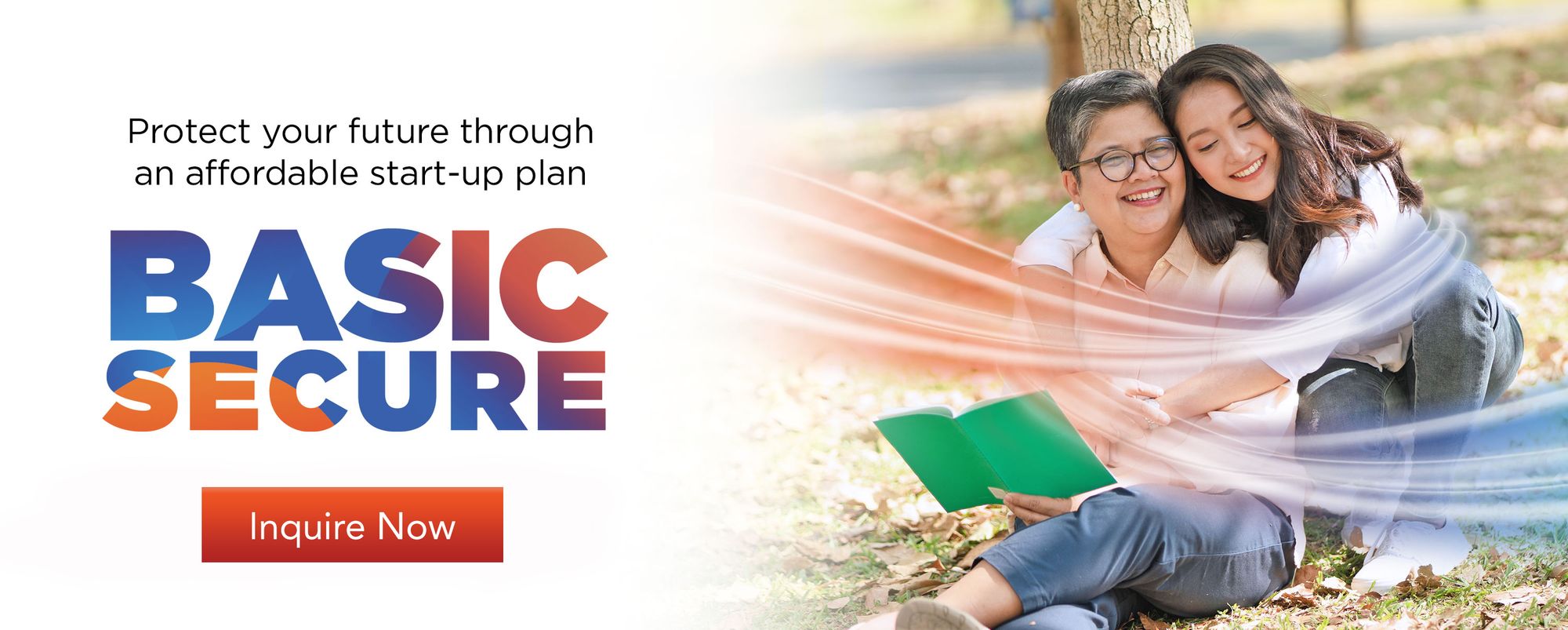 Back
Basic Secure
Basic Secure

is an affordable term life insurance product that can help you start preparing for a secure future. This plan gives you the option to be protected for five (5) or ten (10) years, with its paying period similar to the years of your coverage.
Take advantage of the benefits of Basic Secure:
Extensive Protection


Life Insurance Coverage
Your family will receive a cash benefit equivalent to 100% of the sum insured in case you pass on during the coverage period.

Spouse Coverage
In case both you and your spouse pass on due to the same accident, your loved ones will receive an additional lump sum cash benefit equivalent to 100% of your sum insured.

Additional Protection (Optional)
For a few pesos more, get coverage for accident, disability, hospitalization, or death due to COVID-19, on top of your life insurance benefit.

Affordable


This plan is easy on the pocket! For as low as Php 23/day (for a 25-year-old insured with Php 1 million basic coverage), you can achieve the peace of mind you're looking for. You have the option to pay monthly, quarterly, semi-annually, or annually.

Renewable and Convertible


For continuous coverage, you may renew your policy instantly by simply paying the renewal premium after five (5) or ten (10) years, depending on the plan variant you availed. You also have the option to convert it to a permanent or an investment-linked insurance plan so you can enjoy lifetime coverage. Basic Secure is renewable until age 75 for the 5-Pay Plan and renewable until age 70 for the 10-Pay Plan.

Convenient Application


The application process can be done in the comfort of your home with the help of your Financial Advisor.

Premium quoted is for basic coverage only
Turn your plan of having a secure future into reality through InLife's Basic Secure. Connect with an InLife Financial Advisor today.
Additional Benefits
Waiver of Premium Benefit
Waives all regular premiums due during the continuance of the disability, which has been ongoing for 6 months, whether temporary or permanent, due to sickness or accident
Accidental Death Benefit
Accidental Death Benefit
Dread Disease Rider
Provides a lump sum amount when the insured is diagnosed with any covered dread diseases.
Talk to an InLife Financial Advisor
You're one step closer to financial freedom.