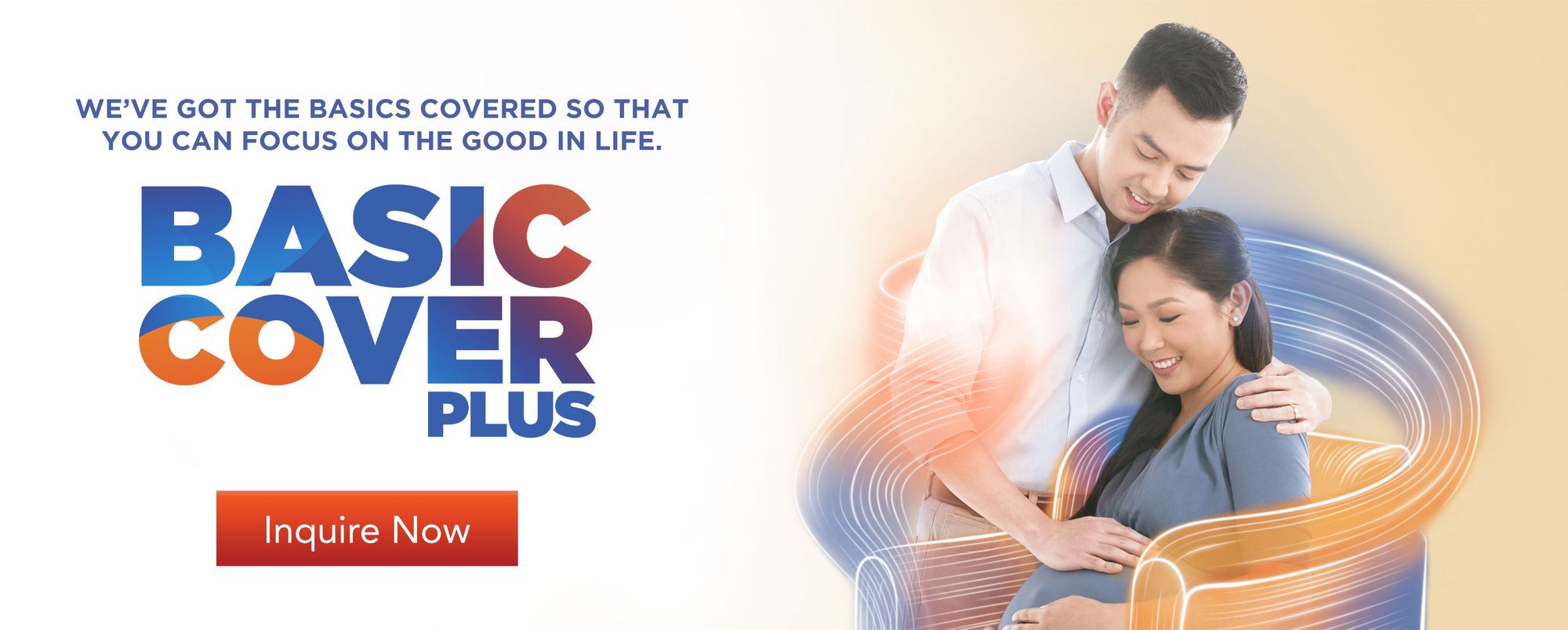 Back
Basic Cover Plus
InLife Basic Cover Plus
Basic Cover Plus offers up to double the insurance coverage you paid for and lets you continue to live worry-free when you receive your money back after your policy expires. Pay for 10 years, be covered for 20, and enjoy freely the comforts of life for yourself and your loved ones.
Consider the advantages of Basic Cover Plus:
Zero-Risk
Your maturity benefit after the 20th year or the death benefit will be paid out to you or your loved ones, regardless of how the financial market performs.


Double Coverage
During the 6th to 20th year of your policy, your insurance coverage increases to 2x of what you had originally signed up for. It goes up 1.5x if you get the policy at 51-60 years old.


Money Back
After the last year of your policy, the annual amount you paid for life insurance throughout the entire 20 years will be given back to you, PLUS a little more, as a maturity benefit. It's as if you were insured for free!


Enhanced Benefits
Riders, which will give you additional coverage, can be attached to your policy. The list of accident, health, term, and disability riders are available here.
*Figures are for illustration purposes only.
So, stop worrying and let us cover the basics for you. Get

Basic Cover Plus

today!
Contact an InLife Financial advisor now!
Additional Benefits
Waiver of Premium Benefit
Waives all regular premiums due during the continuance of the disability, which has been ongoing for 6 months, whether temporary or permanent, due to sickness or accident
Accidental Death Benefit
Accidental Death Benefit
Special Accident Rider
Pays additional benefit covering not only death but also specific injuries resulting from the accident
Dread Disease Rider
Provides a lump sum amount when the insured is diagnosed with any covered dread diseases.
Hospitalization Rider
Provides daily hospitalization allowance if the insured is hospitalized due to injury or sickness.
Payor's Rider
Waives the policy's regular premiums if the policy owner dies prior to the expiry date of the rider, i.e., until age 23 of the child.
Special Term Adjustable Rider
Adds an amount to the policy's death benefit at a fraction of the cost.
Waiver of Premium Supplementary to Special Term Adjustable Rider
Waives the premium of STAR in case the insured is totally and permanently disabled due to injury or sickness.
Wavier of Premium Supplementary to Payor's Rider
Should the Payor become totally and permanently disabled within the premium paying period, the rider waives the premium due during the continuance of the Payors disability or the termination of the rider, whichever comes first.
Talk to an InLife Financial Advisor
You're one step closer to financial freedom.